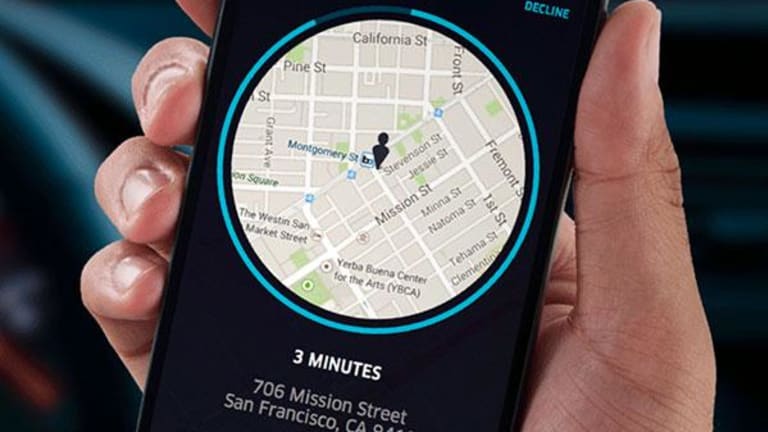 Publish date:
Uber Releases Long-Awaited Diversity Report
Uber disclosed that 36% of its employees are women and about half of its U.S. workforce is white.
Uber disclosed that 36% of its employees are women and about half of its U.S. workforce is white.
As part of an effort to improve its corporate culture, ride-sharing company Uber has released a report that breaks down employees across gender and ethnicity categories. The data does not cover Uber drivers.
"While there are many things we need to change about our culture, I believe that making Uber a more diverse and inclusive workplace is key," human resources chief Liane Hornsey said in a blog post.
"Today, as a first step towards this goal, we're publishing our diversity numbers."
Like many other tech companies, Uber employs a large proportion of men -- 36% of its employees are women. Still, that is better than some other big tech companies. Alphabet/Google  (GOOGL) - Get Report has 31% women and Apple (AAPL) - Get Report has 32%, according to the Associated Press.
But just 15% of all technical jobs at Uber are held by women. At Google, it's 19% and Apple 23%, the news service reported.
Uber said that 49.8 % of its U.S. workforce is white, 30.9% Asian, 8.8% Black, 5.6% Hispanic, 4.3% multi-racial and 0.6% other.
When limited to technical employees, whites make up 46.2% of the U.S. workforce, while Asians make up 47.9%.
At the leadership level, men account for 78% of the company's top jobs. In technical leadership positions the proportion rises to 88.7%
Uber CEO Travis Kalanick has come under criticism in recent weeks amid allegations of sexual harassment and other problems at the San Francisco-based company. Kalanick announced on Feb. 20 that the company was retaining former U.S. Attorney General Eric Holder to look into allegations of discrimination and sexual harassment made by Susan Fowler, a former engineer at the company.
In addition, Kalanick publicly apologized to a Uber driver after a video surfaced showing Kalanick arguing with the driver over the company's compensation policies. Kalanick then admitted in a blog post that he needed management help.
Uber board member Arianna Huffington has taken a leading role in examining Uber's corporate culture. In addition, the company is interviewing candidates to serve as COO and help Kalanick manage the privately held company, which has a valuation of nearly $70 billion.
Recently a woman manager at the company told the Guardian that a Uber manager told her that sexism is systematic at technology companies in general.
Former Uber engineer Fowler provided a jarring account of her time and treatment at the company.
Previously journalist Sarah Lacy posted in 2014 that she had "seen an ever-worsening frat culture (at Uber) where sexist jokes and a blind eye here-or-there have developed into a company where the worst kind of smearing and objectification of women is A-ok."
Uber has denied Lacy's claims.