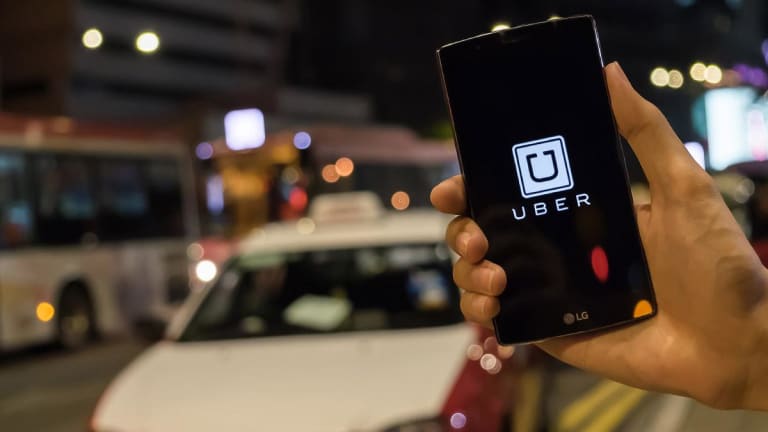 Uber Prices IPO at $45 per Share
Uber prices its highly anticipated IPO at $45 per share, at the low end of its expected range.
Uber has priced its initial public offering at $45 per share. 
That figure is near the bottom of the $44 to $50 range that Uber initially set in an S-1 filing. The finalized price was first reported by The Wall Street Journal.  
A $45 per share price would value the company at about $82 billion, a lower valuation than earlier reports had suggested. The company will raise about $8 billion in the deal.
The $82 billion valuation figure makes Uber the largest IPO since Alibaba (BABA) went public in 2014 at a valuation, at the close of trading, of $231 billion. 
Uber's IPO is a much-anticipated event for the markets, but how it will perform as a public stock is far from certain.
Its U.S. rival Lyft (LYFT) , which went public on March 29 at $72 per share, is down 32.4% since that time amid questions about its ability to turn a profit. It posted a larger-than-expected loss in its first earnings report this week, but Lyft executives told investors that 2019 will be a "peak year" for losses.  
Uber bulls make the case that -- akin to the early days of Amazon -- it can leverage its core ride-hailing business into a broader transportation service that will someday reap great rewards. Uber reported a loss of $1 billion in the first quarter along with slowing topline growth. 
Bearish investors question the financial outlooks of companies like Lyft and Uber, which face many of the same challenges: High spending on driver and rider incentives, significant losses, uncertain timelines for profitability, and a tenuous regulatory landscape globally. Both companies faced nationwide driver strikes on Wednesday.
"We view Uber's conservative pricing as a smart and prudent strategy coming out of the box as it clearly learned from its "little brother" Lyft, and the experience it has gone through over the past month," wrote Wedbush's Dan Ives in a note about Uber's IPO pricing.
Uber is expected to start trading on the New York Stock Exchange on Friday under the ticker symbol UBER.