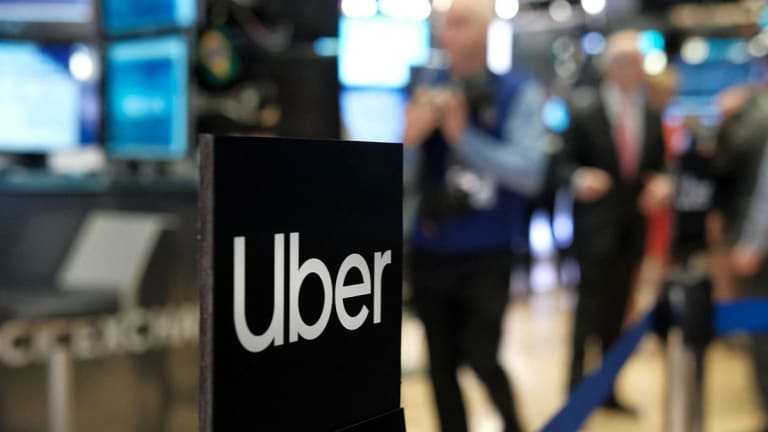 Uber's Weak IPO Could Shine a Harsh Light on Other Tech Unicorns
Uber's poor showing could mean more scrutiny on other unicorn IPO hopefuls, especially ones that don't make money.
After all that, Uber's IPO was a dud.
The ride-hailing giant, once the most valuable private tech firm in the world, limped its way into the public markets on Friday. After kicking off trading at $42 per share -- below its initial offering price of $45 per share -- it had fallen to $41.57 by market close on Friday. And on Monday, Uber's (UBER) stock extended those losses even further with an 11% slide as of the late afternoon.
So what does Uber's lackluster IPO mean for the remaining unicorns expected to list their shares soon?
Slack and WeWork are eyeing public offerings in the coming months; others, such as Airbnb and Palantir, are reportedly weighing IPOs as soon as this year. And Uber's poor showing should give those other unicorns pause, said Dr. John Mullins, associate professor of management practice in entrepreneurship at London Business School.
"I think the message the market is sending, to both Uber and Lyft, is that we're not really sure you have a viable business going forward: At some point, that boatload of cash is going to be gone," he said. Uber raised about $24 billion in total as a private company, and raised an additional $8.1 billion in its IPO.
One of the reasons why many investors likely shied away Uber's IPO, and that of its smaller U.S. rival Lyft (LYFT) , is both companies' uncertain pathways to a profit and the fact that they bleed cash. In the first quarter, Uber reported a loss of $1 billion; Lyft's quarterly losses are comparable relative to its size.
"Is it an issue of the ridehailing industry, or is it that any unicorn is implicitly overvalued? I think it's the former, but I think there's going to be more scrutiny of companies that are losing lots and lots of money," said Jim Rosener, a partner at law firm Pepper Hamilton. 
Uber priced its shares at the low end of its initially declared range of $44 to $50 -- and Lyft's performance so far likely influenced that decision, Rosener added. Lyft shares are down about 35% since its March 29 debut. 
Of course, not all highly-valued tech firms are created equal, nor has every unicorn IPO fallen flat this year. Since making their respective debuts, Pinterest's (PINS) stock is up 19% and Zoom's (ZM) is up 28%. 
"If you look at Slack, that's a very different kind of business, and I think investors will evaluate Slack on its own merits," Collins added. 
Still, he added, the market has a long memory -- and would prefer to avoid some of the high-profile disasters from years ago that wreaked havoc on the markets.
"[Investors] remember Groupon (GRPN) and some of the bad stuff that happened years ago. I think they're concerned, and rightfully so," he said.