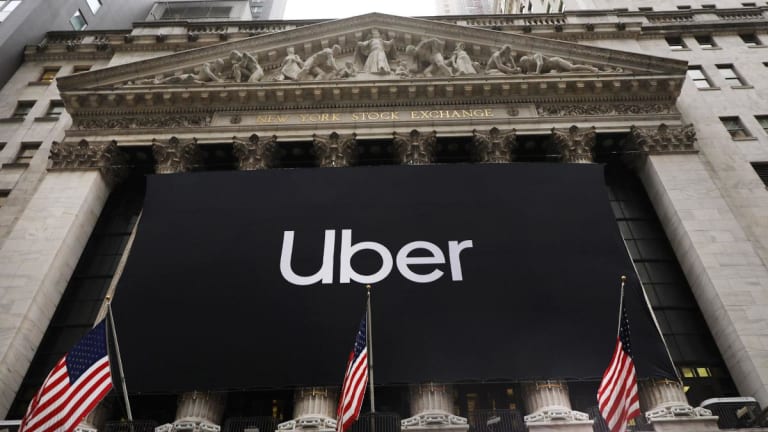 Uber Reports Its First Earnings as a Public Company Thursday: What to Look For
The ride-hailing giant expects to lose $1 billion in the first quarter, and investors will dig into what exactly that loss means.
Uber (UBER) - Get Free Report posts its first earnings report as a public company this week, and it'll be one many tech and IPO investors will be watching closely.
Since its disappointing debut on May 10 in one of the biggest IPOs in recent years, Uber shares haven't yet cracked the $45 offering price it set in its IPO, and were trading up slightly to $40.10 in pre-market trading on Thursday. 
Since Uber's rocky debut, analysts have struck measured notes on the stock's outlook heading into earnings. For the quarter, analysts are expecting a loss of $2.30 per share on earnings of $3.08 billion, according to FactSet. In its initial IPO paperwork, Uber disclosed that it expects to post a $1 billion loss for the first quarter. 
"The one thing I'll look for is how much they're spending on customer acquisition," said Duncan Davidson, a partner at VC fund Bullpen Capital, which invests in transportation and mobility businesses. "Both Lyft and Uber went through various discounts to juice their market share numbers. That's not sustainable. I expect that part of the report to be bad."
For its part, Lyft (LYFT) - Get Free Report shares have sagged 27% since it debuted at $78 per share on Mar. 29. As of April 2019, Lyft controls about 29% of U.S. rideshare spending to Uber's 69%, according to the data analysis platform Second Measure. That breakdown excludes Uber Eats transactions. 
In an earnings preview on Tuesday, Wedbush analysts Ygal Arounian and Dan Ives wrote that it will take time for investors to digest Uber's story, and that Uber must persuade investors that its business model is still in the "early days" of playing out. Uber CEO told a German newspaper recently that the company would not be profitable for the next year or two, but would eventually get there, according to CNBC.
"This will be a long and winding road for Uber to prove to the Street its ability to monetize a massive installed base of 90mm+ and growing, although the lack of profitability even with binoculars remains a negative focus for bears, which is an overhang on valuation," Arounian and Ives wrote. They added that at this stage, the majority of investor focus will likely fall on Uber's "take rate" -- the percentage it takes from every transaction -- as well as overall bookings. 
But it isn't just Uber's losses and uncertain profitability weighing on the minds of investors.
Investors will likely scrutinize Uber's spending on marketing, discounts and other incentives it offers to maintain its leading position, expand into other lines of business and position itself as the "Amazon of transportation" that it aims to be. But with the markets signaling some unease towards money-losing tech firms, investors may seek reassurance that Uber can get customer acquisition costs under control and stanch some of its losses. 
"Uber and Lyft are making people queasy about losing unbelievable amounts of money," Davidson added.