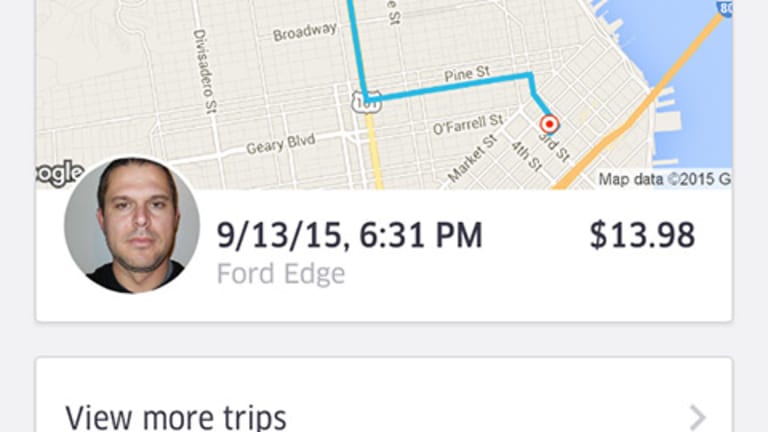 Uber, Airbnb Represent New Wave of Business for Today's World
Eamonn Kelly, director at Deloitte Consulting LLP, says 'no-ownership' companies like Airbnb and Uber represent a new wave of how businesses operate in today's world.
NEW YORK (TheStreet) - When examining a company's financials, many investors target its assets and liabilities.
However, "no-ownership" companies are the ones that are really starting to garner market share and investors' attention, according to Eamonn Kelly, a director at Deloitte Consulting, and the company's chief marketing officer, strategy & operations.
Specifically, companies like Uber and Airbnb, have very little in the way of physical assets, unlike a company like Ford (F) or Exxon Mobil (XOM) . 
Uber and Airbnb have seen their valuations soar in recent years, as they now command figures as high as $41 billion and $20 billion, respectively. 
These companies have found a way for consumers to use things, like living spaces and cars, and turn them into profit machines, Kelly said. The companies act as digital intermediaries between the seller and the buyer, collecting a portion of the proceeds in the process. 
This creates an attractive business model. As more buyers and sellers use the service, overhead costs remain relatively flat, unlike operating a manufacturing facility. 

SPDR S&P 500 ETF SPY data by YCharts
Many decades ago, it wasn't uncommon for large companies to own the entire production process of its product, Kelly explained. 
It would be like if an automaker made each piece of equipment that went into the car, even the rubber for the tires and steel for the frame. 
But over the past 30 years or so, more and more companies have started relying on other businesses to fulfill the order of these components, Kelly said. This has occurred as relationships have improved and supply chains have become more sophisticated and efficient. 
While companies like Uber and Airbnb are still privately held, investors should seek out investment opportunities in companies that have value-generating platforms, Kelly said. 
This article is commentary by an independent contributor. At the time of publication, the author held no positions in the stocks mentioned.