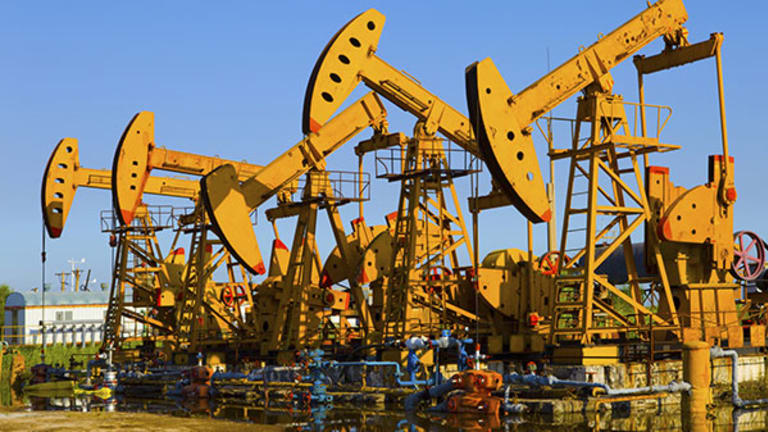 U.S. Drillers Add 20 Rigs, Baker Hughes Reports
Oil producers added 21 rigs week-over-week, while gas producers took two rigs offline. Meanwhile, Canadian producers took an astounding 91 rigs offline in the past week.
A net of 20 oil and gas rigs came online in U.S. shale basins over the past week, Baker Hughes (BHI) reported Friday, bringing the Houston oilfield services' overall tally to 809 rigs. 
Baker Hughes' oil rig count climbed 21 to 652, while the natural gas fell by two to 155 and one miscellaneous rig was added to a total of two.
Meanwhile, the offshore rig count has once again dropped week-over-week, dropping by one platform this week after falling by one in the previous frame. The offshore count, now at 18, is down ten rigs year-over-year.
All told, the U.S. count is now up 345 rigs from this time last year when the count stood at 464, Baker Hughes said, with oil rigs up 280 and gas rigs up 63. 
West Texas' Permian Basin saw the greatest net increase week-over-week with the addition of seven rigs to 315 units overall, while the Cana Woodford in Oklahoma, the Eagle Ford in southeastern Texas and the Marcellus in Appalachia all saw modest two-rig builds.
The news comes as oil prices hover just below $48 per barrel after the U.S. Energy Information Administration reported a 5 million barrel build in crude oil stockpiles during the week ended March 17. 
Meanwhile, just as the Trump administration announces its approval of TransCanada's (TRP) - Get Report construction of the Keystone Pipeline in the U.S., Baker Hughes' Canadian rig count is down an astounding 91 rigs from last week to 185 overall, with oil rigs down 79 to 70 total, gas rigs down 11 rigs to 114 and miscellaneous rigs down 1.