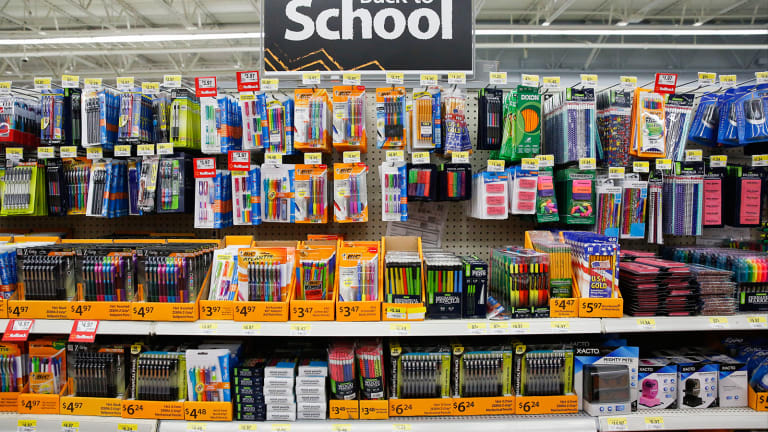 U.S. Consumers Continued to Spend This Back-to-School Season
Despite stock market turbulence that walloped many 401(k) accounts, consumers still showed up to spend for their kids heading back to school.
NEW YORK (TheStreet) -- Despite the bout of turbulence that rippled through equity markets last month and walloped 401(k) statements, the reality is that the bruised U.S. consumer still came out in force to buy apparel and supplies for kids heading back to school. 
According to the Census Bureau's retail sales numbers, adjusted sales at clothing and clothing accessories stores rose by 0.3% in August compared to July. At sporting goods retailers, sales also advanced 0.3%, and the increase was the same at general merchandise stores.
Headline retail sales last month rose 0.2%, missing forecasts for a 0.3% increase, but factoring out gasoline and auto sales, core retail sales increased 0.3%.
Positive back-to-school sales data echo trends several prominent retailers saw in their businesses in mid to late August, as shopping at malls and big box stores kicked into overdrive.
"On our Aug. 14 earnings call, we mentioned that we had a really strong start for back to school -- and I'm pleased to say that the trend continues," said J.C. Penney (JCP) - Get J. C. Penney Company, Inc. Report  president and CEO Marvin Ellison to investors at a Goldman Sachs presentation on Sept. 9.
Positive early results for the back-to-school season was also seen at teen specialty apparel retailers, which tend to hawk clothes that are often higher-priced than those sold at J.C. Penney.
"As we are now in the midst of back to school and enter the fall season, we are pleased to see positive trends continue," said American Eagle Outfitters (AEO) - Get American Eagle Outfitters, Inc. Report interim CEO Jay Schottenstein on an Aug. 19 earnings call. Schottenstein called out strong sales of the company's new flexible denim for boys and girls, which retails for a pricey $39 to $60 a pair.
Dick's Sporting Goods (DKS) - Get Dick's Sporting Goods, Inc. Report  chairman and CEO Ed Stack also cited healthy interest by consumers in slimmer-fitting athletic bottoms and footwear for children on an Aug. 18 call with analysts.
The solid spending by parents for their young children and teens this back to school season bodes well for retailers during their next major selling period, the holiday season, which can account for over 50% of annual sales for some retailers.
One of the retailers poised to get a lift this holiday season is the aforementioned America Eagle Outfitters. In the face of significant price competition by fast-fashion retailers such as H&M and Forever 21, American Eagle Outfitters notched an impressive 11% same-store sales increase in the second quarter as fickle teens responded favorably to its flexible denim and more fashionable tops.
Products were so in demand that American Eagle was able to increase its average unit retail prices by 10% year over year, while traffic to its physical stores improved. The second quarter also stood out for how the company's two main competitors in the malls fared: second quarter same-store sales for Abercrombie & Fitch division fell 7%, while at beleagueredAeropostale (ARO)  they dropped by 8%. 
Shares of American Eagle Outfitters have already tacked on 13% year to date, handily outpacing the S&P 500's 4.9% drop. And more gains appear likely based on the company's sales momentum from back to school.
Target is seeing renewed interest by consumers for its cheap chic apparel offerings, and could be another candidate for riding positive back-to-school trends into the holidays. On an Aug. 19 earnings call, Target CEO Brian Cornell said his company is "seeing encouraging results in back to school and back to college."
The sales strength for back to school, and possibly the holidays, could light a flame under Target shares in the weeks to come. Target's stock has risen about 1.8% year to date, outperforming the declining S&P 500, while shares of its rival Wal-Mart (WMT) - Get Walmart Inc. Report  are down 25% for the year due to two straight underwhelming earnings reports.