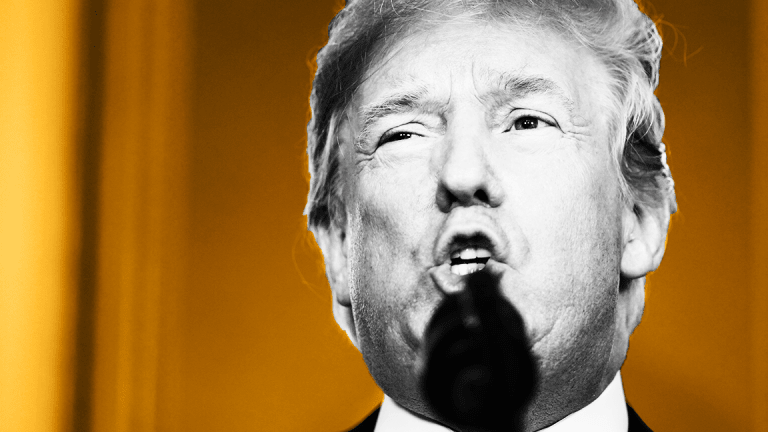 U.S. Automakers Urge De-Escalation of U.S.-China Trade Spat
Ford and GM want positive trade relationship between the two largest auto markets in the world. While their stocks rebounded, other companies that could be targeted by tariffs fell.
As trade tensions between China and the U.S. escalate, with each side announcing plans to impose tariffs on products worth $50 billion, U.S. automakers, now emerging as potential targets for Chinese tariffs, are asking the two largest auto markets in the world to work out their trade issues.
China announced overnight the proposal of additional tariffs on 106 U.S. products, including soybeans, aircraft of specific weight and passenger vehicles. The move came just hours after the Trump administration unveiled plans to impose a 25% tariff on Chinese products.
Trump responded to China's proposed tariffs in a tweet Wednesday morning, saying: "We are not in a trade war with China, that war was lost many years ago by the foolish, or incompetent, people who represented the U.S. Now we have a Trade Deficit of $500 Billion a year, with Intellectual Property Theft of another $300 Billion. We cannot let this continue!"
With passenger vehicles potentially subject to China's tariffs, Ford Motor Co. (F) - Get Ford Motor Company Report and General Motors Co. (GM) - Get General Motors Company Report stocks were initially under pressure but rebounded in late morning trading.
Ford shares, which were down about 1% after the opening bell, erased the early losses and rose 0.9% to $11.26 at 2:35 p.m. New York time. GM shares, meanwhile, climbed 1.1% to $37.35.
The Detroit-based GM criticized the current trade environment between the two nations, requesting dialogue and policies over the threat of tariffs.
"We support a positive trade relationship between the U.S. and China, and urge both countries to continue to engage in constructive dialogue and pursue sustainable trade policies," GM said in an e-mailed statement to the media. "We continue to believe both countries value a vibrant auto industry and understand the interdependence between the world's two largest automotive markets."
Similar to GM, Ford said, "We encourage both governments to work together to resolve issues between these two important economies."
Aside from the automakers, the broader industrials industry was hit by the possibility of Chinese tariffs, which targeted several American agricultural products. The Industrial Select Sector SPDR ETF (XLI) - Get Industrial Select Sector SPDR Fund Report fell 0.5% to $73.38.
Boeing Co. (BA) - Get The Boeing Company Report , which is a component in the XLI, tumbled 2.2% to $323.53. The Chicago-based aerospace company does not have a statement on the proposed Chinese tariffs at this time. To be sure, the proposed tariffs would only affect a small portion of the Boeing jetliners, as some of its wide-body jets like the 747 and the 787 are heavier and would not be subject to the 25% tariff. 
Caterpillar Inc. (CAT) - Get Caterpillar Inc. Report stock fell 0.9% to $143.73. The company did not immediately respond to a request for comment.
Fellow farm machinery manufacturer Deere & Co. (DE) - Get Deere & Company Report dropped 3.7% to $147.31 at 2:37 p.m. Deere's director of global public relations, Ken Golden, told TheStreet that the company has consistently been a proponent for fair trade policies that provide access to global markets for farmers in the U.S. and around the world. 
"Deere will continue to monitor these proposals to evaluate how they impact the company and our customers," Golden said. "We strongly encourage officials to work toward a timely resolution to limit uncertainty for farmers and avoid any meaningful disruption to agricultural trade."
DowDuPont Inc. undefined stock tumbled 0.3% to $63.16 given its exposure to the soybean business. The Midland, Mich.-based company recently established its agriculture division as Corteva Agriscience as it progresses toward being a stand-alone company, which is expected to be spun off by June 1, 2019. Corteva brings together DuPont Crop Protection, DuPont Pioneer and Dow AgroSciences, creating a company with leading positions in seed technologies, crop protection and digital agriculture.
Gregg Schmidt, head of external communications at Corteva, told TheStreet a potential trade conflict could affect the soybean industry as the U.S. exports half of the soybeans grown by U.S. farmers and 60% of those soybeans are exported to China. But China could supplement the loss of U.S. soybeans by shifting to Latin American countries, he said.
"In the event of a trade conflict, we believe there could be price declines in the total market with negative impacts on U.S. farmers and Corteva Agriscience's U.S. share could be effected pro rata based on our current share," said Schmidt."Corteva Agriscience will continue to support our growers and will work with grower groups and all related parties to ensure access to markets, including China, for U.S. soybeans."
Still, the president's new director of the National Economic Council, Larry Kudlow, told Fox Business Wednesday that he doesn't anticipate any action on tariffs for "several months."
Kudlow later told reporters that Trump is ultimately a free-trader. "He wants to solve this with the least amount of pain," Kudlow said.
U.S. companies have until May 22 to submit comments concerning the proposed tariffs. The Chinese did not publicly state when the tariffs would be imposed.
"As this game progresses, the evolving headline risk will very likely cause an overreaction in both directions at different times by market driving high-speed algorithmic traders," Stephen Guilfoyle, the founder of the family-run trading operation Sarge986 LLC, wrote for TheStreet's sister publication, RealMoney. "That should be a real blast."
Subscribe to our Youtube Channel for extended interviews, Cramer Replays, feature content, and more!