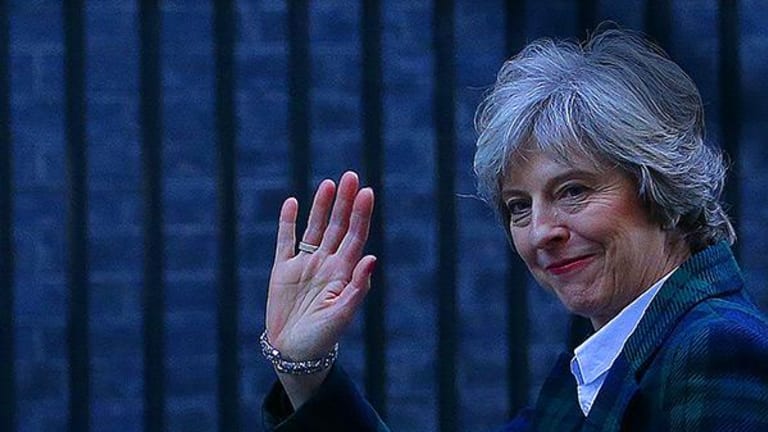 A Landmark U.K. Supreme Court Decision Deals a Blow to Theresa May
Brexit won't be so easy.
Britain's Supreme Court upheld a lower court ruling Tuesday that British lawmakers must vote on triggering the Article 50 exit clause from the European Union.
The landmark decision was read out by Lord Neuberger in a five-minute hearing at the Supreme Court in London's Parliament Square and could potentially delay Prime Minister Theresa May's ambition to start the exit process before the end of March.
"Today, by a majority of 8 to 3, the Supreme Court has ruled that the government cannot trigger Article 50 without an Act of Parliament," Neuberger said.
The pound, which extended gains to trade 0.33% higher at 1.2517 against the U.S. dollar, pared those gains when the Justices said that the U.K.'s devolved parliaments in Scotland and Wales need not be separately consulted. Scotland's First Minister, Nicola Sturgeon, has said she may opt for a second independence referendum if the government pursues a so-called Hard Brexit strategy that would remove the country from the European single market.
May has said that members of parliament will be given a vote on the final Brexit plan and senior government ministers had been expecting the ruling and it is reported that a motion to present to the House of Commons and House of Lords could be written in less than 24 hours.
However, it is unknown if there is political will among members of parliament in all parties to vote against the triggering of Article 50.
In what has been deemed a landmark constitutional case, all 11 Supreme Court Justices heard the government argue that May had the unilateral right to trigger Article 50 and that she has the right to unmake treaties under so-called prerogative powers.
This was the largest ever panel of justices assembled since the law lords were created in 1876. All justices heard and ruled on the case to prevent claims that the decision could have differed.
Lawyers for lead claimant Gina Miller argued that if Brexit is triggered without a vote by lawmakers it would deny British citizens existing rights enshrined in domestic law in the 1972 European Communities Act.
An earlier High Court decision in November ruled that May did not have the right to trigger Article 50 without first consulting parliament.
Last week May provided the most detailed vision to date the country's post-Brexit future, favoring a so-called 'Hard Brexit' approach. In a keynote speech, May tabled the country's desire to strike "better trade deals around the world," while maintaining tighter control over its borders and legal procedures.
May will meet President Donald Trump on Friday in Washington, DC. Trump has signalled he could get a trade deal signed with the U.K. in 90 days.