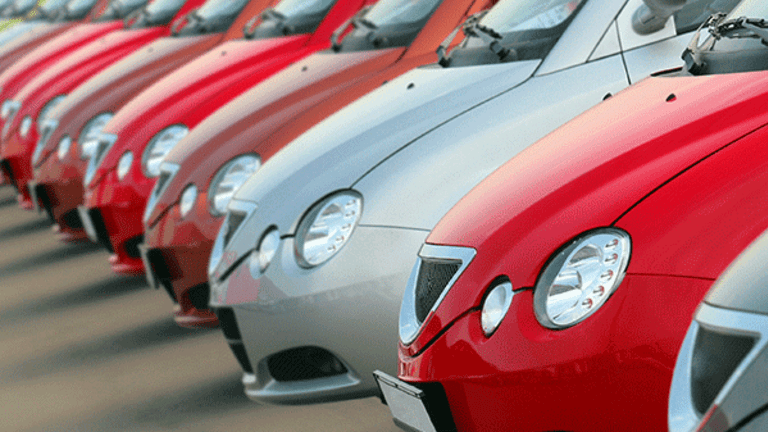 U.K. Nine-Month Car Exports Pass 1 Million Mark for First Time
Exports surge 10.5% as the industry enjoys its 14th consecutive quarter of growth.
U.K. car manufacturers saw solid growth during the first nine months, with increasing exports more than compensating for moribund domestic demand, according to figures released on Thursday by the Society of Motor Manufacturers and Traders (SMMT).
The SMMT announced that exports of cars from the U.K. surpassed the 1 million unit threshold for the first time on record during the nine months to the end of September. Overall production and export volumes were both up by 10.5% in the first nine months. U.K. car exports have risen over 14 consecutive quarters.
"British-built cars are in demand across the world as demonstrated by the double digit growth in exports this year, resulting in more than a million cars produced for international markets," said CEO Mike Hawes.
The news comes as the pound sits close to a multi-decade low against many of its major counterparts following the Brexit vote in June. It also coincides with an increasingly divisive political discussion over the U.K.'s future trading relationship with the European Union.
Prime Minister Theresa May sparked panic early this month when she said that the U.K would push for unfettered access to the EU's so-called single market but that she would not be willing to go so far as to place the U.K. under the jurisdiction of European courts or to accept the continued free movement of people from the EU into the U.K.
The proclamation left British exporters bracing for a potentially acrimonious divorce with the EU, given the contentiousness of freedom of movement and European law as an issue in both Brussels and London. A "hard" Brexit could see car  and other exporters subjected tariffs when trading with the EU.
SMMT CEO Hawes warned on Thursday that the future growth of the U.K.'s burgeoning car industry will be dependent upon continued competitiveness and exporters having barrier-free access to major global markets.
The U.K. is an important hub for international automotive firms. Not only does it represent a large market for European and Asian manufacturers themselves, but it has also grown in popularity as a production base during recent years. 
European auto stocks were mixed  on Thursday, with Fiat Chrysler (FCAU) - Get Stellantis N.V. Report  a top riser. The stock was up 2% after it reported stronger-than-expected results on Wednesday. French car maker, Peugeot (PEUGF) , fell more than 1%, as the market continued to digest a mixed trading update delivered to investors on Wednesday. Volkswagen (VLKAY) was up marginally after upgrading its full-year profit forecast.