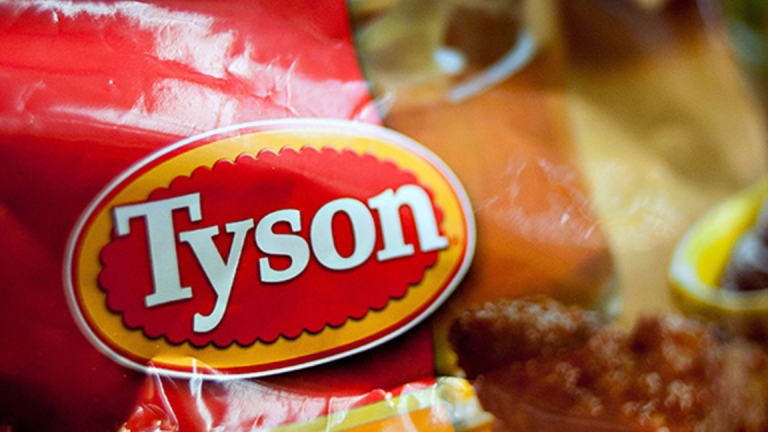 Tyson Foods Beats Estimates but Warns of African Swine Fever Danger
Tyson Foods slips after beating second-quarter estimates but warning of dangers from African swine fever.
Shares of Tyson Foods (TSN) - Get Tyson Foods Inc. Report  rose slightly to $75.15 Monday after the worldwide meat company beat Wall Street's second-quarter earnings estimates but warned of a possible spread of African swine fever.
The Springsdale, Arkansas-based company reported net income of $426 million, or $1.17 a share, up from $315 million, or 85 cents a share, a year ago. Adjusted earnings came to $1.20 a share, ahead of analysts' estimates of $1.14.
Tyson Foods, whose brands include Tyson, Jimmy Dean, Hillshire Farm, and Ball Park, said sales totaled $10.4 billion, up from $9.8 billion a year ago, and ahead of Wall Street's forecast of $10.3 billion.
While pleased with the company's direction for the second half of the year, Noel White, Tyson's president and CEO, warned in a statement that "African swine fever has the potential to impact the global protein industry on a level that we have never experienced, and it is an event that will underscore the power of the Tyson business model."
"While Tyson's diversity across segments provides stability and puts us in a position to capitalize when opportunities arise, all proteins could see a benefit," White said. "A worldwide decrease in pork supply would offer significant upside to our pork business, while also lifting the chicken and beef businesses as substitutes and increasing raw material costs in our prepared foods business."
"Our forecasts for the current fiscal year do not include any potential effects from ASF as we do not have clarity on when the impact might occur or what the magnitude could be," White said.
The U.S. Department of Agriculture's Animal and Plant Health Inspection Service said on its web page that African swine fever is "a devastating, deadly disease that would have a significant impact on U.S. livestock producers, their communities and the economy if it were found here."
"There is no treatment or vaccine available for this disease," the USDA said. "The only way to stop this disease is to depopulate all affected or exposed swine herds."
The webpage added that "ASF is not a threat to human health and cannot be transmitted from pigs to humans" and that "it is not a food safety issue."