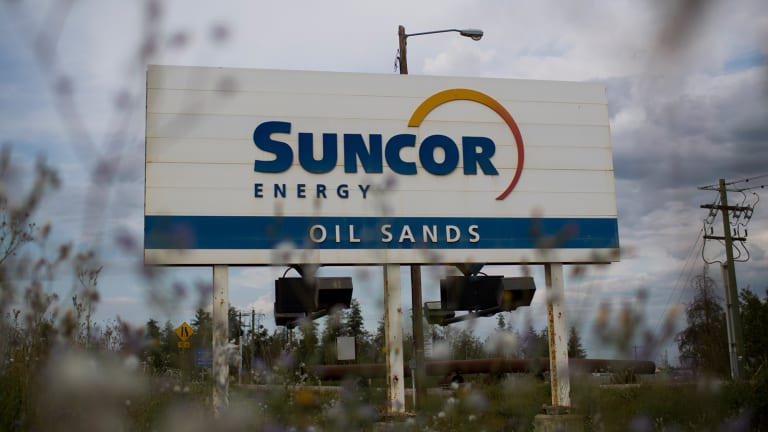 Canadian oil stocks are underappreciated in the context of global integrated oil companies and top buys include Cenovus Energy Inc. (CVE) - Get Cenovus Energy Inc. Report and Suncor Energy (SU) - Get Suncor Energy Inc. Report , according to a report out Tuesday from Goldman Sachs.
Analyst Neil Mehta said in the note that there are four drivers for its positive view on oil companies north of the border. The first is increasing oil volumes expected from them this decade as their longer lead-time projects ramp up. Large in-flight construction projects such as Fort Hills, Horizon, Hebron and the FCCL oil sands partnership (which includes Foster Creek, Christina Lake and Narrows Lake areas) are finally transitioning to production and the firm sees a path for brownfield projects at $50 to $60 per barrel oil, including Aspen from ExxonMobil (XOM) - Get Exxon Mobil Corporation Report and growth at FCCL from Cenovus and its partner ConocoPhillips (COP) - Get ConocoPhillips Report .
Oil prices have also improved to the high $40-per-barrel level from lows in the high $20's earlier this year. And while the firm expects they will continue to be range-bound between $45 to $50 per barrel through the second quarter of next year, it thinks they could move to $60 by the fourth quarter of 2017 and stay there through 2018.
Third, Canadian oil companies are simply cheap -- trading at a discount to global oil majors (outside of Russia), a 38% discount when compared with U.S. majors. They also have good balance sheets and free cash flow profiles that can cover their dividends even if oil dips below $50 per barrel next year, Goldman says.
Mehta likes Cernovus' strong free cash flow and balance sheet, growth at its Foster Creek/Christina Lake projects and attractive valuation. He has a buy rating on the stock with a price target of $18 in 12 months, which would represent a total return of 20%.
The analyst also likes Suncor's strong growth from its Syncrude/Fort Hills projects. He has a buy rating on the stock with a price target of $33 in 12 months, which would also represent a return of 20%.
While neutral on the other two Canadian oil companies he follows, Canadian Natural (CNQ) - Get Canadian Natural Resources Limited Report and Husky Energy, Mehta continue to see business fundamentals also improving for both companies. He has a price target of $34 for Canadian Natural and a C$17 price target for Husky.