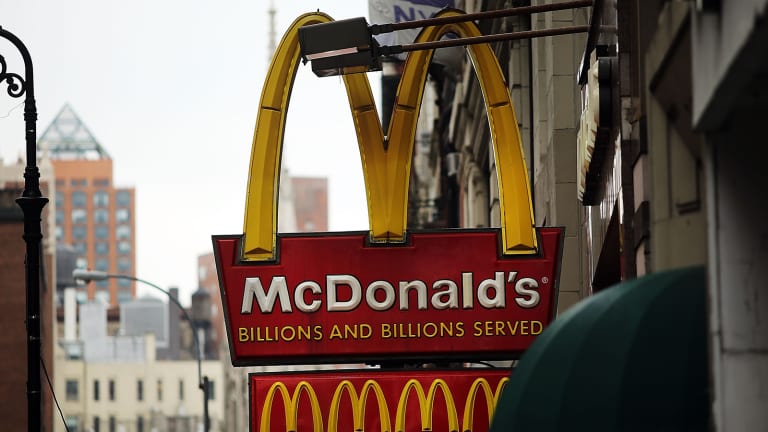 Publish date:
Two Things McDonald's Must Show Hungry Investors Very Soon
It's put-up or shut-up time for struggling McDonald's, which reports earnings on Thursday.
It's put-up or shut-up time for struggling McDonald's, which reports earnings on Thursday.
NEW YORK (TheStreet) -- Investors have eaten up shares of one stalwart fast-food chain in recent months.
Believe it or not, that would be none other than beleaguered fast-food giant McDonald's (MCD) - Get McDonald's Corporation (MCD) Report. Over the past six months, shares of the struggling chain have tacked on 7.8%, outperforming the gains on the Dow Jones Industrial Average and S&P 500 of 1.7% and 3.2%, respectively.
But shareholders eager for results from Easterbrook's actions may be forgetting that McDonald's is a huge ship that will need time to right itself.
"As you go through turnarounds, I'm going to tell you from my experience in the past in other markets, they are a little bumpy by nature -- it isn't just a straight-line growth curve," Easterbrook cautioned on an April 22 earnings call.
Ahead of its second-quarter earnings release on Thursday, TheStreet takes a look at two areas investors will be watching for some early results from Easterbrook and his team.
1. Are sales at McDonald's U.S. growing amid more locally customized menu items?
In May, McDonald's launched three versions of its Sirloin Third Pound Burgers nationally. Earlier in the year, the company tested muffins in certain Chicago locations and reportedly had success with a saucy burger in Kentucky.
It's vital that McDonald's demonstrates that its new products are getting people into its restaurants and also getting them to spend in other areas of the menu such as French fries and McCafe coffee. Unleashing the creativity of franchisees is one of the foundations of Easterbrook's turnaround initiatives. 
"We are liberating the creativity, and I guess the insights, of our local markets to develop local food menu items that better resonate with the local customer base," Easterbrook pointed out on the April earnings call.
Several of the latest locally inspired menu additions include a Green Apple Smoothie and a Bacon & White Cheddar McMuffin in Chicago, as well as the McLobster in Maine and certain Northeast locations. But if McDonald's doesn't show improvement from a disappointing first-quarter U.S. sales drop of 2.6%, investors may be less confident that local offerings this summer will spur solid sales in the third quarter.  
2. How is breakfast at McDonald's U.S. holding up as Taco Bell becomes more aggressive?
Taco Bell launched its breakfast menu nationally in March 2014 with the Waffle Taco and easy-to-hold A.M. Crunchwrap. That menu, available from 7 a.m. to 11 a.m., has expanded to 16 items. The Yum! Brands (YUM) - Get Yum! Brands, Inc. (YUM) Reportowned chain had a 6% same-store sales increase in the second quarter, aided in large part by sales during breakfast hours. Breakfast items represented about 7% of Taco Bell's sales in the second quarter, up from 6% in the first quarter.
Taco Bell also has been expanding its premium line of coffee, taking aim at McDonald's McCafe offering. "We are very excited with the results we are seeing from coffee and how it's lifted sales at the 2,000 units that have already gotten the coffee -- we will be expanding it to more units by the end of year," Yum! Brands CFO Pat Grismer said on the company's July 15 earnings call.
For McDonald's, breakfast makes up about 25% of its U.S. sales. Worryingly, breakfast sales for McDonald's were only up slightly in the first quarter, suggesting Taco Bell made some inroads into the Egg McMuffin's dominance to start the year. McDonald's must serve up better second-quarter results in breakfast as investors have high hopes for its planned foray into all-day breakfast availability. 
According to USA Today, McDonald's this month is expanding its all-day breakfast experiment to 132 locations in Nashville, Tenn. In the spring, McDonald's launched all-day breakfast availability in 94 San Diego locations.