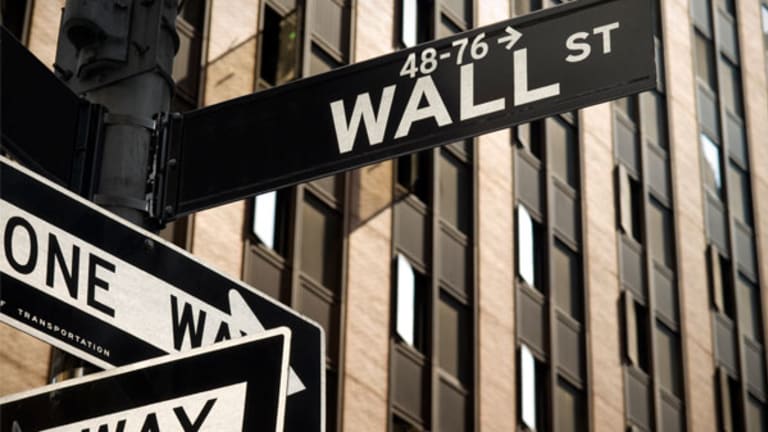 Two Stocks Found Sifting Through the Wreckage of the Energy Sector
These are good spots to incrementally build a position in while waiting for sunnier days.
(Editors note: This article was originally published on Real Money Pro Oct. 10 at 11:30 a.m.)
It has not been the best of times for energy investors in the last few months. The last few weeks have been particularly brutal. West Texas Intermediate (WTI) prices have fallen more than 20% since their recent highs this summer, and Brent is touching four-year lows.
The energy sector has suffered deep declines as a result, with small exploration and production concerns getting taken out and treated like a rented mule by investors. Many have been cut in half. The fall in energy prices acts as a tax cut for consumers and should bolstered consumer spending as well as consumer discretionary stocks, such as restaurants and retailers. However, I am concerned what the big fall in energy prices is saying about the strength and direction of the global economy.
Want more stories like this? Try a
of Real Money Pro today.
I also think this big fall in energy stocks is a solid long-term buying opportunity for patient investors who add selective names incrementally on declines in the market. Natural gas prices seem to have found support and have suffered less recently than oil prices. I have been adding a few shares in selective E&P plays that get the majority of their production from natural gas. I believe they will be the first to recover, especially if we get another hard winter like in 2013 that boosts natural gas prices. Ironically, this is the opposite game plan of the past few years where investors wanted to own the more "oily" E&P plays.
I just added Warren Resources undefined to my "Best Ideas" picks after the close last night. The shares of this small cap E&P play have fallen from $6.50 six weeks ago to $4 a share currently. Warren has historically relied on oil production from its water flood properties in California for the majority of its production.
However, thanks to a recent purchase in the Marcellus shale region; going forward roughly three quarters of overall production will come from natural gas from properties with some of the lowest breakeven points in the huge gas fields of the Marcellus. Despite this, Warren has been thrown in with small E&P stocks that get the majority of production from oil and sold off sharply.
The company has already closed on financing its recent purchase in the Marcellus so that risk no longer exists. Thanks to the new acreage, Warren should see 50% higher revenue in 2015 after it grew some 30% this year. The company has a strong liquidity profile, has hedged most of 2014 production and sells for less than seven times the consensus earnings estimate for 2015.
I also have been adding to mid-cap Ultra Petroleum undefined . The company has done a solid job of reducing well costs, rationalizing its capital budget and through a recent asset purchase and swap has a production portfolio that is over 80% operated from just over 60% operated previously. This should help margins.
In addition, operating cash flow should easily exceed its capital budget this year, something that is not entirely common in the industry. Finally, Ultra has some of the "all in" break even points among domestic natural gas producers. The shares have been caught in the general decline in the sector and have declined by a third from recent highs. At this level, the shares go 7X next year's projected earnings. That consensus could continue to go down if energy prices fall further, but current valuations do provide a nice margin of safety.
I am not going whole hog in adding to either of these E&Ps, as these types of corrections also seem to overshoot. However, they are good spots to incrementally build a position in while waiting for sunnier days in the energy complex to return.
At the time of publication, Bret Jensen was long WRES and UPL.