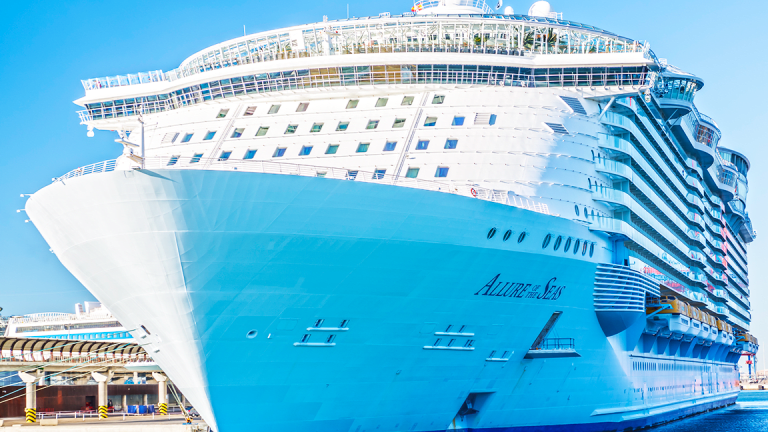 Two Royal Caribbean Cruises Leave 500 Sick Just Days After Being Voted the Best
Passengers who plan to book a cruise on a big ship may think twice after hundreds of passengers got sick on board two recent Royal Caribbean cruises.
Big cruise ships have the ability to accommodate thousands of guests per ship, "which allows the company to keep rates low," noted U.S. News Travel, which ranked Royal Caribbean International (RCL) - Get Royal Caribbean Cruises Ltd. Report  No.1 in the Top Dollar category for 2018 among cruise lines.
But that doesn't matter to the more than 500 passengers who got sick on board two recent Royal Caribbean cruises.
Late Saturday, Independence of the Seas limped back to Port Everglades in Florida after 332 passengers became sick with a stomach virus and, less than a month ago, 209 of the 5,000 passengers on board Ovation of the Seas reported similar symptoms on a cruise from Singapore to Australia. Five got so sick on the cruise they had to be hospitalized. One passenger told the AP that he thought his wife "was going to die in front of me" after she grew worse and had to be rushed into the intensive care unit of a hospital in Sydney.
Station WITN in Greenville, NC, quoted Royal Caribbean's Cynthia Martinez, who said the company flew in sanitation experts to conduct "enhanced sanitary procedures" to "minimize the risk of a recurrence" after Independence of the Seas returned home.
Earlier in the month, after passengers got sick on board Ovation of the Seas, spokesman Owen Torres told CNN that only "a small percentage -- 5.99% -- got sick.
But that's no consolation to those who continue to get sick on board Royal Caribbean cruises.
The Center for Disease Control, which tracks outbreaks on ships that sail in U.S. waters, listed outbreaks this year in which more than 3% of passengers got sick. The last outbreak in CDC's database? A 2016 Royal Caribbean cruise in February 2016.
More of What's Trending on TheStreet:
This article is commentary by an independent contributor. At the time of publication, the author held no positions in the stocks mentioned.