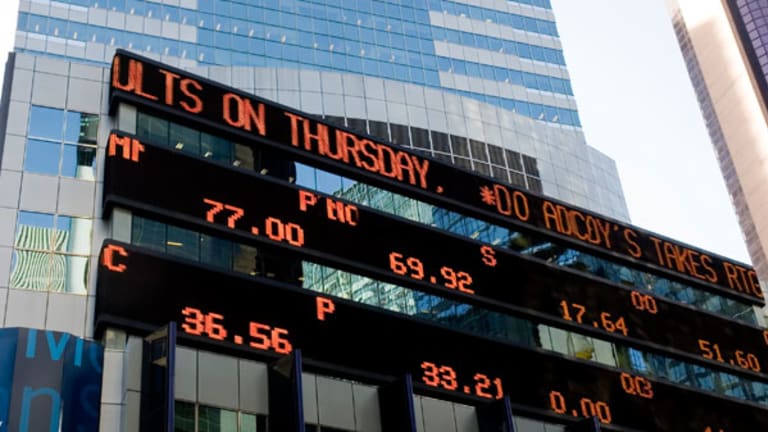 Two Pair Trades for Absolute Returns
In a volatile market that can swing violently in any direction, absolute returns hold out the promise of protecting capital while making money at the same time.
MINNEAPOLIS (Stockpickr) -- One of the hottest trends in investment management involves the concept of absolute returns. In a volatile market that can swing violently in any direction, absolute returns hold out the promise of protecting capital while making money at the same time.
Wall Street of course is catching on to the trend, with many new mutual funds offering exposure to both the long and short side of the market. Looking at Morningstar's list of top-performing funds over the last three years and you will find absolute return managers at the top of the list.
My question is: Does the promise of absolute returns deliver? Knowing the financial industry as I do, I am naturally skeptical.
>>Also:
In 2005, I launched a now-defunct publicly traded mutual fund that offered investors an opportunity to buy stocks that were undervalued and sell over valued stocks short. I think I was a bit ahead of my time. My old prospectus and marketing material for the fund read like a playbook of how investors should have been positioned over the last several years. If I'd had the capital to properly incubate the fund, the returns would have been fairly spectacular.
Instead of a fund, I now do all of my money management in the form of writing articles about stocks and making my recommendations in print. I've had a remarkable track record of successful recommendations, including my own personal favorite, "
."
My approach in obtaining absolute returns includes a concept known as pair trading. With pair trading, investors take a position on the long side and match that position with a short sale of a different position. If both stocks go up, one would expect the long stock to outperform the short stock, and vice versa.
>>Also:
For example ,at the beginning of the year I offered
five pair trades for 2010
. One of the trades was to buy
Apple
(AAPL)
and sell short
Palm
(PALM)
. At that time, Apple was rolling out its iPhone, while Palm was struggling to survive. So far this year, Apple has continued its quest for global market domination, while Palm meekly accepted a low-ball buy-out offer from
Hewlett-Packard
(HPQ)
.
A portfolio made up of these trades in equal amounts netted investors approximately 3% year to date. That amount falls far short of the near 10% gains in the market, but it does deliver on the promise of absolute returns: make a small gain while protecting capital from downside risk.
>>Also:
5 Top Stock Picks for the Fourth Quarter
Looking at the market today, here are two current possibilities for pair trades.
Long Zions Bank (ZION) /Short Piper Jaffray (PJC)
The
Federal Reserve
continues to offer monetary policy that is quite conducive to profits for banks. The guaranteed spread on free money vs. current lending rates allows banks to repair broken balance sheets. I want to be long banks in such an environment.
In particular, I like the regional banking space. The next chapter in the recovery of the banking industry will be for
larger banks to acquire smaller regional banks
. In the aftermath of the financial crisis, banks have dropped the ball with respect to growth.
>>Also:
7 Financial Stocks Dick Bove Doesn't Love
That changes in 2011. In order to make up for lost time, the solution to missing growth will be to use profits for acquisitions. Zions Bank, headquartered in Utah and operating mainly on the West Coast, has long been a candidate to be bought.
The stock is undervalued and a perfect candidate for the long side of a pair trade. On the flip side, I have much less confidence in the regional broker dealer industry. There the Federal Reserve cannot help spur underwriting and trading activity needed to boost the profits of an investment bank.
With fewer initial public offerings and less activity on the trading desk, I expect brokerage firms to miss current earnings estimates. Piper Jaffray trades for a relatively modest multiple of book value, but that book value could be in jeopardy if activity does not increase.
>>Also:
4 Financial Stocks Fairholme Is Buying
These firms need a healthy economy for their business. Without it, I can safely sell short, pairing the trade with a long on the regional bank side of the business.
Long Verizon (VZ) /Short AT&T (T)
The world now revolves around Apple. The company can make or break a business. Ask
Adobe
(ADBE)
how it feels about Apple and its decision to not support its Flash video platform? Being on the wrong side of Apple is not a fun position.
As such, trouble may be brewing for cell phone carrier AT&T. The company benefited greatly from its exclusive right to be the company of choice for the highly popular and successful iPhone.
>>Also:
In the very near future, that exclusivity will be over when Apple introduces an iPhone supported by the Verizon network. The perception is that AT&T's coverage is lacking in some markets. Verizon has the supposed advantage of being the stronger network.
You don't need to be a math major to figure out that over time, more consumers will choose the product with the perceived better quality. In this case, that choice will be Verizon.
>>Also:
4 Safest Telecommunications Stocks
The odds are high that Apple customers will abandon AT&T. From a stock perspective, playing these two stocks in a pair trade is a virtual no-brainer. Absolute return investors can go long the expected winner in the battle by owning Verizon and shorting the expected loser AT&T.
-- Written by Jamie Dlugosch in Minneapolis.
RELATED LINKS:
>>Stocks to Profit From a Swing to the Right
>>5 Stocks to Watch as Dow, Commodities Rise
>>3 Stocks Increasing Their Dividends
Follow Stockpickr on
and become a fan on
Facebook.
At the time of publication, author had no positions in stocks mentioned.
Dlugosch is the editor of Penny Stock Winners. He has over 20 years of experience in financial markets including investment banking, equity analysis and research and money management. In addition to being the Editor of Penny Stock Winners, he is also a Contributing Editor of InvestorPlace.com and founder and editor of The Rational Investor.