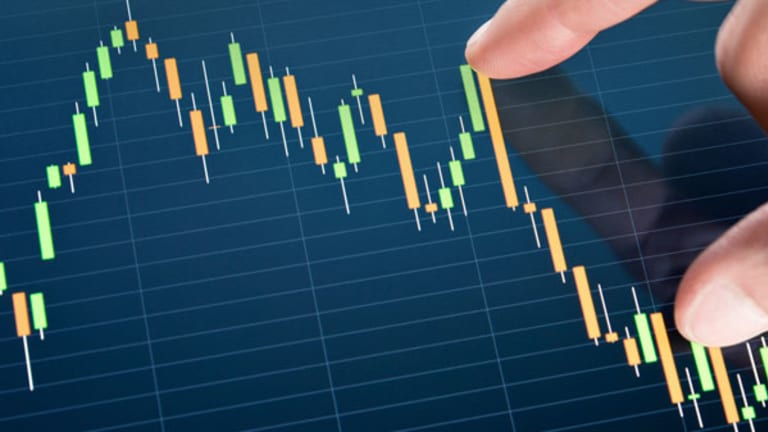 Two Options Opportunities to Consider
Scott Rothbort recommends a couple of call options opportunities.
MILLBURN, N.J. (Stockpickr) -- Last summer, I wrote an article which explained how to benefit from Ford's resurgence with warrants.
At that time,
Ford
(F) - Get Free Report
common stock was selling for about $12, and the Ford warrants (F-WS) were selling for $4.25. As of the close of business on Feb 18, Ford common was selling for $15.77, and the Ford warrants were selling for $7.14.
First, let's review what happened since my last writing in July. The stock has appreciated $3.77, or 31.42%, while the warrants have jumped 68.00%. The reason for the outperformance of the warrants is due to its leverage, a key characteristic for my suggesting playing those securities.
Personally, I sold about a third of my Ford warrants at about $9.20. Then, after
Ford reported its most-recent quarterly results
on Jan. 28, the stock and warrants sold off dramatically. I saw this as an opportunity to repurchase those warrants that I had previously sold. My purchases took place at prices at or around $7.10.
Related:
Stocks That Could Benefit From M&A
Recall that the Ford warrants were a long dated call option that matures on Dec. 31, 2012. There are some other call options opportunities that I want to bring to your attention. However, please be aware that options are highly risky securities and are not appropriate for all investors. I suggest that anyone interested in trading options first read the Options Clearing Corporation's publication,
Characteristics and Risks of Standardized Options
.
My first option idea has roots in my belief that
Yahoo!
(YHOO)
will have
to be broken up or will be taken over in 2011
. Yahoo! currently sells for $17.66, as of the close on Friday, Feb. 18, 2011. I believe that the value of Yahoo! is at least $19 per share and perhaps as much as $22.
My option strategy for Yahoo! is to buy in-the-money call options for July 2011 expiration. Specifically, I have purchased the July 15 strike calls, which will expire on July 16. The current offer price of these call options is approximately $3.20.
An analysis of these calls is as follows:
The breakeven price of the call options is equal to the strike price of $15 plus the premium price of $3.20, or $18.20
With Yahoo! now selling at $17.66, you are paying a premium for the time value of the options from today till expiration, in the amount of $18.20 less $17.66, or 54 cents.
Using a Black-Scholes model, I have calculated the following "Greeks" for the Yahoo! July 15 calls as follows:
Implied volatility: 36.5%
Delta: 80% (i.e., the warrant price will move in a 80% ratio to the price of Yahoo!, at current levels)
Gamma: 1.23% (the delta will change at the rate of gamma)
Should Yahoo rise to $19, my low-end valuation, then the call options would be worth $4 at expiration, a 25% increase from the current price. This compares with a stock price increase of about 7.6% to that $19 price target. Of course, the most we could lose is the $3.20, which we pay for the call options.
Yahoo! shows up in two of Stockpickr's most popular professional portfolios:
David Tepper's Appaloosa Management
, at 0.9% of the total, and
George Soros' Soros Fund Management
, at 0.5% of the total. It was one of Barclays'
, and I recently highlighted it as one of various
stocks that could benefit from M&A this year
.
My next idea is using
Citigroup
(C) - Get Free Report
options. Citigroup is undergoing a transformation under the stewardship of Vikram Pandit. The company has spilt its business into two parts: Citicorp, the "good bank," and Citi Holdings, "the bad bank." Earnings quality and credit metrics are improving at Citicorp. At the same time, assets have been shed from Citi Holdings. All told, Citigroup is not the same company it was before and during the credit crisis. The company is poised for future growth, especially outside the U.S. while improving its business at home.
As of the most recent quarter, book value was $5.61 and tangible book value was $4.45. With the stock having closed at $4.91 on Friday, Feb. 18, the stock is selling at a discount to book value and a small premium to tangible book value. Another critical factor to consider is that the U.S. government has divested itself of all stock which it received as part of the TARP bailout. I see the stock going much higher.
Using call options, you can get excellent exposure to Citi without paying a significant premium and committing less capital. The delta for these calls is very close to 1, given that the call options are so deep in the money.
For several weeks I have held the Citigroup June 4 strike calls, which mature on June 18, 2011. These call options are priced at $1.00. Thus, 91 cents of the $1.00 premium is in the money, representing intrinsic value. In other words, you are only paying 9 cents for the nearly four months remaining till expiration. That is a small price to pay to get the leveraged exposure to Citigroup.
I would also note that once the Citigroup June 4 strike calls expire, I plan to roll the options out to a future expiration, probably in early 2012.
Yahoo! is the top holding of
, at 9.4% of the total portfolio. The 141.1 million-share position is a 40.2% increase over the previous quarter.
Bruce Berkowita's Fairholme Capital
also likes the stock and holds 237.1 million shares, comprising 7.1% of the total portfolio. Citigroup showed up on a recent list of the
10 cheapest big U.S. bank stocks
, and it was one of
Godlman's seven best financial stocks for 2011
.
-- Written by Scott Rothbort in Millburn, N.J.
RELATED LINKS:
>>Top 10 Warren Buffett Dividend Stocks
>>3 John Paulson Stock Buys for 2011
>>Stocks With Huge Insider Selling, Buying
Follow Stockpickr on
and become a fan on
Facebook.
At the time of publication, author was long Ford warrants and Yahoo! and Citigroup calls, although positions can change at any time.
Scott Rothbort has over 25 years of experience in the financial services industry. He is the Founder and President of
, a registered investment advisor specializing in customized separate account management for high net worth individuals. In addition, he is the founder of
, an educational social networking site; and, publisher of
The LakeView Restaurant & Food Chain Report
. Rothbort is also a Term Professor of Finance at Seton Hall University's Stillman School of Business, where he teaches courses in finance and economics. He is the Chief Market Strategist for The Stillman School of Business and the co-supervisor of the Center for Securities Trading and Analysis.
Mr. Rothbort is a regular contributor to
TheStreet.com's RealMoney Silver
website and has frequently appeared as a professional guest on
Bloomberg Radio
,
Bloomberg Television
,
Fox Business Network
,
CNBC Television
,
TheStreet.com TV
and local television. As an expert in the field of derivatives and exchange-traded funds (ETFs), he frequently speaks at industry conferences. He is an ETF advisory board member for the Information Management Network, a global organizer of institutional finance and investment conferences. In addition, he is widely quoted in interviews in the printed press and on the internet.
Mr. Rothbort founded LakeView Asset Management in 2002. Prior to that, since 1991, he worked at Merrill Lynch, where he held a wide variety of senior-level management positions, including Business Director for the Global Equity Derivative Department, Global Director for Equity Swaps Trading and Risk Management, and Director for secured funding and collateral management for the Global Capital Markets Group and Corporate Treasury. Prior to working at Merrill Lynch, within the financial services industry, he worked for County Nat West Securities and Morgan Stanley, where he had international assignments in Tokyo, Hong Kong and London. He began his career working at Price Waterhouse from 1982 to 1984.
Mr. Rothbort received an M.B.A., majoring in Finance and International Business from the Stern School of Business, New York University, in 1992, and a B.Sc. in Economics, majoring in Accounting, from the Wharton School of Business, University of Pennsylvania, in 1982. He is also a graduate of the prestigious Stuyvesant High School in New York City. Mr. Rothbort is married to Layni Horowitz Rothbort, a real estate attorney, and together they have five children.