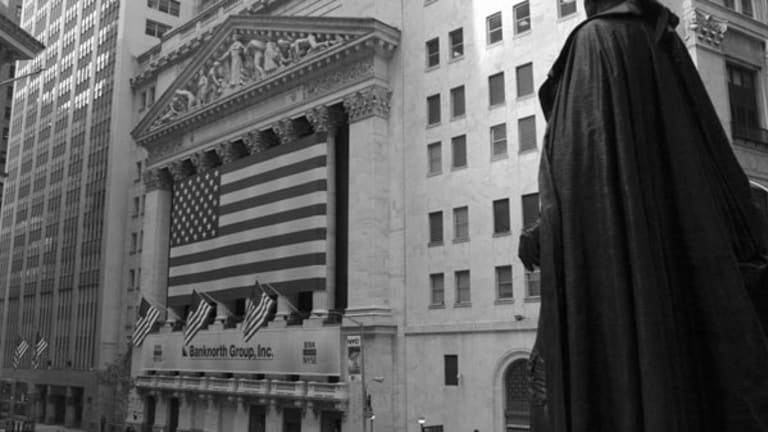 Two Energy Stocks That Beat Exxon, Chevron
TransCanada and Occidental Petroleum receive top marks from TheStreet's quantitative model and sell-side analysts.
BOSTON (TheStreet) --Oil and gas stocks were last week's best performers after homebuilders and REITs on signs the global economic rebound is picking up steam.
The S&P 500 Index's
oil and has subindex rose 10% over only five days, powered by
Schlumberger
(SLB) - Get Schlumberger NV Report
,
Halliburton
(HAL) - Get Halliburton Company Report
and
BJ Services
( BJS).
Here are two less-known large-cap energy stocks.
TheStreet's
stock model forecasts additional gains of 30% for both. Most analysts who cover them have "buy" ratings on the companies.
TransCanada
(TRP) - Get TC Energy Corporation Report
generates power in Canada and owns an extensive network of natural-gas pipelines throughout North America. During the past three years, it has increased revenue 6% annually, on average, and boosted net income 8.9% a year.
Quarter
: Fourth-quarter net income increased 39% to $387 million, and earnings per share climbed 22% to 56 cents. Revenue declined 5.4% to $2.2 billion. The operating margin shrank from 32% to 29%. It has $997 million of cash and $20 billion of debt.
Stock
: TransCanada has advanced 54% during the past year, beating stock-market indices. It has gained 2.2%, annually, since 2007, despite the stock-market rout. It trades at a price-to-book ratio of 1.6, a 90% discount to the oil-and-gas industry average.
Consensus
: Of analysts covering TransCanada, 11, or 69%, advise purchasing its shares and five recommend holding them.
UBS
(UBS) - Get UBS Group AG Report
offers a price target of $44.20, leaving a potential 19% return.
RBC
(RY) - Get Royal Bank of Canada Report
believes the stock will hit $40.98.
Holders
: During the fourth quarter, six of TransCanada's 10 largest shareholders, including
Bank of America
(BAC) - Get Bank of America Corp Report
and
BlackRock
(BLK) - Get BlackRock, Inc. Report
, purchased additional shares. Four decreased their holdings. The shares pay a 4.4% dividend yield.
Occidental Petroleum
(OXY) - Get Occidental Petroleum Corporation Report
is an oil-and-gas explorer in the U.S. It also sells chemicals and vinyls. Its quarterly gross margin hit 56% and its operating margin touched 34%, double the spreads of
Exxon Mobil
(XOM) - Get Exxon Mobil Corporation Report
and
Chevron
(CVX) - Get Chevron Corporation Report
.
Quarter
: Fourth-quarter profit more than doubled to $938 million, or $1.16, as revenue expanded 13% to $4.5 billion. The net margin rose from 11% to 21%. Occidental holds $1.2 billion of cash and $2.8 billion of debt, equaling a debt-to-equity ratio of 0.1.
Stock
: Occidental has gained 53% during the past year, beating the S&P 500 Index. It sells for a price-to-projected-earnings ratio of 11, a 21% discount to the industry average. Its PEG ratio, a measure of value relative to growth, of 0.4 signifies a bargain.
Consensus
: Of researchers following Occidental, 16, or 73%, rate its stock "buy," five rate it "hold" and one ranks it "sell."
Goldman Sachs
(GS) - Get Goldman Sachs Group, Inc. Report
and
Morgan Stanley
(MS) - Get Morgan Stanley Report
both project a price target of $107, leaving 24% of potential upside.
Holders
: During the fourth quarter, three of Occidental's 10 largest shareholders, including
Fidelity Investments
and
State Street
(STT) - Get State Street Corporation Report
, amplified their bets. Seven sold a portion of their stock. Fidelity now owns 4.3% of the float.
-- Reported by Jake Lynch in Boston.