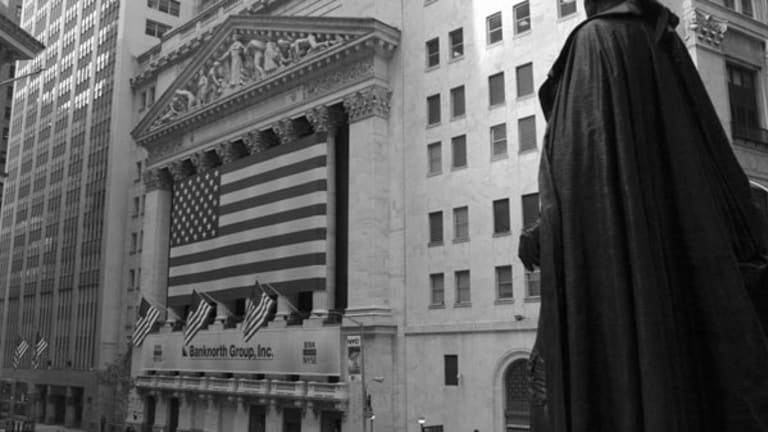 Two 'Bear' Bond Funds Make the Grade
Two of the four fixed-income funds TheStreet.com Ratings has just added to its coverage are inverse junk-bond funds. Both have stayed in the black over the past 12 months.
For more coverage from TheStreet.com Ratings team, check out TheStreet.com Ratings section.
A pair of high-yield "bear" bond funds (not to be confused with the old-fashioned "bearer bonds") are among the quartet of new fixed-income funds to be graded by TheStreet.com Ratings.
"The fund seeks to provide investment results and correspond generally to the inverse (opposite) of the total return of the high-yield market consistent with maintaining reasonable liquidity," states the
Access Flex Bear High Yield Fund
(AFBQX)
.
To achieve its objective of inverse performance with the high-yield market, AFBQX primarily employs financial instruments such as credit default swaps, interest-rate swap agreements and futures contracts in addition to other financial instruments whose value is derived from high-yield debt securities, debt and money market instruments.
Like AFBQX, the
Direxion High Yield Bear Fund
(PHBRX)
aims to gain value when high-yield bond values erode. While both AFBQX and PHBRX use various derivative instruments to achieve their "inverse" investment postures, the Direxion fund also does some of its work the old fashioned way -- with short-selling.
"The fund seeks to profit from a decline in the value of lower quality debt instruments by creating short positions in such instruments and derivatives of such instruments," states the PHBRX fund's literature.
Also, in addition to the "high yield" euphemism used to describe the fixed-income market that its performance inversely emulates, the fund also candidly uses the pejorative "J" word in describing the debt instruments that underlie its purpose in life.
"The fund invests at least 80% of its net assets in high yield debt instruments, commonly referred to as
junk
bonds or derivatives of such instruments," says PHBRX. "Debt instruments include corporate debt securities, convertible securities and zero coupon securities." (Emphasis added.)
The accompanying table shows that the pair of inverse junk-bond funds has kept their investors in the black over the past year as well as the most recent tumultuous three months. Also showing an increase over the past 12 months are the two most recent traditional bond funds to be graded by TheStreet.com Ratings.
The
Federated Intermediate Government/Corporate Fund
(FGCSX) - Get Federated Shrt-Inter Tot Ret Bd Svc Report
states its investment objective is "to provide total return which consists of two components of changes: 1) in the market value of its portfolio securities; and 2) income received from its portfolio securities." It further says it "expects that income will comprise the largest component of its total return."
The investment strategy of FGCSX is to invest in a portfolio consisting primarily of Treasury securities, U.S. government agency securities and mortgage-backed, asset-backed and investment-grade corporate securities. Up to 20% of its investments may be allocated to other investments, including mortgage-backed securities, which may be backed by the full faith and credit of the U.S. government, as well as asset-backed securities.
The primary objective of the other investment grade bond fund in the table, the
JP Morgan Real Return Fund
(RRNAX)
, is to "maximize inflation protected return." The fund invests in a "portfolio of inflation linked securities, inflation and non-inflation linked swaps, options, future contracts and other derivatives."
The inflation-linked securities in RRNAX's portfolio may include fixed- and floating-rate debt securities and instruments and inflation-linked debt securities issued by other entities such as corporations or foreign government or other foreign issuers. The fund invests 30% of its assets in foreign securities, including debt securities denominated in foreign currencies of developed countries and emerging markets.
Richard Widows is a senior financial analyst for TheStreet.com Ratings. Prior to joining TheStreet.com, Widows was senior product manager for quantitative analytics at Thomson Financial. After receiving an M.B.A. from Santa Clara University in California, his career included development of investment information systems at data firms, including the Lipper division of Reuters. His international experience includes assignments in the U.K. and East Asia.