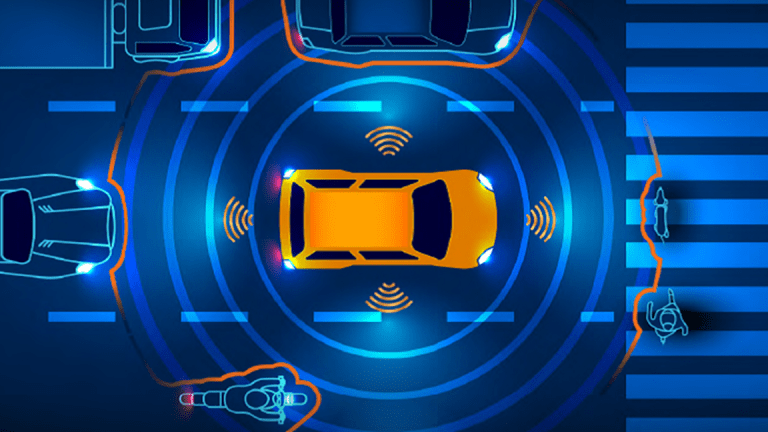 Don't Forget About These Non-Tesla Autonomous Car Stocks
While everyone's fixated on Tesla and Nvidia for autonomous driving exposure, investors are missing out on these two big self-driving car stocks.
Without a doubt, autonomous driving is on the horizon.
It's just a matter of time until self-driving cars become mainstream technology instead of science fiction.
And that presents a big opportunity for investors who position themselves accordingly.
Thing is, Tesla Inc. (TSLA) and Action Alerts PLUS holding Nvidia Corp. (NVDA) aren't the only big publicly traded companies with deep autonomous driving exposure right now.
If you're not looking at Intel Corp. (INTC) and Aptiv (APTV) , you're missing out on two autonomous driving firms whose tech is already on the street today. To figure out whether these stocks are worth buying, we're turning to the charts for a technical look.
Intel Corp.
Up first: Intel got significant exposure to self-driving cars when it acquired autonomous-car hardware maker Mobileye last year for $15.3 billion. Mobileye's autonomous car vision technology was the hardware behind the first version of Tesla's Autopilot - that means it's been on the road for years now.
Intel saw the purchase as merging the computer vision expertise from Mobileye with the intelligent computing power at Intel. And it makes Intel a serious contender in the self-driving car market moving forward.
From a technical standpoint, there's a lot to like about Intel right now. Shares have been in a well-defined uptrend since last August, bouncing higher on each successive test of trendline support. Intel handled the February correction in stride, and shares have been hovering near 52-week highs ever since.
Critically, Intel isn't simply moving higher here; it's also outperforming the rest of the broad market. We know that because of relative strength, the indicator down at the bottom of Intel's chart, which has been in an uptrend of its own since early 2018. The relative strength rally is our signal that this chipmaker is systematically outperforming the rest of the broad market right now.
Aptiv plc
Then there's Aptiv, the company that resulted from a spinoff of Delphi (DLPH) back in December.
Aptiv manufactures more traditional automotive electronics, but it's also partnered with Lyft in an autonomous driving program that deployed a fleet of sensor-riddled BMW 5-Series sedans at CES this year.
Technically, there's a lot to like about Aptiv this spring.
First off, shares have been correcting for much of 2018, but a test of trendline support at the start of April provides a clear signal that buyers are eager to get into shares at lower levels. The $89 resistance level set earlier this month looks like the next line in the sand that needs to be crossed to spur a buy signal in Aptiv.
Simply put, a breakout above $89 is a brand new reason to buy.
Once that happens, the $80 level is a logical place to park a protective top on shares.
This article is commentary by an independent contributor. At the time of publication, the author held no positions in the stocks mentioned.