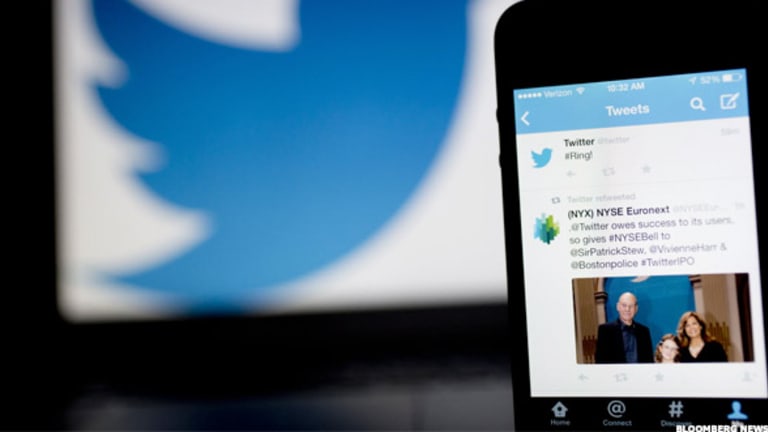 Twitter Slips After SunTrust Cuts Rating On User Growth, Engagement Concerns
Shares of Twitter are sliding in morning trading after a SunTrust analyst downgraded the stock to Neutral, saying that the company's user growth and engagement remain "challenged" amid increased competition.
Shares of Twitter (TWTR) - Get Twitter, Inc. Report are sliding in morning trading after SunTrust analyst Robert Peck downgraded the stock to Neutral, saying that the company's user growth and engagement remain "challenged" amid increased competition. Meanwhile, this morning the microblog communications company announced a partnership with CBS (CBS) - Get CBS Corporation Class B Report to stream live the network's coverage of both major political parties' conventions.
GROWTH REMAINS CHALLENGED: SunTrust's Peck downgraded Twitter to Neutral from Buy with an unchanged price target of $18. The analyst noted that his research in the quarter indicates that Twitter's user growth and engagement continue to be "challenged," and said he believes that rising monetization "can only go so far," with limited new product introductions, increasing competition, and a challenging advertising background. While Peck remains optimistic about the long-term potential of the company's new initiatives, he says he will need to see more evidence to get constructive at current levels. Furthermore, given CEO Jack Dorsey's tenure of less than a year and a newly constituted board, an acquisition of Twitter this year is "highly unlikely," the analyst told investors. His peer at Monness Crespi, analyst James Cakmak, also downgraded Twitter to Neutral from Buy, citing lowered confidence in monetization and expectations for Twitter to remain a niche product in terms of engagement and content contribution, barring any major changes.
CAUTIOUS OPTIMISM: In a separate note to investors, Canaccord analyst Michael Graham said his firm's proprietary checks on Twitter engagement across 75 countries, which he noted is an "as yet unproven" methodology, suggests flat or modest sequential growth in monthly active users, or MAUs, in the second quarter. Given what he sees as a continued transition phase in Twitter's ad product offerings and a slowdown in the product changes, the analyst is cautious regarding third quarter guidance. However, he acknowledged that the upcoming Olympics, elections and NFL deal are upside wild cards, with Graham remaining "cautiously optimistic" that management can ultimately capitalize on the company's unique content, which he believes could make Twitter a takeout target. Canaccord has a Buy rating and $20 price target on the shares.
CBS PARTNERSHIP: Twitter announced today a partnership with CBS to stream CBSN's live coverage from the Republican and Democratic National Conventions. The stream will be live on Twitter each day and will be enhanced with live, convention-related Tweets. Twitter and CBSN had previously partnered during the Network's broadcast of the Democratic presidential debate last November and the Republican presidential debate in February.
PRICE ACTION: In morning trading, shares of Twitter have dropped about 2.5% to $17.61.
Reporting by Jessica de Sa-Mota.
The Fly
is a leading digital publisher of real-time financial news. Our financial market experts understand that news impacting stock prices can originate from anywhere, at any time. The Fly team scours all sources of company news, from mainstream to cutting-edge, then filters out the noise to deliver short-form stories consisting of only market moving content. Follow @theflynews on Twitter. For a free trial, click