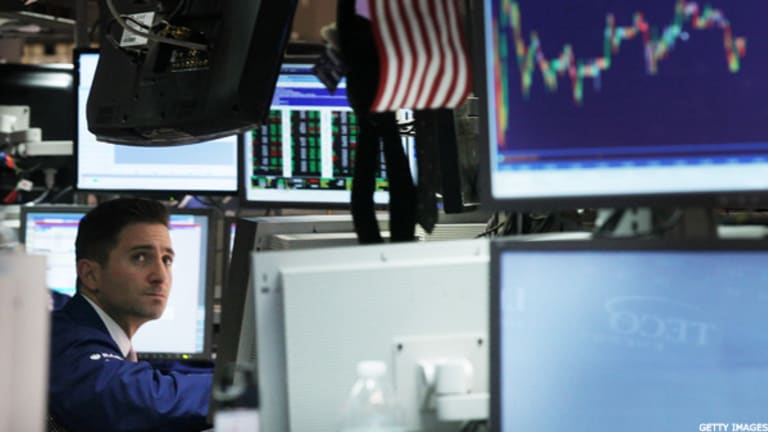 Twitter, Netflix, MetLife: Doug Kass' Views
Doug Kass shares his thoughts on Twitter and talks about Sears.
Doug Kass shares his thoughts on Twitter and talks about Sears.
Doug Kass shares his views every day on RealMoneyPro. Click here for a real-time look at his insights and musings.
Takeaways & Observations
Originally published March 22 at 4:02 p.m. EST
"In a paperless and cloudy world, are investors and citizens as safe as the markets assume we are?"

-- Kass Diary,
Wall Street Blues
(today)
Unfortunately, my quote this morning proved too prescient as another horrific terrorist attack occurred in London hours after I published my opener. I wish my concerns today were not so accurate.
I expected some stability today and we got it. Ludacris!
My guess is that we see a compromise tomorrow (the Freedom Caucus caves) and stocks rally a bit more. For that reason, I am back to market neutral. But I believe the compromise-inspired rally will be short-lived and tactically I plan to re-short the indices that I covered late in the day on Tuesday.
I want to emphasize that when the market is as "newsy" as it will be over the next few days (owing to the health care vote), I want to reduce my gross and net exposures.
For numerous reasons (especially economic, profit and political uncertainty), I believe volatility and more Wall Street Blues may lie ahead. This is a statement referencing the next few months and not the next few days.
My surprises regarding the president (#4 and #5) are growing more and more likely, imho.
So, over the very near term I am back in the trading mode--in light of my perception of the uncertainties and likely market volatility.
I see inflection points to the downside (in retail, housing and autos)--three key industries that form some of the domestic economy's foundation. This is my narrative.
Sears is very much on the brink.
I hope "Bunny has a good nose" as I see accumulation in Twitter (TWTR) - Get Report --but I hope it is not a hallucinogenic repetition from the 1960s! As I write, TWTR is trading up from a $14.30 low this morning to nearly $15 at the close.
The long bond penetrated 3% before noon. Again, an economic message - at least to this observer!
We closed at 3.01% (yield) on the 30-year bond and at 2.4% on the 10-year note.
Today's trades: here and here. Remember, I nearly always trade around short positions. Same applies to long positions, but less so.
Weekend at Dougie's! I am excited and stay tuned.
At 3:30 p.m. ET, we are at the day's highs.
* The dollar strengthened after yesterday's schmeissing.
* The price of crude oil was down modestly--ending the day near $48.
* Gold rose by nearly three beaners.
* Ag commodities took a whooping: wheat -5, corn -3, soybean -3 and oats -2. Not surprisingly, fertilizers languished near their recent lows.
* Lumber +3.
* Bond yields continue to fall and bond prices continue to rise. A near four-basis-point drop in both the notes and bonds.
* The twos/10s dropped again by two basis points--continuing the recent flattening (not good for financials).
* Municipals were bid and closed-end bond funds climbed a tad.
* Junk bonds recovered only slightly compared to yesterday's plunge.
* BGB was a penny lower--as I have repeatedly written, consider selling this ETF as spreads to Treasuries should expand again in a slowing economy.
* Banks were mixed. I remain short small the money centers.
* Insurers continued lower. I covered more--Lincoln National (LNC) - Get Report , MetLife (MET) - Get Report --after yesterday's implosion and I am now small here, too. Added to Hartford Financial (HIG) - Get Report .
* Brokerages continue to be under pressure. I covered more--Goldman Sachs (GS) - Get Report , Morgan Stanley (MS) - Get Report --after Tuesday's pasting (at very good prices) and I am now small here, too.
* I will short any meaningful rally in financials. I would not be long, for sure.
* Autos continue to move lower.
* Retail extending its losses with Foot Locker (FL) - Get Report and Nike (NKE) - Get Report leading the downside. New lows in Macy's (M) - Get Report and J.C. Penney (JCP) - Get Report .
* Old tech rallied across the board.
* Biotech was up modestly--but shows little "pop." Speculative biotech was mixed.
* Consumer staples continue under pressure after the Bernstein downgrade on Tuesday morning. Campbell Soup (CPB) - Get Report weak again along with Kimberly-Clark (KMB) - Get Report , Coca-Cola (KO) - Get Report and Kellogg (K) - Get Report .
* Media was flat.
* Transports higher.
* (T)FANG rallied from yesterday's disaster. All but Netflix (NFLX) - Get Report higher but nowhere up compared to Tuesday's down.
Here are some value-added contributions on our site:
Jim "El Capitan" Cramer on the narrative not making sense. (If I am correct directionally on the economy, it might make more sense than it seems!)
Tom Graff on the "Trump Trade."
Robert "Not Rita" Moreno on the technical state of the markets.
Mike Norman on the great unraveling.
Rev Shark, cowboy! Yippee ki yay! 
Position: Long HIG large, CPB large, TWTR large; short SPY, QQQ, IWM small, BAC small, C small, LNC small, MET .
Takeaways & Observations
Originally published March 21 at 5:47 p.m. EST
Risk happens fast.
Most don't short and shouldn't short--it's a game that requires volumes of risk control.
However, I would continue to maintain well above-average cash positions.
Today was not a benign event, in my view.
Nor was it likely a one-day event.
I continue to view that market volatility has been suppressed artificiality by price-momentum-based investors (quants--risk parity and volatility trending, CTAs, ETFs) and that President Trump will make volatility and uncertainty great again.
For some time, I have suggested that the market has underpriced risk with fundamentals eroding, sentiment rising and valuations (based on many metrics) in the 95% decile (market cap/GDP, CAPE, price to sales, the widening gap between GAAP and non-GAAP and, of course, a market selling at over 25x GAAP EPS).
Moreover, political (headed by a disorganized new administration) and geopolitical uncertainties had multiplied and policy uncertainties were heightened.
Remember when the big argument in favor of President Trump was that he was a deal maker who knew how to get things done? Well....
The market has just made no sense to me (on Bloomberg last week I suggested market participants were "brainwashed")--and I expressed it daily as I rejected the notion that "animal spirits" and ever-higher prices were a reason to be heavily weighted in equities.
I felt stupid when one of the greatest hedgehoggers of all time, David Tepper, professed optimism on the markets.
I felt stupid when the panelists on Fast Money and similar business media platforms had said stay long as they will "all know" when it's time to sell. (My guess is that they and others will not likely "tell" us until it is too late.)
But I have stuck to my views.
Today we saw a glimpse of that volatility. Today will not be the last day we see it!
The only thing that has surprised me was that my concerns--of slowing economic growth (housing, auto and retail), consumer debt problems, an overvalued league-leading financial group and the likelihood that the Trump initiatives on health care, regulatory reform, fiscal policy and tax reform would be delayed or diminished--only were addressed by the markets on March 21 and not in January or February.
Of course, nearly everyone knows why the market went down after the fact.
The predominantly bullish cabal of talking heads was silenced by the markets today. It is important to listen to everyone (bulls, bears, apes)--but we all hold the responsibility of the ultimate decision and take ownership of our investments and trades. That said, frankly there are so many fugazzis whom we routinely watch in the business media who emphasize their successes and de-emphasize their failures. These "carpet sweepers" infuriate me. But this was expected by me and the reason I wrote my opener, "Nobody's Perfect, But a Pox on Those Who Don't Admit It."
The problem with our machine- and price-momentum-based market is that "buyers live high and sellers live low."
But price momentum is a tough taskmaster, as we learned today.
There were numerous "firsts" today. The first 1%+ decline in about 110 trading sessions. There were many other "firsts" and "worsts" in biotech, retail, etc. Also in the price of crude--down to the lowest level in months.
Hanson with a housing forecast for the week.
I was active trading this afternoon. I sold my SDS and SQQQ on strength--remember, levered ETFs are rentals and not long-term leases. There is too much decay and tracking may be poor under certain market conditions.
While I am materially short financials, I did take down my MetLife ( (MET) - Get Report ) , Lincoln National ( (LNC) - Get Report ) , Morgan Stanley ( (MS) - Get Report ) and Goldman Sachs ( (GS) - Get Report ) from medium-sized to small-sized due to the pronounced declines today and since March 1. Shorts are almost always trades or to be traded around because reward versus risk (compared to longs) is asymmetric. That said, there are always investment shorts--but they are very difficult to find.
I added to my long favorites today--on weakness - Twitter ( (TWTR) - Get Report ) , Hartford Financial ( (HIG) - Get Report ) , Campbell Soup ( (CPB) - Get Report ) , etc.
Stocks closed near their day's lows in pretty much of a "puke job."
* The dollar weakened rather significantly. (Some have speculated that a lot of the first-quarter 2017 U.S. equity buying was from foreigners on the basis of a stronger dollar. Perhaps the recent currency weakness explains some of the recent drop in stocks.)
* The price of crude oil dropped by $0.90 to $47.50--a multimonth low.
* Gold rallied by over $10 an ounce.
* Ag commodities: wheat -4, corn -2, soybean +1 and oats +3. Fertilizers were weak.
* Lumber +5.5.
* Bonds benefited from a flight to quality. Yields fell by five to six basis points. The twos/10s flattened by two or three basis points.
* Municipals got a bid and so did closed-end muni bond funds.
* High yield reversed the strength over the last two to three days, and fell by about 1% (as measured by HYG and JNUG).
* Banks, the space I dissed yesterday, were a disaster.
* Life insurance stocks were even worse.
* But brokerages led the entire financial space lower--"led" by a near $10 drop in Goldman Sachs (a near universal must buy $20 higher in the business media). Crickets, now.
* Autos, the object of yesterday's negative analysis, were already rolling over prior to today. In this session, they broke down badly. Avoid, despite the seeming low valuations. I expect the OEMs to reduce their financial forecasts over the balance of the year.
* Ag equipment was also hit. I rendered a negative view on Caterpillar (CAT) - Get Report (down $3 today) in Monday's Diary.
* Retail got crushed on some evidence that the BAT will be supported in Congress. Macy's (M) - Get Report , Best Buy (BBY) - Get Report , Bed Bath & Beyond (BBBY) - Get Report , J.C. Penney (JCP) - Get Report , Nordstrom (JWN) - Get Report , etc., made new lows.
* Big pharma was lower, but not materially so.
* Biotech was down 3% with Allergan (AGN) - Get Report , Celgene (CELG) - Get Report and Gilead (GILD) - Get Report downside leaders. But the real damage was speculative biotech - Sage Therapeutics (SAGE) - Get Report , FibroGen (FGEN) - Get Report , ZioPharm Oncology (ZIOP) - Get Report , Acadia Pharmaceuticals (ACAD) - Get Report , Aerie Pharmaceuticals (AERI) - Get Report , Intrexon (XON) - Get Report , etc.--it was a bloody minefield!
* Consumer staples were hurt by a Bernstein downgrade. CPB sucked. I added.
* Transports weak--CSX (CSX) - Get Report and Union Pacific (UNP) - Get Report .
* Media was lower led by Disney (DIS) - Get Report and Comcast (CMCSA) - Get Report .
* Old tech disappointed--Intel (INTC) - Get Report , Cisco (CSCO) - Get Report , Microsoft (MSFT) - Get Report and IBM (IBM) - Get Report all down by about 1%.
* (T)FANG was ugly--Tesla (TSLA) - Get Report , Amazon (AMZN) - Get Report and Alphabet (GOOGL) - Get Report all down well over $10 each.
Here are some value-added contributions on our site today:
Jim "El Capitan" Cramer on how to play the selloff.
Ed Ponsi "Scheme" sees opportunity in Alphabet.
Rev Shark says the bears shoot and score!
Rev also asks if this is a major turning point for Mr. Market.
Brian Sozzi on Apple.
Position: Long CPB large, HIG large, TWTR large; short SPY, QQQ, IWM small, DIS, BAC small, C small, JPM small .
Action Alerts PLUS, which Cramer manages as a charitable trust, is long GOOGL, CSCO and CMCSA.