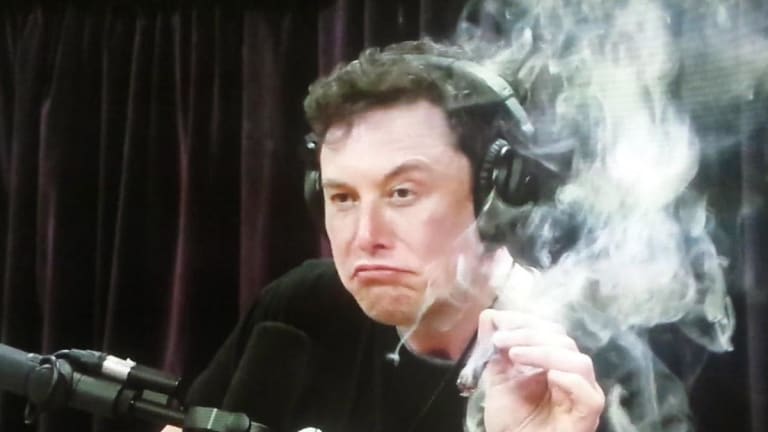 Tweet From Elon Musk's Account Calls SEC the 'Shortseller Enrichment Commission'
The dig comes just days after the CEO settled with the agency over other controversial tweets.
Elon Musk appears to be at it again.
A tweet from Musk's official Twitter account appears to insult the U.S. Securities and Exchange Commission just days after the erratic CEO of Tesla (TSLA) - Get Tesla Inc Report settled a case with the agency over his infamous "go-private" tweets.
The tweet reads:
Shares of Tesla were falling more than 2% in after-hours trading following Musk's apparent tweet.
Tesla did not immediately respond to a request for confirmation that the tweet really came from Musk, but posts from Musk's account continued into the afternoon, including one reply in which Musk opined that short-selling "should definitely be illegal."
Musk later replied to his own tweet from 2012 in which he said short sellers are "often unreasonably maligned." In Thursday's response he said he'd learned that short sellers are "reasonably maligned.
As part of the settlement with the SEC, which was reached on Saturday, Tesla is required to set up a system to oversee Musk's communications with investors. 
More broadly, the settlement mandated that Musk pay a $20 million fine and give up the chairmanship of Tesla's board for three years. The SEC had previously accused Musk of violating federal securities laws in a series of August tweets which said he had "funding secured" for a multi-billion dollar transaction to take Tesla private. The privatization bid later fell apart, prompting the SEC investigation.
The settlement was reached on Sept. 29 after an initial offer, which included a $10 million fine and a two-year bar from Tesla's chairmanship, was spurned by Musk. The final settlement was interpreted by many as a fairly mild penalty for Musk. "I still consider this a relatively soft settlement," wrote Columbia University law professor John Coffee in an email this week.
Musk has frequently complained about Tesla short sellers, on his Twitter account and elsewhere.
"We think it's very unwise -- he's already on thin ice with the SEC," commented Garrett Nelson, an analyst at CFRA Research, about Thursday's apparent jab from Musk.
Nelson said that the tweet itself is unlikely to result in any additional action from the SEC, but noted that the recent settlement isn't Tesla or its CEO's only entanglement with the agency: The SEC is also looking into whether Tesla misled investors in reporting the extent of its Model 3 production issues, a probe that predated the go-private fiasco. 
"The bigger legal concern is that there's still an outstanding SEC inquiry surrounding Model 3 disclosures, and that's the the bigger legal issue we're looking at right now," Nelson said. 
Earlier in the day on Thursday, the U.S. District Court judge overseeing the SEC's case against Musk asked for a jointly written, ten-page, double-spaced report on why she should accept the settlement agreed to between the SEC and Musk. Judge Alison Nathan asked that the report be delivered by Oct. 11.
Employees of TheStreet are restricted from trading individual securities.