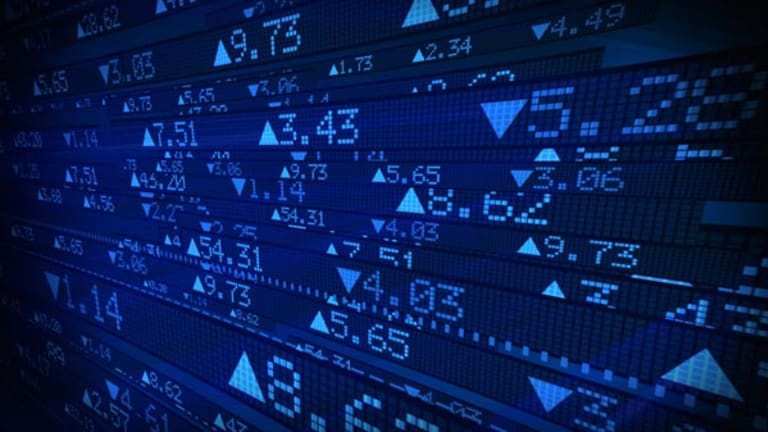 Tuesday's Winners & Losers: Suntech Power
The maker of photovoltaic cells easily tops Wall Street's earnings estimates, sending shares up 11%.
Shares of
BJ's Wholesale
(BJ) - Get Report
were among the
NYSE's
losers Tuesday, dropping 6% after the warehouse-club operator posted a decline in second-quarter earnings and lowered its full-year profit outlook.
BJ's earned $26.4 million, or 39 cents a share, in the second quarter, with revenue of $2.14 billion. A year earlier, BJ's earned $30.5 million, or 44 cents a share, on revenue of $2.02 billion. Analysts polled by Thomson First Call were looking for a profit of 38 cents a share in the latest quarter, with revenue of $2.15 billion.
For the full year, the company cut its earnings forecast to $1.69 to $1.77 a share from its earlier guidance of $1.85 to $1.92. Analysts were expecting earnings of $1.79 a share. The stock fell $1.70 to $25.70.
Suntech Power
(STP)
shares jumped 11% after the maker of photovoltaic cells posted second-quarter results that topped analysts' forecasts. The China-based company earned $26.5 million, or 17 cents a share, on revenue of $128.2 million. Excluding certain items, earnings were 19 cents a share. Analysts, on average, projected earnings of 15 cents a share and revenue of $114 million. In the year-earlier quarter, earnings were $1.4 million, or 1 cent a share, on revenue of $41.9 million.
For the third quarter, Suntech projected revenue of $162 million to $169 million, well above Wall Street's prediction of $135 million. Shares climbed $3.14 to $31.15.
Shares of Swiss banking giant
UBS
(UBS) - Get Report
advanced 6% after the company reported a 47% rise in second-quarter earnings. The company reported earnings of 3.15 billion Swiss francs, up from 2.15 billion a year earlier (one U.S. dollar Tuesday converted to 1.24 Swiss francs). UBS said it benefited from high levels of invested assets and record underwriting fees. Shares were higher by $3.03 to $54.98.
Jones Apparel
(JNY)
shares fell 2% after a report that the clothing maker is expected to end its auction process without finding a buyer. The
Wall Street Journal
, citing a person familiar with the matter, reported Tuesday that Jones received a bid from private equity firm Bain Capital, among others, but the offer was insufficient to the company's board. Shares declined 45 cents, or 2.5%, to $29.10.
Shares of several property insurers moved higher after a Mississippi judge ruled that insurance exclusions for Hurricane Katrina-related flooding were valid. According to the
Associated Press
, a federal judge said a policy from Nationwide Mutual Insurance legitimately excluded damage from flooding, though it insured against losses from wind and rain. The move is viewed as a favorable ruling for the industry, which has been criticized for not covering flood claims from Katrina victims who didn't purchase insurance specifically for water damage. Shares of
Allstate
(ALL) - Get Report
were higher by 92 cents, or 1.6%, to $57.34;
Hartford Financial
(HIG) - Get Report
advanced $1.16, or 1.4%, to $82.64; and
St. Paul Travelers
( STA) rose $1.04, or 2.4%, to $44.13.
The NYSE's volume leaders Tuesday were
Lucent Technologies
( LU), up 8 cents to $2.18;
Sprint Nextel
(S) - Get Report
, down 17 cents to $16.29;
EMC
(EMC)
, up 32 cents to $10.99;
Ford
(F) - Get Report
, up 8 cents to $7.91;
Nortel Networks
( NT), up 3 cents to $1.95;
Exxon Mobil
(XOM) - Get Report
, down 53 cents to $68.72;
( CD), up 14 cents to $1.87;
Pfizer
(PFE) - Get Report
, up 36 cents to $26.44; and
Home Depot
(HD) - Get Report
, up $1.20 to $34.46.
Among the
Nasdaq's
heavy traders were
Cisco Systems
(CSCO) - Get Report
, up 91 cents to $37.68;
Sirius Satellite Radio
(SIRI) - Get Report
, down 1 cent to $3.72;
Intel
(INTC) - Get Report
, up 25 cents to $18.12;
Oracle
(ORCL) - Get Report
, up 37 cents to $15.66;
Microsoft
(MSFT) - Get Report
, up 15 cents to $24.59;
Sun Microsystems
(SUNW) - Get Report
, up 10 cents to $4.60;
JDSU
(JDSU)
, up 11 cents to $2.28; and
Apple
(AAPL) - Get Report
, up $2.34 to $66.28.