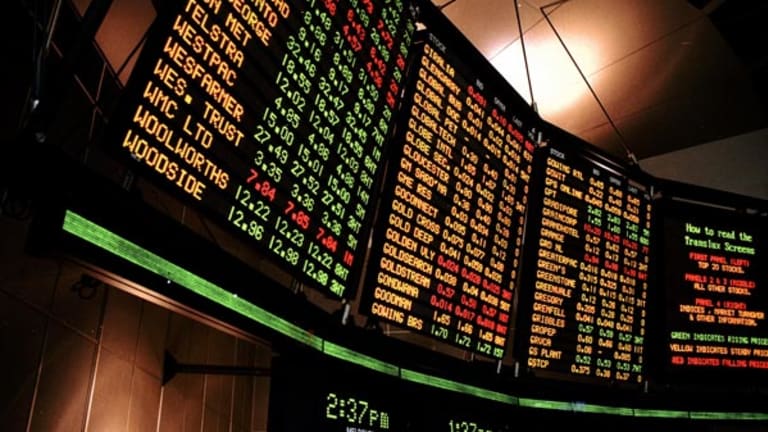 Tuesday's Winners & Losers: Accredited
Shares take off after the lender receives $200 million in financing.
Shares of
Accredited Home Lenders
( LEND) were among the
Nasdaq's
winners Tuesday, soaring 24% after the subprime lender received a $200 million loan from Farallon Capital Management.
The five-year term loan has an annual interest rate of 13%. The loan, which can be paid at any time over the life of the loan, allows the company to fund working capital and mortgage loans, as well as other corporate purposes. As part of the loan, Accredited will issue 3.3 million warrants in a private placement. The warrants will have a strike price of $10 a share. Shares of Accredited were up $2.14 to $11.09.
Shares of
FactSet Research
(FDS) - Get FactSet Research Systems Inc. Report
rose 1% after the financial-data provider posted better-than-expected earnings and issued a revenue guidance that topped expectations. For the second quarter ended Feb. 28, the company earned $26.5 million, or 52 cents a share, on revenue of $116.3 million. The results included a tax benefit of 3 cents a share. Analysts polled by Thomson First Call expected earnings of 48 cents a share and revenue of $113.9 million. In the year-earlier period, the company earned $19.2 million, or 38 cents a share, on revenue of $93.7 million.
Looking ahead, FactSet forecast third-quarter revenue of $118 million to $121 million. Analysts, on average, project revenue of $117.9 million. FactSet also increased its stock buyback program by $100 million and doubled its quarterly dividend to 12 cents. Shares were trading up 70 cents to $65.40.
Geo Group
(GEO) - Get GEO Group Inc Report
rose 3% after the prison services company priced a stock offering at $43.99 a share. The company is selling some 4.75 million shares, raising about $209 million. Geo plans to use proceeds to repay about $200 million debt. The remaining proceeds will be used for general corporate purposes. Shares were trading up $1.38 to $45.37.
Blockbuster
( BBI) shares fell 4% after the movie-rental chain announced an employment agreement with its CEO that calls for him to leave the company at the end of the year. Under the agreement, which resolved a previous dispute over bonus payments, CEO John Antioco will receive a $3.05 million bonus for 2006. The payment reflects a compromise between the $2.28 million previously offered by the board and the $7.54 million that Antioco was entitled to under his previous pact.
At the end of his employment, Antioco will receive a lump-sum payment of $4.99 million. Shares of Blockbuster falling 28 cents to $6.83.
Shares of
Boardwalk Pipeline
(BWP)
slid 2% after the natural gas storage company said it plans a public offering of 8 million common units. Boardwalk, which originally planned a 7.5 million-unit offering, expects to use proceeds from the offering to fund expansion projects and for general partnership purposes. The company expects to close the sale on March 23. Shares were trading down 81 cents to $36.76.
NYSE
volume leaders included
Ford
(F) - Get Ford Motor Company Report
, down 7 cents to $7.75;
Host Hotels
(HST) - Get Host Hotels & Resorts, Inc. (HST) Report
, down 18 cents to $26.70;
General Electric
(GE) - Get General Electric Company (GE) Report
, down 11 cents to $34.56;
Advanced Micro Devices
(AMD) - Get Advanced Micro Devices, Inc. Report
, down 15 cents to $13.57;
CVS/Caremark
(CVS) - Get CVS Health Corporation Report
, up 1 cent to $33.15;
Pfizer
(PFE) - Get Pfizer Inc. Report
, up 1 cent to $25.37;
Motorola
( MOT), unchanged at $18.29; and
Exxon Mobil
(XOM) - Get Exxon Mobil Corporation Report
, up 35 cents to $71.45.
Nasdaq's heaviest movers included
Intel
(INTC) - Get Intel Corporation (INTC) Report
, down 7 cents to $19.04;
Brocade Communications Systems
(BRCD)
, up 20 cents to $10.09;
Microsoft
(MSFT) - Get Microsoft Corporation (MSFT) Report
, up 13 cents to $27.96;
Oracle
(ORCL) - Get Oracle Corporation Report
, up 21 cents to $17.39;
Sun Microsystems
(SUNW) - Get Sunworks, Inc. Report
, unchanged at $6.22;
Cisco Systems
(CSCO) - Get Cisco Systems, Inc. Report
, up 6 cents to $26.36; and
Palm
( PALM), up 83 cents to $18.97.