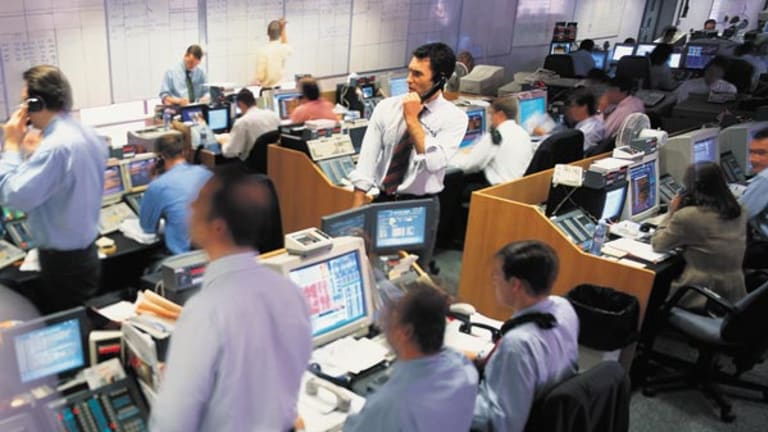 Updated from 1:55 p.m. EDT
Winn-Dixie Stores
( WINN) sank after the Jacksonville, Fla., supermarket owner said it will probably post a loss for the 2008 fiscal year. The stock tumbled 21.7% to closed at $22.17.
The outlook came as the company reported sales for the fiscal 2007 fourth quarter of $1.7 billion, an increase of 1.5% from a year ago. Winn-Dixie had net income for the quarter of $20.6 million, or 38 cents a share, compared with a loss of $17.2 million and 12 cents a share in the fourth quarter last year.
Warren Buffett's
Berkshire Hathaway
has bought about 10 million more shares of
Burlington Northern Santa Fe
( BNI), taking its stake in the railroad company to roughly 14.8%.
Berskhire now owns about 52 million shares of the Fort Worth, Texas, company. Still, shares of Burlington Northern were down 2.1% to close at $78.66.
Todd Shipyards
( TOD) said the U.S. Navy gave its Todd Pacific Shipyards unit a contract extension worth around $5 million for work on the aircraft carrier U.S.S. John C. Stennis.
The company, a Seattle-based ship repairer, expects the Navy to authorize further work, resulting in contract modifications in the range of an additional $15 million to $20 million. Todd lost 5 cents to $22.95.
Coachmen Industries
(COA)
was falling on news its board has voted to suspend the payment of its quarterly dividend. The Elkhart, Ind., RV maker cited the troubles in the mortgage sector.
"When we return our company to generating profits, we will certainly revisit the payment of a dividend," the company said. Shares of Coachmen were down 8.3% at $6.86.
Milwaukee-based staffing concern
Manpower
(MAN) - Get ManpowerGroup Inc. Report
is planning a new share repurchase program, which gives the company the ability to buy back up to 5 million shares. The company can spend up to $400 million.
The company also said it completed the previous repurchase of 4.4 million shares for a total of $325 million. Manpower lost 0.7% to close at $72.07.
CKE Restaurants
( CKR) amended its credit facility, boosting the aggregate amount of its term loan to approximately $270 million, a $100 million increase. CKE will use the proceeds to reduce its $200 million revolving credit facility by $100 million.
Seperately, the Carpinteria, Calif., restaurant operator signed a deal to sell 34 Hardee's locations in North Carolina. The restaurants were sold to Boddie-Noell Enterprises, the largest Hardee's franchise operator. CKE was up 2.1% at $16.96.