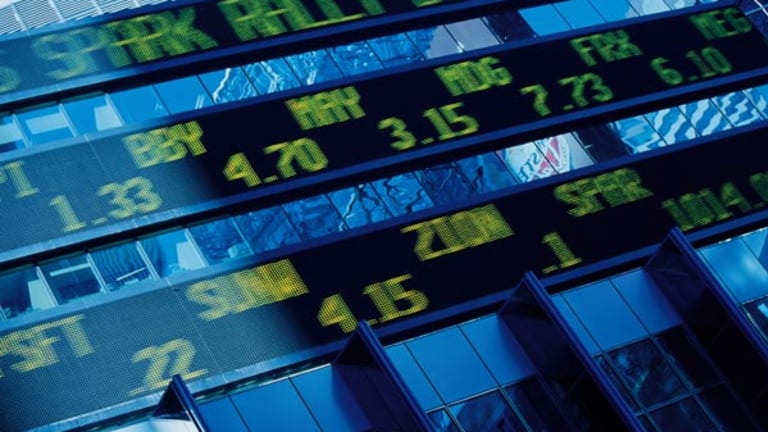 Tuesday's Winners and Losers: Blue Coat Systems
The company climbs more than 12% after beating analysts' expectations.
Blue Coat Systems
( BCSI) soared 12.7% after the company sailed past analyst expectations for the second quarter and guided higher for the current quarter. Blue Coat reported net income of $17 million, compared with $2.6 million in the same quarter a year ago.
Excluding charges, it posted EPS of 30 cents a share, compared with 21 cents a share a year ago. Analysts were expecting earnings of 24 cents a share. Revenue for the second quarter was $73.4 million, compared with $39.7 million for the same quarter last year and beat analyst expectations of $68.90 million.
For the third quarter, it guided revenue in the range of $78 million to $81 million and earnings in the range of 31 cents to 35 cents a share. Analysts are expecting revenue of $74.18 million and earnings of 27 cents a share. Blue Coat was up $4.21 to $37.34.
Shares of
AMD
(AMD) - Get Free Report
were off 6.6%, a day after the company
released a quad-core processor for the desktop PC market.
AMD's chip, though, comes a year after rival
Intel's
(INTC) - Get Free Report
release of a similar chip. AMD also unveiled an all-in-one bundle of silicon components for desktop PCs, dubbed Spider. AMD was down 79 cents to $11.28.
Biovail
( BVF) said Tuesday that the FDA classified as Class 2 the response the company submitted on Oct. 23 for its salt formulation of buproprion, meaning it will take the agency six months to review. The goal date for the FDA to make a decision is April 23. CEO David Squires said he was surprised and disappointed with the agency's decision to classify Biovail's response at Class 2. BMO Capital Markets downgraded the company to underperform from market perform and lowered its price target to $16 from $20.25. Shares fell $1.91, or 11.6%, to $14.54.
Medtronic
(MDT) - Get Free Report
rose post-earnings after analysts suggested shares had found the bottom and the worst may be over the for the medical device maker, which earlier this fall recalled its Fidelis leads and hastily ramped up supply of its Quattro lead to meet the subsequent demand. Earnings fell 2% in the fiscal second quarter in light of the Fidelis recall, but investors saw a negative impact that was less severe than expected and shifted focus to Medtronic's completed Kyphon acquisition among other things. Shares climbed $3.47, or 7.7%, to $48.72.
Shares of
General Moly
(GMO) - Get Free Report
rose 16.6% to $9.87 after the Lakewood, Colo., molybdenum miner announced it would enter a strategic alliance with
ArcelorMittal
(MT) - Get Free Report
Monday. Luxembour-based ArcelorMittal, the world's largest producer of steel, agreed to purchase a 12.6% stake in outstanding shares of General Moly for about $70 million. Arcelor Mittal, a large-cap stock, was also rising, 3% to $70.42.
Among the losers was
Zarlink Semiconductor
( ZL). Shares took a 30% plunge to 87 cents as the Ottawa tech company lowered guidance for third quarter fiscal 2008. It had previously forecast third-quarter revenue between $55 million and $58 million for a loss of between 8 cents and 10 cents a share. It now projects revenue between $48 million and $51 million for a loss of 13 cents to 15 cents a share.