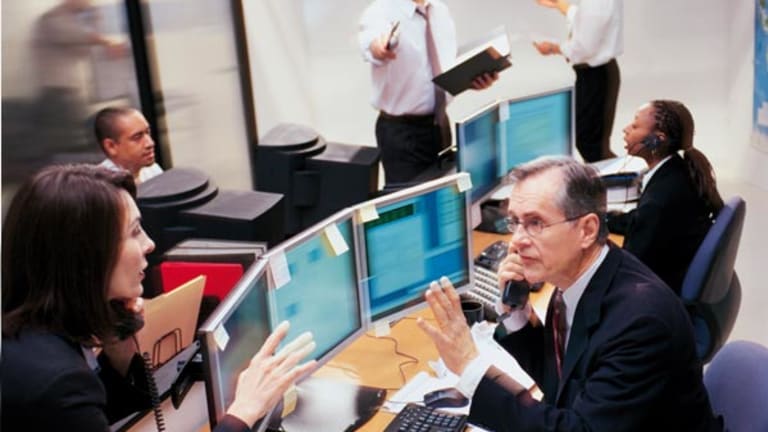 Tuesday's Late Winners & Losers
Apple confesses a shortfall for earnings to come.
Most stocks picked up where they left off following Tuesday's regular-session slide, and leading the charge downward was a falling Apple (AAPL) - Get Apple Inc. Report.
In recent postclose trading, the computer maker's shares were sliding more than 11% after it predicted a fiscal second-quarter profit of 94 cents a share on sales of $6.8 billion. That would come in
well under Thomson Financial's consensus estimate for $1.09 earnings on revenue of $6.98 billion. For the most recent quarter, the Cupertino, Calif., company creamed targets with income of $1.58 billion, or $1.76 a share, on a top line of $9.61 billion. Analysts had sought a bottom line of just $1.62 a share.
Still, shares were slipping $17.79 to $137.85.
Also sliding on disappointing guidance was
Advanced Energy Industries
(AEIS) - Get Advanced Energy Industries, Inc. Report
, which sliced its top- and bottom-line guidance due to weak trends in the chipmaking industry, as well as order delays from some key clients. The company said fourth-quarter sales should total roughly $84 million, down at least $2 million from the prior outlook, which should pressure GAAP-based earnings to between 7 cents and 8 cents a share. Prior guidance had called for 12 cents to 14 cents a share. The Fort Collins, Colo.-based Advanced Energy was losing 9.3% to $10.
Similarly, Hawaiian clean energy company
Hoku Scientific
( HOKU) guided below the Street's views for the current quarter, expecting sales of just $600,000 to $1.2 million due to "uncertainty regarding the level and the timing" of solar-power installations. Analysts are looking for $1.3 million, on average. As for the fiscal third quarter, Hoku narrowed its loss by more than half vs. last year to $538,000, or 3 cents a share, beating projections by 7 cents. But shares gave up 7.6% to $8.50 in fairly thin trading.
Also on a downturn was Cleveland-based bank
National City
( NCC), which said it plans to sell $1 billion in convertible senior bonds due 2011 under a shelf registration that it filed this morning. The underwriter will have an option to buy another $150 million worth to cover any overallotments. Proceeds will go to paying off existing debt, among other things. Shares saw light, choppy trading before trailing off 5.2% to $14.50, in retreat from today's substantial regular-session gains.
On the other hand,
Cree
(CREE) - Get Cree, Inc. Report
had some upside action after Durham, N.C., semiconductor-equipment maker posted non-GAAP continuing-operations income of $12.2 million, or 14 cents a share -- a 68% leap from last year, and 8 cents per share past the mean Street target. Sales, at $119 million, were also above par.
GAAP-based earnings, meanwhile, plummeted by some 60%. Cree shares were trading higher before recently sagging to a lightly-traded 2.1% loss at $25.10.