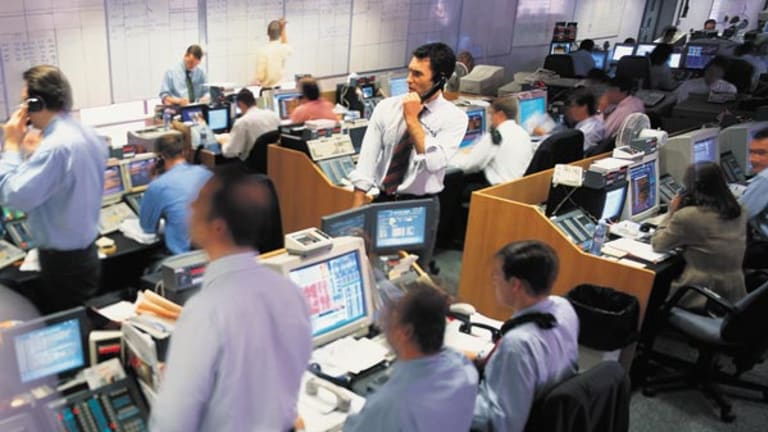 Tuesday's Late Winners & Losers
Pozen climbs on positive results for a migraine treatment it's developing with GlaxoSmithKline.
Pozen
(POZN)
jumped nearly 8% after the bell Tuesday on positive results from two large-scalestudies of Trexima, a migraine treatment it's developing with
GlaxoSmithKline
(GSK) - Get Free Report
thatcombines the existing drugs sumatriptan and naproxen.
The results were published today in the
Journal of the AmericanMedical Association
. Chapel Hill, N.C.-based Pozen was climbing$1.08 to $15.30 in recent after-hours trading. GlaxoSmith was unchanged after closing the regular session up 54 cents, or 1%, at $55.73.
Contango Oil & Gas
(MCF) - Get Free Report
announced an oil discovery at two wells in a Gulf of Mexico prospect with 158 billion cubic feet in proven reserves. The Houston-based company has a roughly 40% combined working interest in the wells and a revenue interest of about 29%. Shares were rising $1.62, or 7.6%, to $23.
Icagen
( ICGN) lost nearly a third of its value after the North Carolina-based drugmaker halted itslate-phase study of senicapoc, a proposed treatment for sickle-cell disease, after an independent data-monitoring committee said the compound probably wouldn't yield a reduction in crisis rate -- the study's primary endpoint. Shares were sinking 59 cents to $1.25.
Pacer International
(PACR)
slid after predicting 2007 earnings of between $1.50 and $1.60 a share due to lower-than-expected first-quarter sales growth. Analysts polled byThomson Financial are looking for $1.99 a share. The Concord, Calif.,freight-services company was off $2.30, or 8.4%, to $25.20.
Apparel maker
Oxford Industries
(OXM) - Get Free Report
posted lower earnings for the quarter ended March 3, missing Wall Street estimates. The Atlanta-based outfit said it made$9.7 million from continuing operations, or 54 cents a share. Analysts were looking for 57 cents a share.Revenue declined slightly to $266.6 million, just shy of targets.Shares were losing $4.23, or 8.4%, to $46.01.
Metal-processing-devices maker
Hardinge
(HDNG)
offered about 1.65 million of its shares,with an underwriter's option for another 248,000 shares to cover any overallotments under its existing shelf registration. Shares of the Elmira, N.Y., company were up 36 cents, or 1.4%, to $26.86.