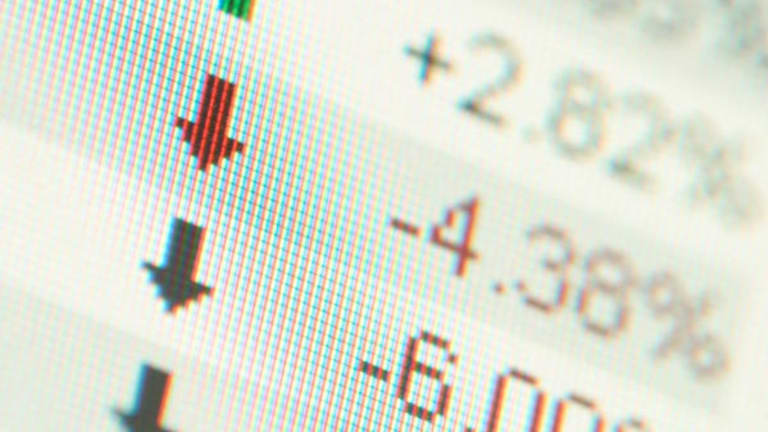 Tuesday's Financial Winners & Losers
WaMu's costly deal was a drag on financial stocks Tuesday.
Washington Mutual's
(WM) - Get Waste Management Inc. Report
$7 billion equity infusion announced Tuesday came with favorable terms for private equity investor TPG Group, helping spook financial stocks.
Picking the lesser of two evils, WaMu said it will get a $7 billion capital infusion from Fort Worth, Texas-based TPG, raising the company's capital, but dramatically diluting the common stock. WaMu sold 175 million shares at $8.75 and issued 55,000 shares of preferred stock, diluting current shareholders by roughly 30%. The deal sent shares down $1.34 to $11.81, a loss of 10.2%.
The
NYSE Financial Sector
index declined 105.81 to 7,584.17.
Separately, the National Association of Realtors said pending U.S. home sales fell to the lowest reading on record in February, signaling that the housing market distress is not yet over. The Chicago-based group's seasonally adjusted index of pending sales for existing homes fell to 84.6, which was 21% below year-ago levels. The news sent the value of mortgage providers
Countrywide Financial
( CFC) down 7.3% to $5.72 and
IndyMac
( IMB) down 7.5% to $4.69.
In other loan industry news, student lender
First Marblehead
undefined
plunged after the company that backs its bonds filed for bankruptcy. The Education Resources Institute, or TERI, filed for Chapter 11 bankruptcy protection late Monday. Since 2001, TERI has pledged to cover unpaid loans in these pools to make the bonds safer. First Marblehead shares sank 36.9% to $4.86, for a loss of $2.84.
Regional bank
Columbia Bancorp
(CBBO)
guided below first quarter expectations, citing a higher-than-expected provision for bad loans and lower net interest margin. The northwest bank is being hurt by the downgrade of credit ratings on central Oregon real estate development loans. Shares slid 11.8% to $14.10.
Bond insurer
MBIA
dropped 4.4% to $12.99 after announcing that it converted $1 billion in short-term variable rate securities into long-term, fixed-rate bonds. MBIA said it facilitated the conversions for issuers such as Miami-Dade International Airport, George Washington University and Dallas-Fort Worth Airport at no additional cost for insurance.
Lehman upgraded
Fannie Mae
( FNM) and
Freddie Mac
( FRE) to overweight from equal-weight. Analyst Bruce Harting raised the target price on Freddie from $42 to $45 and Fannie's target price remained the same at $46. The analyst feels that historically the valuation is compelling and the stock could double or triple from these levels. Still, Fannie shares slumped 85 cents to $29 and Freddie stock sank $1.14 to $25.46.
On the positive side, Goldman Sachs added shares of asset manager
Franklin Resources
(BEN) - Get Franklin Resources Inc. Report
and stock exchange
NYSE Euronext
(NYX)
to its conviction buy list. These two companies were upgraded to buy from neutral. Goldman also raised the price target of Franklin shares to $135 from $110, while the price target of NYSE shares was raised to $87 from $82. Franklin was one of the few financial stocks to see a green trading day, moving up $2.51 to $104.01, while NYSE Euronext enjoyed positive trading with its shares climbing 22 cents to $68.93.