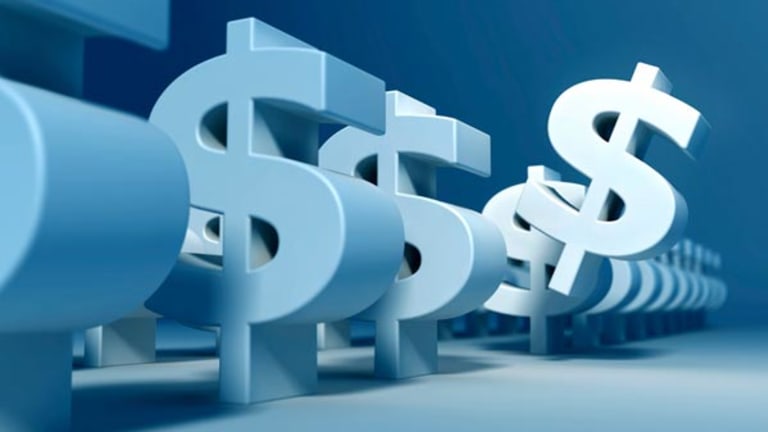 Tuesday's Financial Winners & Losers
Goldman surges.
Goldman Sachs
(GS) - Get Goldman Sachs Group Inc. (The) Report
helped hoist financial stocks and the rest of the market out of their recent dirges after
assuaging investors' fears on prior rumors of impending writedowns.
Shares jumped 8.5% after CEO Lloyd Blankfein said in a New York conference that the broker doesn't intend on taking any significant writedown charges and that it continues shorting mortgage-backed securities and CDOs (collateralized debt obligations). The conference was hosted by Merrill Lynch.
Goldman had stood out among few financial-services firms to report
positive third-quarter earnings in September, but jittery investors have recently kicked down shares on
speculation that it will nevertheless join the many financial-services firms incurring big subprime-related losses. Today, its stock was climbing $18.33 to $233.04 in substantial recovery.
A Citigroup analyst echoed Goldman's sentiments as they regard to
JPMorgan Chase
(JPM) - Get JP Morgan Chase & Co. Report
, another
third-quarter standout whose stock has lately gotten a black eye along with the rest of the financial sector. The analyst kept his buy rating on the firm, citing JPMorgan's solid cash position and its scant exposure to CDOs. Shares of the firm were up 6.3% to $45.05.
Also making a staunch recovery was
E*Trade
(ETFC) - Get E*TRADE Financial Corporation Report
, whose shares lost nearly 60% of its value yesterday on a
Citigroup downgrade and its own
grim writedown warning. Today, shares took back some of those losses, surging more than 40% in furious trading, as
some analysts speculated that the online broker could put itself on the block.
Radian
(RDN) - Get Radian Group Inc. Report
jumped 15.3%, meanwhile, after Third Avenue Management disclosed upping its stake in the mortgage insurer to 15.1 million shares, or 18.8%, as of Oct. 31. The investment firm last reported a 10.7% stake as of Aug. 31. Radian shares bounced $1.71 to $12.86.
Others in the lately suffering mortgage-insurance sector --
MGIC Investment
(MTG) - Get MGIC Investment Corporation Report
and
PMI
( PMI) -- also soared a trading day after insurance underwriter
Old Republic
(ORI) - Get Old Republic International Corporation Report
disclosed taking stakes of 15% in the former and 11% in the latter. Shares were up 10.2% and 15.2%, respectively. Old Republic was up 5%.
Compatriot
TGIC Guaranty
(TGIC)
, a smaller firm, was peripherally surging 30% to $9.27.
Elsewhere,
Bank of New York Mellon
(BK) - Get The Bank of New York Mellon Corporation Report
added 2.4% to $47.29 after saying it will buy Brazil-based ARX Capital Capital Management for an undisclosed sum. The deal should close in the first quarter of next year. And Boston lender
NewStar Financial
(NEWS)
gained 13.9% after third-quarter earnings met expectations.
Even ostensibly negative news couldn't keep down some financial names amid today's cheery mood.
Bank of America
(BAC) - Get Bank of America Corporation Report
CFO Joe Price, speaking at the same conference at which Goldman intoned its positive comments, said it could face
$3 billion in fourth-quarter writedowns if CDO prices continue to slide. Still, shares rose 5.2% to $46.27.
And mortgage lender
Countrywide
( CFC) gained 4% despite saying that October mortgage fundings
tumbled 48% year over year to $22 billion.
The
NYSE
Financial Sector Index, boosted by most of the above stocks, vaulted 367.87 points, or 4.4%, to 8,809.79. The KBW Bank Index, which tracks JPMorgan, BONY and BofA, soared 4.6%.
On the sparsely populated downside today was health insurer and managed-care provider
Amerigroup
( AGP), which Stifel Nicolaus cut to hold from buy on valuation as well as a more challenging regulatory environment. Shares of the Virginia-based company lost 32 cents, or 0.9%, to $36.41.