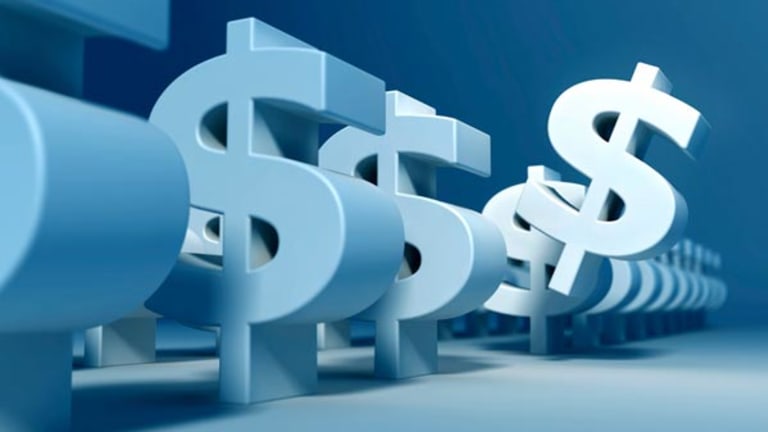 Tuesday's Financial Winners & Losers
MasterCard climbs higher.
Financial stocks were mostly trending higher Tuesday following Monday's big
Citigroup
(C) - Get Citigroup Inc. Report
-strained selloff.
But the bank itself was dropping again -- this time on a Bank of America downgrade to neutral from buy -- a day after it announced
huge current-quarter writedowns and the departure of CEO Chuck Prince. The analysts, who had previously intoned that any improvement at the besieged banking giant could be an upward catalyst, now said investor confidence has eroded too much to recommend the stock based purely on valuation. Shares surrendered another 2.6% to $34.97 in very dense trading.
Still, the
NYSE
Financial Sector Index and the KBW Bank Index were adding 0.9% and 1.2%, respectively, with the former sector tracker helped along by a number of upward moves.
Component
IndyMac Bancorp
( IMB) spent most of its time in positive territory even though the California-based mortgage lender swung to a third-quarter loss that was
far bigger than expected and slashed its dividend in half to 25 cents a share. IndyMac said it lost $202.7 million, or $2.77 a share, compared with a profit of $1.19 a share last year. "No one in the mortgage industry came away unscathed in the quarter," said CEO Michael Perry.
Operating liquidity was among the report's few positives, jumping by more than half sequentially to an "all-time high" of $6.3 billion. Shares were up substantially earlier in the day before retreating to close down 2.2%.
Similarly,
CapitalSource
(CSE)
gained ground despite coming in well under Wall Street expectations for the third quarter. Adjusted earnings sank 20% year over year to $97.6 million, or 50 cents a share, against analysts' estimates for 64 cents a share, per Thomson Financial. Still, the Maryland-based lender plans on keeping its 60-cent dividend for the fourth quarter. It also described the credit contraction as having had "minimal impact" on its business. Shares were adding 4.6% to $16.49.
Ambac Financial
( ABK) was likewise bouncing after the financial guarantor issued a statement countering Morgan Stanley's recent negative report on the sector. The New York-based company, whose shares have been on a sharp decline for the past month or so, said that Morgan's loss estimates "do not accurately reflect the composition of our underlying mortgage portfolio and the structure of our deals."
Ambac also said it has been "very transparent" regarding its direct mortgage and exposure to collateralized debt obligations, and that it will "react quickly" to any applicable performance changes. Shares shot up $3.93, or 16%, to $28.53.
Meanwhile,
MasterCard
(MA) - Get Mastercard Incorporated Report
climbed 8.1% to $200.98 after the Purchase, N.Y., credit card issuer garnered a Deutsche Bank upgrade to buy on the heels of last week's third-quarter earnings, which
smashed analyst estimates.
But
CompuCredit
( CCRT) joined Citigroup on the downside, lately losing 14.1% to $14.06, after the lender widened its third-quarter GAAP-based loss vs. last year and said that "managed" earnings fell 11.2% to 95 cents a share. Analysts were seeking $1.30 a share.
CompuCredit also got hit with a JMP Securities downgrade, and
Universal American Financial
( UHCO) suffered a Keefe Bruyette cut to market perform from outperform. Shares of the health insurer and managed-care provider slumped 3.4% to $23.91.
Elsewhere, Bermuda credit-swaps seller
Primus Guaranty
(PRS) - Get Prudential Financial Inc. 5.625% Junior Subordinated Notes due 2058 Report
slid 7.9% on lower-than-expected "economic" earnings of 28 cents a share in the third quarter. The Street had sought 7 cents more. Shares were trading at $8.