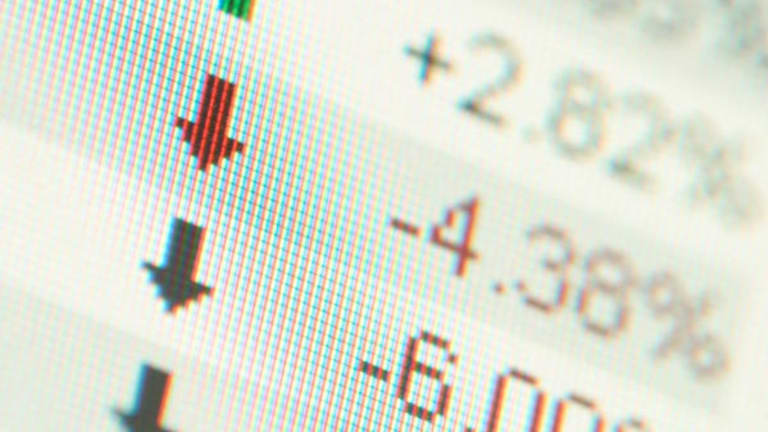 Tuesday's Financial Winners & Losers
Luminent Mortgage climbs on news it has paid down credit.
Updated from 2:28 p.m. EDT
Financial stocks shot out of the gate before cooling down to trade in line with the broad indices Tuesday, and among the biggest winners was
Luminent Mortgage Capital
( LUM).
Shares rocketed 34.1% in heavy trading after the real estate investment trust said it has repaid all of the warehouse lines of credit that had financed its $594.8 million in nonsecuritized whole loans and commitments to purchase another $320.9 million worth. The San Francisco company also said it sold all but five loans in its warehouse facilities, and it has laid off 15 employees since August. Shares closed up 44 cents to $1.73.
Thornburg Mortgage
( TMA) also gained ground after UBS
upgraded the struggling mortgage investor to buy. The analyst said the worst is probably over for the lender, and that there also appears to be a low risk of bankruptcy.
Thornburg shares jumped 8.8% to close at $13.37. Luminent and Thornburg helped prop up the
NYSE
Financial Sector Index, which bounced 1.4% to about 8892.
Also lending support to the tracker were Puerto Rico-based bank
Doral Financial
(DRL)
, which soared 18.1% to close at $23.73; broker
Lehman Brothers
( LEH), up 2.5%; and
Commerce Bancorp
(CBH) - Get Virtus Convertible & Income 2024 Target Term Fund of Beneficial Interest Report
, up 3.6%.
The KBW Bank Index, which also counts Commerce among its members, added 1.5% to 104.50.
Elsewhere in the green, Pennsylvania's
Dollar Financial
(DLLR)
got a 7.6% lift to close at $25.90 after the credit-services firm posted a fiscal fourth-quarter profit of $11.7 million, or 48 cents a share, (excluding items) to top Thomson Financial's estimates by a penny. Revenue surged 25.5% year over year to a higher-than-expected $109.1 million.
Maryland-based lender
CapitalSource
(CSE)
also climbed after completing a $1.07 billion term financing of commercial real estate loans from its portfolio, the proceeds from which are intended to repay indebtedness under the company's credit facilities. CEO John Delaney said this transaction "underscores CapitalSource's ability to access liquidity even in the midst of difficult market conditions." Shares tacked on 43 cents, or 2.6%, to close at $16.73.
And New York-based online broker
Investment Technology Group
(ITG)
said its August average daily volume soared 73.9% year over year to 247 million shares, while total volume for the month ratcheted up to 5.7 billion shares from 3.3 billion shares last year. Shares gained 2.1% to $41.20.
Among the scant financial-sector stragglers Tuesday was
Apollo Investment
(AINV) - Get Apollo Investment Corporation Report
after the New York-based company said it will offer 13 million of its shares, as well as an underwriters' option for another 1.95 million shares to cover any overallotments.
Proceeds are slated for repaying outstanding indebtedness, funding investments in portfolio companies, and for general corporate purposes. Shares closed down 3.3%, or 72 cents, to $21, including a likely ex-dividend-related decline of 52 cents.
Among others in the red today, mortgage lender
Countrywide
( CFC) slid 1.9% in heavier-than-usual trading; specialist firm
LaBranche
( LAB) gave up 4.3% to $5.11; and broker
Knight Capital
(NITE)
shed 2.2% to close at $12.73.