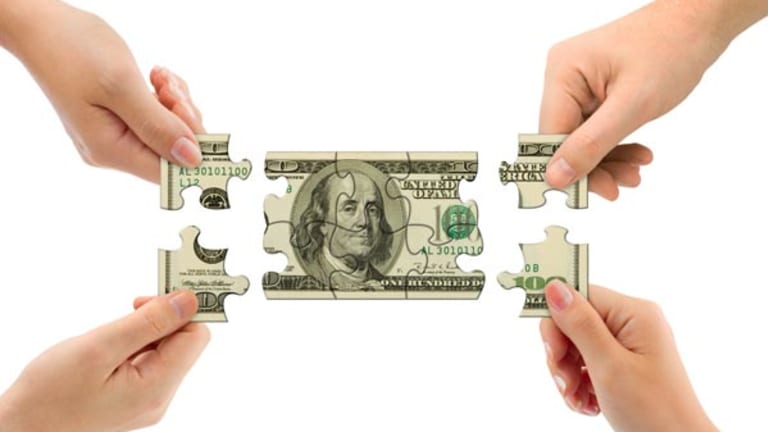 Tuesday's Financial Winners & Losers
Lehman and Bear Stearns slip on analyst downgrades.
Tuesday was a particularly gloomy day for financial stocks as the sector got pelted from all sides by downgrades and credit-market fears.
One of the biggest losers was
Fremont General
( FMT), which surrendered 12% to $4.06 after Moody's cut the subprime-mortgage lender's senior-debt rating to Caa2 from B3.
Also
sliding on negative analyst research were brokers
Lehman Brothers
( LEH), down 5.8%, and
Bear Stearns
( BSC), down 2.5%, along with banking behemoth
Citigroup
(C) - Get Free Report
, down 2.5%.
All were cut to neutral from buy at Merrill Lynch, which pointed to the brokers' dependence on the debt markets and slowdowns in Citi's securitization businesses and leveraged financial obligations. The three stocks weighed on the plunging
NYSE
Financial Sector Index. The tracker lately lost 169.7 points, or 1.9%, to 8,894.
State Street
(STT) - Get Free Report
, meanwhile, fell 3.9% in heavy trading after British paper
The Times
reported that the Boston-based bank has $22 billion in exposure to asset-backed commercial paper conduits -- off-balance-sheet investment vehicles backed by short-term debt that have become risky amid the deteriorating credit market. That represents 17% of the bank's total assets, says the paper, or the highest proportion among its American and European peers.
State Street helped pressure both the NYSE financial tracker and the red-drenched KBW Bank Index, which was down 1.9 points, or 1.7%, to around 106.
Elsewhere in the land of debt-market worries, the
Financial Times
reported that Britain-based bank
Barclays
(BCS) - Get Free Report
might have several hundred million dollars' worth of exposure to troubled debt through links to German lender Saschen LB. And New York's
CIT Group
(CIT) - Get Free Report
said it will exit the home-lending business for an expected pretax hit of some $35 million in the third quarter.
Barclays shares shed $1.60, or 3.3%, to $47.34; CIT was off 1.9% to $36.50.
Another big financial loser was
Knight Capital
(NITE)
. Shares slid 8.2% after the firm said it might return "a substantial portion of the $68.4 million of incentive allocation fees" collected from asset-management unit Deephaven Capital Management as of June 30 this year if the unit's funds incur losses in the second half. Knight stock was down $1.18 to $13.29.
And
Triad Guaranty
(TGIC)
plummeted 18% to $20.50 after the North Carolina insurer drew down its entire $80 million unsecured revolving credit facility "in light of current market conditions," even though "the company has no immediate needs for additional liquidity."
Among exceedingly rare climbing financial stocks today, Missouri-based bank
Enterprise Financial Services
(EFSC) - Get Free Report
continued to drift upward on Monday's announcement that it will buy back up to 5% of its 12.5 million shares. Its stock gained slightly to $23.27 in very light trading.