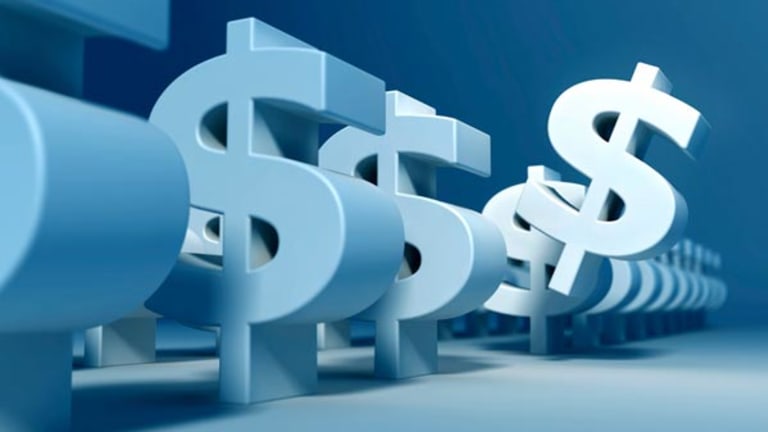 Tuesday's Financial Winners & Losers
Capital One is higher.
Updated from 11:30 a.m. EDT
As has been the case for several weeks and likely will be for many more, the story in the financial sector continued to be the uncertainty surrounding mortgage banking and access to credit.
The Nasdaq Financial 100 was up 1.1%, and the NYSE Financial Sector Index was up 0.3%. The S&P 500 Financial Sector Index was up 0.5%.
Among individual stocks,
Capital One
(COF) - Get Free Report
was gaining 2.6% to $68.47 a day after the McLean, Va., lender cut its outlook and revealed plans to close its mortgage division.
While shutting GreenPoint Mortgage, Capital One will eliminate 1,900 jobs and take a charge of $860 million. The company now expects to earn $5 a share this year, down from the previous forecast of $7.15. Still, the move away from mortgages cheered investors, who have grown distrustful of the sector.
Elsewhere, mortgage-banking firm
Accredited Home Lenders
( LEND) rose 1.7% to $6.55 after its announcement that it will trade around $1 billion of loans through a 90-day purchase agreement.
The transaction will reduce the San Diego-based company's exposure to margin calls on the loans, Accredited said.
Also on the rise was
Countrywide
( CFC), the Calabasas, Calif., mortgage provider. The company's stock, which has been yanked back and forth in recent sessions, closed up 10% to $21.79.
The reason for the upward move was a report in
The Wall Street Journal
, which said some investors believe Warren Buffett's
Berkshire Hathaway
(BRK.A) - Get Free Report
might be interested in acquiring some parts of Countrywide if it looked to sell.
Financial services firm
Friedman Billings Ramsey
undefined
said it has sold about $4.95 billion of agency mortgage-backed securities at a loss of about $57 million. After the sale, FBR owns an agency and AAA-rated mortgage-backed securities portfolio worth roughly $1.2 billion.
The Arlington, Va., company said the sale was meant to "reduce leverage during this period of disruption and uncertainty in the asset-backed financing market and to better position its balance sheet to take advantage of future investment opportunities." FBR closed down 2.2% at $4.40.
Puerto Rico-based
First BanCorp
(FBP) - Get Free Report
gained 1.3% to $10.61 following word that the company has filed the quarterly reports that were due to the
Securities and Exchange Commission
for past years. First BanCorp is still working on its 2007 quarterly reports and hopes to file them soon.
Additionally, the company, the parent of FirstBank Puerto Rico, said it has deposited $61 million of the funds required by the proposed settlement of a shareholder lawsuit.
The board of
Peoples Financial
(PFBX)
authorized the repurchase of 2.5% of the Biloxi, Miss., bank holding company's stock. The buyback would cover around 136,000 shares outstanding. Peoples was down 4.2% to $19.01.
First United
(FUNC) - Get Free Report
, a financial holding company based in Oakland, Md., also set plans for its own buyback. The company's board authorized a repurchase for up to 5% of its common stock, or around 307,500 shares. First United was down 1% at $19.26.