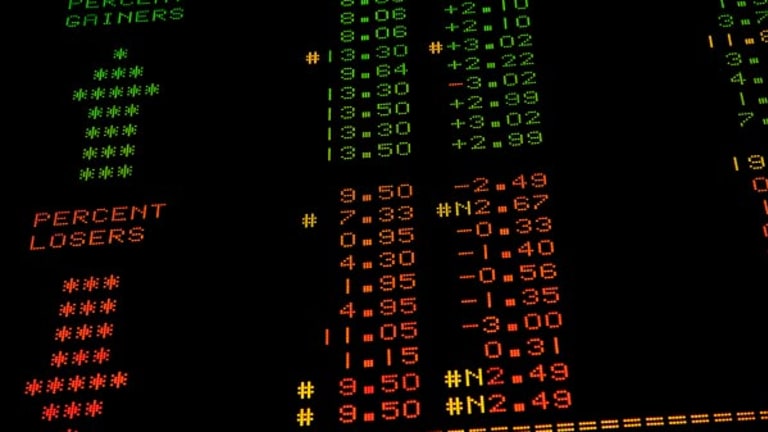 Tuesday's Early Winners & Losers
Shares of Tom Online rally after talk of a joint venture with eBay.
Tom Online
( TOMO) soared more than 11% in after-hours trading Monday after
The Wall Street Journal
reported that the China-based wireless Internet company will run the new Chinese version of
eBay's
(EBAY)
Web site. As early as Tuesday, the San Jose, Calif.-based online auction giant is slated to announce that it will shut down its current Chinese site and take a 49% stake in Tom, with Tom to hold a 51% stake in the deal. Tom shares were trading up $1.78 to $17.20. eBay shares fell 15 cents, or 0.5%, to $32.27.
Pfizer
(PFE)
gained after the drugmaker elected recently appointed Chief Executive Officer Jeffrey Kindler as its chairman. Mr. Kindler succeeds former CEO Hank McKinnell, who will leave the company's board in February 2007. The New York-based company also raised its dividend 21% to 29 cents a share for the first quarter of 2007 and reaffirmed its 2007-'08 earnings growth target at somewhere in the high single digits. Shares were adding 19 cents, or 0.7%, to $26.02.
BioMarin
(BMRN)
rose after the biotech announced positive results from advanced-phase testing of its Phenoptin product, an orally administered drug that treats patients with phenylketonuria (a genetic disorder that results in abnormally high levels of the amino acid phenylalanine, which in turn can cause significant brain problems). The company said that the primary endpoint of the study -- that the drug be tolerated well by patients -- yielded "excellent" results for all three doses administered through the entire 22-week trial. It also found that a once-daily dose of the drug maintained a reduction of blood phenylalanine levels for 24 hours. The rates of reduction were roughly relative to dosage size. Shares were up 24 cents, or 1.4%, to $16.96.
Intersil
(ISIL)
was up after the semiconductor maker announced it would buy back up to $400 million of its shares. The repurchase program will last throughout the next year. Shares were up 35 cents, or 1.4%, to $24.77.
Quantum Fuel Systems Technologies Worldwide
(QTWW)
plunged on widening losses and plummeting revenue for the quarter ended Oct. 31. The Irvine, Calif.-based micro-cap, which makes automotive parts, lost $89.3 million, or $1.40 a share -- a harrowing freefall from its $3 million loss, or 6 cents a share, a year ago. Revenue dropped to $36.6 million from $63.2 million a year ago. Analysts polled by Thomson Financial were expecting a loss of 21 cents a share on revenue of $42.1 million. The company blames the downturn on costs related to its acquisition of Tecstar Automotive Group, along with idling Tecstar facilities as General Motors transitioned to different lines of full-sized trucks and SUVs. Shares were losing 22 cents, or 13.2%, to $1.45.
Applied Signal Technology
( APSG) tumbled after the security-systems maker posted narrowing fiscal fourth-quarter profits that widely missed Wall Street targets. The Sunnyvale, Calif.-based company earned $568,000, or 5 cents a share, on revenue of $45.4 million. This compares with income of $3.1 million, or 26 cents a share, on revenue of $57.6 million a year ago. Analysts were seeking earnings of 22 cents a share on revenue of $59.6 million. Shares were falling $2.04, or 13%, to $13.70.