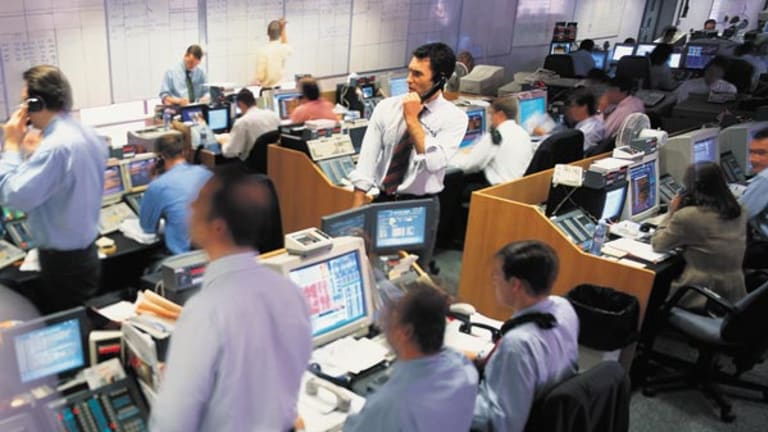 Tuesday's Early Winners & Losers
InterMune shares jump 29% on news of a collaberation with Roche.
InterMune
(ITMN)
soared 29% in postclose trading Monday after the Brisbane, Calif.-based biotech scored an exclusive worldwide
collaboration agreement with Swiss-based
Roche
for hepatitis C drugs.
The companies plan to develop and commercialize products from InterMune's HCV protease-inhibitor program. The company said it will get a $60 million upfront payment and up to $470 million in milestones. The agreement includes InterMune's ITMN-191, a compound expected to enter clinical trials before the end of the year. The companies will also collaborate on a research program to identify, develop and commercialize second-generation HCV protease inhibitors. Shares skyrocketed $4.88 and were trading around $21.71.
Stanley Furniture
(STLY)
sank after the Stanleytown, Va.-based furniture maker posted a drop in third-quarter earnings. The company reported income of $3 million, or 26 cents a share, compared with $5.8 million, or 44 cents a share, during the same period in the prior year. Revenue dropped 11.3% to $75.9 million. Analysts polled by Thomson First Call were looking for earnings of 28 cents a share on revenue of $77.5 million.
Looking ahead, Stanley Furniture said it expects fourth-quarter earnings in the range of 13 cents to 16 cents a share and sales in the range of $69 million to $71.5 million. Wall Street is looking for a profit of 25 cents a share on $75.8 million in sales. For the full year, earnings are expected to be in the range of $1.15 to $1.18 a share, and total-year sales are expected to be in the range of $305.9 million to $308.4 million. Shares were tumbling $2.54, or 11.7%, to $19.20.
Universal Forest Products
(UFPI) - Get Universal Forest Products, Inc. Report
lost ground after the lumber company reported a decrease in third-quarter income and sales attributable to slowed growth in the lumber industry and a sluggish Midwest economy.
The Grand Rapids, Mich.-based company earned $17.7 million, or 91 cents a share, a decrease of 7.6% from the year-ago quarter of $19.1 million, or $1 a share. Wall Street sought earnings of $1.13 a share. Revenue for the quarter was $673 million, down 9% from sales of $721.5 million for the third quarter of 2005. Additionally, the company lowered its annual targets for increases in net earnings and in unit-sales growth to 1% to 5% for 2006. Shares were slipping $3.25, or 6.3%, to $48.25.
SonoSite
(SONO) - Get Sonos, Inc. Report
slumped after the company, which makes of handheld ultrasound devices, said third-quarter revenue will come in below expectations due to a sales-force transition. As a result, the Bothell, Wash.-based company
lowered its revenue guidance for the full year. SonoSite estimated third-quarter net earnings of 1 cent to 2 cents a share, with revenue of $40 million. Analysts project earnings of 16 cents a share, though it's not clear if that estimate is comparable to the company's forecast. Wall Street targets revenue of $42.6 million, according to First Call.
SonoSite's guidance in July called for third-quarter revenue of $41 million to $44 million. SonoSite now expects 15% revenue growth for the year. Based on 2005 revenue of $147.5 million, the company's forecast implies a 2006 top line of $169.6 million. In July, the company forecast full-year revenue of $180 million to $185 million. Analysts, on average, predict revenue of $179.4 million. Shares were falling $4.52, or 14.7%, to $26.18.
Pharmaceutical Product Development
( PPDI) lost ground after the Wilmington, N.C.-based company reported flat third-quarter earnings. The company earned $36.8 million, or 31 cents a share, compared with $35.8 million, or 31 cents a share, a year ago. Revenue increased 14.6% to $313.1 million. Wall Street was looking for earnings of 31 cents a share on revenue of $294.3 million.
In addition, PPD said company president Fred B. Davenport Jr. decided not to renew his employment agreement, and he will end his relationship with PPD effective Dec. 31. The company said it plans to divvy up Davenport's duties among the existing management team. The company also said its board amended the annual cash-dividend policy to increase the annual dividend rate by 20% to 12 cents a year, payable quarterly at a rate of 3 cents a share. PPD expects the new dividend rate will be effective beginning in the fourth quarter 2006. Shares were falling $2.55, or 6.9%, to $34.25.