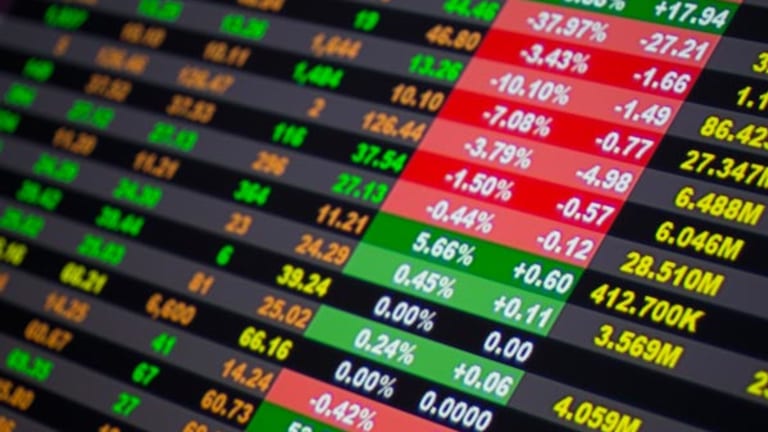 Tuesday's Early Winners & Losers
Sanmina-SCI shares sink after the company cuts its third-quarter estimates.
Shares of
Sanmina-SCI
(SANM) - Get Sanmina Corporation Report
sank in late trading Monday after the electronics-manufacturing services company lowered its third-quarter estimates.
The company expects earnings for the recently ended quarter to be 6 cents to 7 cents a share, before items. Its previous forecast called for earnings of 8 cents to 10 cents a share. Sanmina estimates that third-quarter revenue totaled $2.71 billion, at the bottom of its guidance of $2.7 billion to $2.8 billion. Analysts polled by Thomson First Call had an average estimate for earnings of 9 cents a share on $2.75 billion in revenue. The company attributed the shortfall to a less-favorable product mix, lower-than-expected profitability in its computing business, and slower-than-anticipated improvement in its enclosure business. Shares tumbled 65 cents, or 15%, to $3.62 in after-hours trading.
Neurocrine Biosciences
(NBIX) - Get Neurocrine Biosciences, Inc. Report
posted a wider second-quarter loss that missed analysts' estimates, sending its shares lower after hours. The company recorded a loss of $27.4 million, or 73 cents a share, compared with a loss of $5.6 million, or 15 cents a share, a year earlier. Revenue dropped to $9.2 million from $33.2 million a year earlier. Wall Street anticipated a loss of 72 cents a share and revenue of $22.9 million. Neurocrine attributed the drop in revenue to lower revenue recognized under collaborative agreements.
Neurocrine also reiterated that it will need to conduct more clinical trials for the insomnia drug Indiplon, and that it might need more tests for the immediate-release version. In May, the Food and Drug Administration delayed approving an immediate-release version of Indiplon and rejected a long-acting version of the drug. Neurocrine on Monday said it now expects a loss of more than $130 million for 2006, with a net cash burn of $100 million. Shares fell 33 cents, or 3.5%, to $9.09 in late trading.
Shares of
Pharmaceutical Product Development
( PPDI) advanced after the contract-research company posted second-quarter results that beat Wall Street's expectations. The company posted a profit of $36.4 million, or 31 cents a share, up from $20.8 million, or 18 cents a share a year ago. Revenue climbed 26% to $309 million. Analysts on average projected earnings of 29 cents a share and revenue of $274.5 million in revenue. After hours, shares rose $2.31, or 6.4%, to $38.27.
Actions Semiconductor
(ACTS)
shares moved higher after the China-based chipmaker posted second-quarter results that beat Wall Street's estimates. The company reported income of $18.1 million, or 21 cents an American depositary share, up from $17.2 million, or 22 cents an ADS, a year ago. Revenue increased 5.9% to $39.3 million. Analysts projected earnings of 18 cents a share, with revenue of $38.3 million.
Looking ahead, Actions Semiconductor forecast third-quarter earnings of 21 cents to 24 cents a share, in line with analysts' average estimate of 22 cents. The company predicts revenue of $43 million to $46 million, compared with Wall Street's expectation of $45.6 million. Shares rose 62 cents, or 7.4%, to $9.06 in after-hours trading.
Digi International
(DGII) - Get Digi International Inc. Report
slipped after the maker of computer-networking ports and equipment posted weaker-than-expected third-quarter revenue and offered a soft fourth-quarter top line forecast as well. For the quarter ended June 30, Digi posted income of $3.3 million, or 14 cents a share, compared with $2.5 million, or 11 cents a share, a year ago. Excluding stock-option costs, earnings were 16 cents a share. Analysts expected earnings of 14 cents a share, before items. Digi's revenue rose 19% to $35.9 million, but missed analysts' target of $36.4 million.
Digi forecast fourth-quarter earnings of 11 cents to 18 cents a share, excluding stock-based compensation expenses of 2 cents a share. Analysts expect earnings of 17 cents a share. The company sees revenue of $34.5 million to $39.5 million, below Wall Street's forecast of $40.1 million. For the full fiscal year, Digi anticipates earnings of 50 cents to 57 cents a share, before options, on revenue of $138 million to $143 million. Wall Street projects earnings of 55 cents a share and revenue of $144.3 million. Shares declined 51 cents, or 4.4%, to $11.09 after hours.
Shares of
Avistar Communications
(AVSR)
surged after the maker of video-collaboration software signed an agreement to license its patent portfolio to
Sony
. The license covers Sony's video-conference apparatus as well as other products, including video-enabled personal computer systems and Sony's PlayStation. Financial terms were not disclosed. Avistar shares jumped 30 cents, or 18%, to $2 after hours Monday.