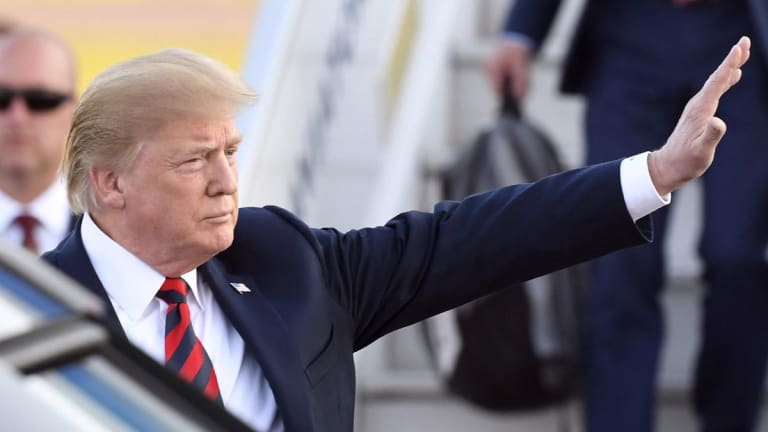 Trump vs. the Federal Reserve: Don't Expect 15% Inflation and Soaring Rates
No, Trump will not take over the Fed. Hedge funds still dig Facebook's stock. Some new data suggest Tesla's stock should trade higher in the very short-term.
Fun battle.
Donald Trump's latest verbal attack on the Federal Reserve -- designed no doubt to steal the narrative at Jackson Hole -- has me scouring my long off-the-record lunch two weeks ago at the New York Federal Reserve for insights.
While the instinct for investors is to mildly worry about Trump's repeated Fed attacks as sowing the seeds for inflation, and leading to President Dwayne 'The Rock' Johnson appointing a new Fed chair in 2020 that raises rates to 10% to crush inflation, it's OK to relax a bit (for now). The Fed is fiercely independent and my sense is that members of the central bank rally around one another when being slammed by Trump.
So what does that mean?
Fed Chair Jerome Powell continues to lead the market down the path of data dependency when it comes to rate hikes as those that held the spot before him did. If the economic data warrant more rate hikes, Powell will drive consensus and pull the trigger. If the economy says a pause is needed (likely the case later this year), Powell will drive consensus and chill out. It's almost that simple -- so simple that even the occupier of the White House could understand.
Said Fed expert and CEO of Quill Intelligence Danielle DiMartino Booth: "Part of the frustration stems from a lack of appreciation going in that Jerome Powell was no Yellen clone. This is a man who once worked for a dollar salary to educate the Congress on the perils of the U.S. defaulting on its debts. His leadership style thus far shows he is more independent that any of his three predecessors and therefore less at risk of caving to political pressures. It's good news for the country long-term but does not necessarily fit a low-rate agenda in the here and now." 
Data Dump
Facebook's (FB) - Get Meta Platforms Inc. Report  lukewarm second quarter -- and massive negative market reaction to it -- hasn't shaken the confidence of too many bullish hedgies. Nearly 100 hedge funds owned the social media giant's stock as a top 10 portfolio position at the start of the third quarter, according to new Goldman Sachs data. That positioning continues to earn Facebook the most popular stock among hedge funds, based on the top 10 largest hedge funds Goldman tracks.
Clearly the call has worked wonders: Hedge funds have lagged the broader market this year, returning a measly 1%. Enjoy that beach in Greece, folks.
Tesla (TSLA) - Get Tesla Inc. Report shares surprisingly reversed course on Monday and traded higher into the close off an interesting story in The Wall Street Journal. While suppliers are worried about getting paid, according to the story, the big takeaway is that Tesla's cash is in an OK position compared to second quarter. The story projected Tesla's cash will end the third quarter higher than the second quarter amid the Model 3 production ramp.
Very important to hear that, and it's likely Tesla's stock will trade with an upward bias in the short-term pending a fresh Elon Musk bombshell.
But don't ignore the moves in the market for Tesla bonds, bulls. Pointed out my source at one of the bond rating agencies: "Tesla 5.3% notes due 2025 tumbled roughly 1.5 points Monday to test new all-time lows below 88, after another week kicked off with a raft of confidence-shaking developments for the electric vehicle producer."
Around TheStreet
I will continue to hype this webinar until you sign up for it. TheStreet's Jim Cramer and well-known market forecaster, Marc Chaikin, will hold a webinar Wedneday morning that offers top picks for a booming economy. Not only will they share the best stocks, but also help people understand the rationale. Register here.
Yours truly hopped on the horn with PepsiCo (PEP) - Get PepsiCo Inc. Report Chief Financial Officer Hugh Johnston Monday afternoon to discuss the company's $3.2 billion splurge on SodaStream (SODA) - Get SodaStream International Ltd. Report . Johnston told me there are no plans to bring PepsiCo flavors to the SodaStream platform, there will be a push of the system in international markets and the deal started to take shape over the last few weeks.
Bullish move in Nvidia Monday afternoon as CEO Jensen Huang unveiled the company's latest high-powered gaming chip. For those bulls obsessed with Nvidia (NVDA) - Get NVIDIA Corporation Report , the reversal is encouraging ahead of several speeches Huang is likely to make in coming weeks after a mixed second quarter.
"We'll look for this announcement's enthusiasm to facilitate a shift in the short-term narrative away from a weak guide, and instead toward a re-embracement of the company's advancements in computer graphics as well as the secular growth stories in self-driving and the cloud," said the Action Alerts PLUS team following the reveal.
Nvidia is a long-time Action Alerts PLUS holding.