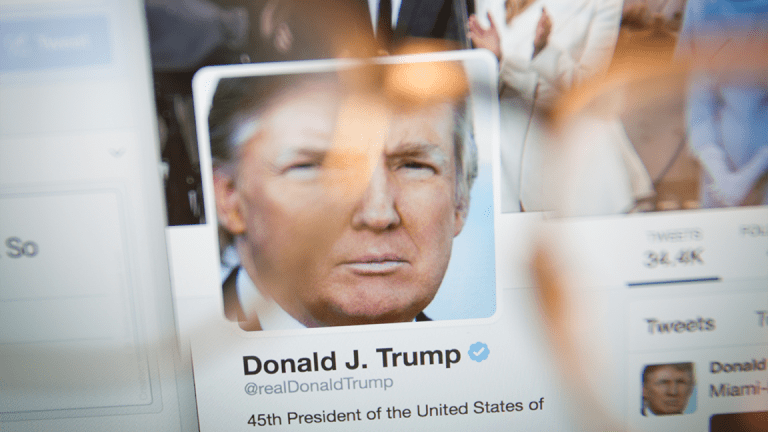 Trump Tweets Support for Senate Tax Bill; Markets on Edge as Voting Resumes
President Donald Trump urges lawmakers to pass 'the biggest Tax Cuts in the history of our Country.'
U.S. President Donald Trump continued to pressure lawmakers to pass a tax reform bill he said was "getting better and better" and accused his Democratic rivals of being "obstructionist" as Republicans scramble for support for the $1.5 trillion in cuts.
The president made his views public via his official Twitter account early Friday, Dec. 1, as markets continued to react to the passage of a bill that would significantly cut U.S. corporate and individual taxes over the next 10 years but also add to the country's towering debt pile and increase its ballooning budget deficit.
Senate Republicans will resume their attempt to pass the bill Friday after delaying a vote late last night following Majority Leader Mitch McConnell's attempt to address concerns raised by both deficit hawks and those seeking to maintain Federal deductions for state and local taxes. Voting on the bill is expected to resume at 11:00 am Washington time.
Earlier Thursday, Republican leaders had persuaded Sen. John McCain of Arizona to support the legislation, boosting expectations of passage and helping U.S. equity markets hit records highs into the close of trading. 
McCain, who helped torpedo Republican efforts to repeal Obamacare earlier this year, said the measure will improve the economy and U.S. competitiveness.
"I believe this legislation, though far from perfect, would enhance American competitiveness, boost the economy, and provide long overdue tax relief for middle class families," McCain said in a statement. "This is not a perfect bill, but it is one that would deliver much-needed reform to our tax code, grow the economy, and help Americans keep more of their hard-earned money."
There remains debate on the degree to which the bill will actually affect economic growth.
The Joint Committee on Taxation said the bill will add $1 trillion to the deficit over a decade, and that economic growth from the tax cut will only offset $407 billion of the $1.5 trillion cost over the next decade.
There remain a few Senators who haven't yet indicated they will support the plan. Republicans, who control 52 seats in the Senate, can lose no more than two of those Senators to pass the bill. Vice President Mike Pence holds a tie-breaking vote in the event of a deadlock. No Democrats support the bill.
More of What's Trending on TheStreet: