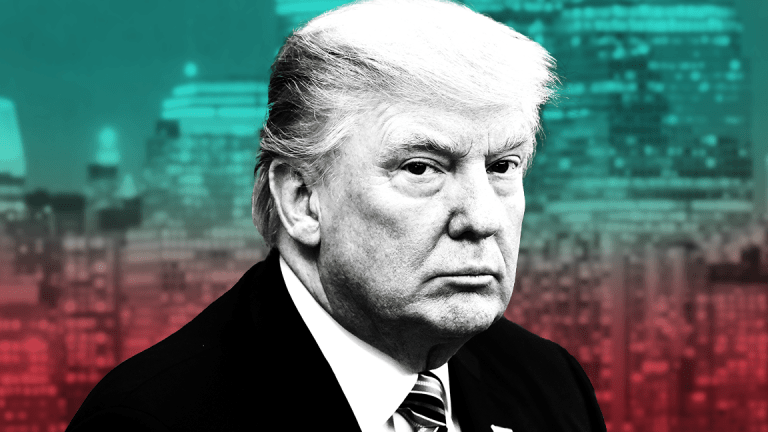 Trump's Trade Policies Already Costly as G-7 Meeting Starts in Canada
Investors would be more than $1 trillion richer now if the President had been able to restrain some of his vituperative rhetoric about trade this year.
Investors would be more than $1 trillion richer now if the President had been able to restrain some of his vituperative rhetoric about trade this year.
It's an important meeting every year, the G-7. This year, it's the G-7 minus one.
President Trump is heading to a resort hotel in Charlevoix, Quebec, on Friday for what promise to be contentious meetings about trade and tariffs with the leaders of the six other major industrialized democracies, amid signs that his administration is downplaying the consequences of a tariff war with some of the U.S.'s oldest trade partners.
Citing national security concerns, the U.S. has decided to impose tariffs on imported steel and aluminum on Canada, Mexico and the European Union countries, prompting promises of retaliation and expressions of disbelief over the stated reason. Speaking with Canadian Prime Minister Justin Trudeau, the Trump reportedly said that the U.S. was justified in its concerns because Canada burned the White House during the War of 1812. Needless to say, that's not true.
It's just another preposterous remark from the U.S. president, who is said to be unhappy with the prospect of going to a meeting where all the other participants are furious with the direction of U.S. trade negotiations. U.S. equity investors have been having a pretty good week, but even they may begin to fret about the future of their investments under the Trump regime if a trade war bursts into full bloom.
Investors would be more than $1 trillion richer now if the President had been able to restrain some of his vituperative rhetoric about trade this year, according to Marko Kolanovic, a strategist at J.P. Morgan, in a note published on Wednesday.
"By attributing the trade-related news flow (positive or negative) to the performance of the U.S. market, we estimated the impact on U.S. equities to be negative 4.5%" since March, Kolanovic said in a note Wednesday. "Taking the current market capitalization, this translates into $1.25 trillion of value destruction for U.S. companies. For a comparison, this is about two-thirds of the value of total fiscal stimulus."
Besides Canada, Japan and the U.S., the G-7 includes Germany, France, Italy and the United Kingdom, none of which feel they're getting a fair deal from the U.S. The Europeans are especially incensed by the president's withdrawal from the Iran nuclear agreement, which would have opened Iranian commercial opportunities for numerous European countries. Instead, they've had to ratchet those plans back for fear of angering the U.S. and jeopardizing trade with the world's biggest economy.
The Canadians fear that the tariff demands from the U.S. are a smokescreen for a plan to break up the North American Free Trade Agreement entirely and replace it with bilateral agreements. A Trump official suggested that very thing on Tuesday, when National Economic Council Director Larry Kudlow said on Fox & Friends that the president preferred to "actually negotiate with Mexico and Canada separately," to speed up negotiations.
Trudeau has been seen as a conciliatory figure who's been trying to get the big guy down South to look for some common ground, but it appears that even the Canadians are fed up.
"With Trump, the mishandling is all on one side and most of it is deliberate," the Toronto Star wrote in an editorial. "Trudeau and his foreign affairs team tried the nice-guy approach for a long time, to considerable good effect. But there is a point beyond which that risks looking like weakness, and we passed that point in recent weeks. For the prime minister, it's time to stand up to the bully - and be seen to be doing so."
Here's some stuff made in the U.S. on which Canada will likely post retaliatory tariffs. Canada is the U.S.'s largest export market, according to the Census Bureau:
Cheese, pizza, quiche, chocolate, whiskies, toilet paper, paper towels, strawberry jam, ketchup, mustard, yogurt, lawn mowers, refrigerators, washing machines, maple syrup, beer kegs, mineral water, fresh orange juice, mayonnaise, salad dressing, automatic dishwasher detergents, cucumbers, gherkins, ball point pens, felt-tipped pens, plywood, bobbins, roasted coffee, licorice candy, toffee, hair spray, shaving creams, soaps, candles, kitchenware, manicure and pedicure preparations, handkerchiefs, facial tissues, printed postcards, some insecticides, iron products, sailboats, some chairs, mattresses, plastic bags, sleeping bags, playing cards, soy sauce, and forms of aluminum and steel.
Here's some of the stuff the U.S. exports to Mexico (the second biggest U.S. export market) that will likely be hit by retaliation for the steel and aluminum levies: Lamps, pork, cheese, flat steel, apples, pears, grapes, cheese, blueberries, sausages, and other meat products.
The EU has said that it will target these U.S. exports: Bourbon whiskey, motorcycles, denim, cigarette, cranberry juice, orange juice, some pants and shorts, some bedlinen, corn, tobacco, t-shirts, motor boats, some rice, some beans, peanut butter, and forms of aluminum and steel.
Japan hasn't announced what steps it may take - Japanese Prime Minister Abe was in Washington today to meet with Trump - but it's fair to say there is some unhappiness. Per the Asahi Shimbun:
"The World Trade Organization also authorizes import restrictions for national security, but they are essentially limited to times of war. The position taken by the Trump administration is clearly untenable. Naturally, the six partners are irate. The United States is solely responsible for the rift."
The newspaper went on to call Trump's America First policy "a grave threat to the free trade system built by the world's industrialized nations. The policy will not only hamper the growth of the global economy, but will also hurt the interests of U.S. citizens. Trump needs to change course at once."
It's possible that all the chaos is part of Trump's planning, such as it is. It's clear though, judging from his historical sense, that he hasn't done much homework to understand what's going on. When he leaves Canada on Saturday, he'll be flying directly to Singapore to meet with Kim Jong-Un, the leader of North Korea. Here's how he's preparing for that, according to NBC News:
"I think I'm very well prepared. I don't think I have to prepare very much. It's about attitude."
U.S. equity investors who analyze such things as company profits and products, management, legal risks and prospects for future sales, take note.