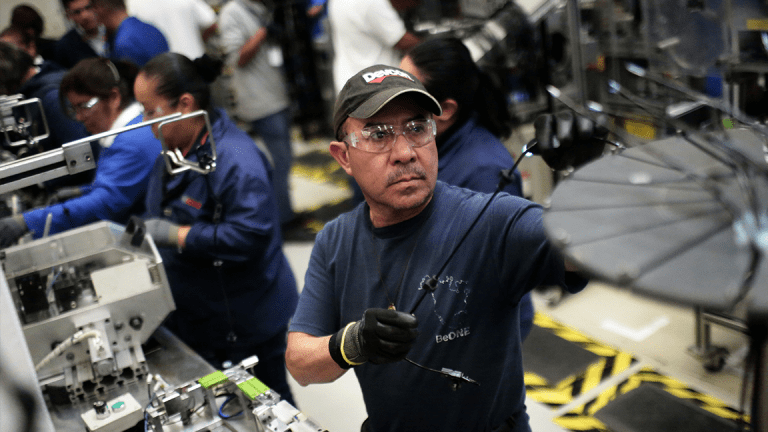 Trump Trade Suffers as President Pursues Peccadillos with Friends
Looks like the U.S. is launching a pointless trade war, after all. Here's what the impact could be for several companies.
Looks like the U.S. is launching a pointless trade war, after all.
U.S. equity markets fell for the fourth day in five on Thursday after the U.S. cited national security concerns in imposing tariffs on steel and aluminum imports from some of the U.S.'s most important allies and trade partners, starting at midnight tonight.
The move prompted Canada, Mexico and the European Union to say they would retaliate by slapping tariffs on U.S. goods including bourbon whiskey, orange juice and Harley-Davidson motorcycles. Canada said it will respond with dollar-for-dollar tariffs worth about C$16.6 billion.
Once again, President Donald Trump's administration has managed to dent investor confidence that has been going sideways for the last few months but remains underpinned by the President's trifecta of low corporate taxes, lax or reversed regulations and a moribund enforcement regime. Not for the first time or the last, the President is picking a fight that hurts the nation's friends and may embolden its opponents.
It does little to encourage investors to buy shares in U.S. exporters or companies such as Boeing, which use imported steel to make airplanes. Harley Davidson (HOG) - Get Report fell 2.2% and Boeing (BA) - Get Report lost 1.6%, while U.S. Steel (X) - Get Report rose 1.9% and Nucor (NUE) - Get Report , the biggest U.S. steel maker, rose 0.1%. Action Alerts PLUS holding Nucor gave back much of its gains during the trading session as investors may have heard Canadian Prime Minister Justin Trudeau point out that the U.S. has a $2 billion annual surplus in trading steel with Canada, which the U.S. uses to build tanks and aircraft.
Trudeau noted that Canada and the U.S. have been close allies through two world wars and up to, and including, the conflicts in Iraq and Afghanistan and said, "That Canada could be considered a national security risk to the United States is inconceivable."
Evidently not to the President and Commerce Secretary Wilbur Ross. Trump said today he agreed with Ross that steel imports "threaten to impair the national security of the United States." That would be one thing if the U.S. shared a 5,000-mile border with China, for example. But it doesn't. It's with Canada.
"The ties of commerce, friendship and in many cases family between Americans and Canadians are undiminished," Trudeau said. "We are confident that shared values, geography and common interest will ultimately overcome protectionism."
Mexico's economic ministry said it regretted and disapproved of the measure and would adopt steps to match the tariffs by a comparable amount, including on products ranging from flat steel, tubes and pipes, to sausages, apples, grapes, cranberries and some kinds of cheese.
"The recent announcement by the U.S. to allow temporary exemptions to expire and impose tariffs on steel and aluminum from Canada, the EU and Mexico, creates heartburn for critical allies," said Dec Mullarkey, managing director of investment research at Sun Life Investment Management, in an e-mail to TheStreet. "The EU has been clear they will respond. This escalates the risk of a trade war and retaliatory steps that could put global growth at risk. This move shows that the U.S. administration wants to send a clear message that they are willing to be protectionist even if they hijack the goodwill of long term allies."
European Union chief Jean-Claude Juncker said Thursday it was a "bad day" for trade. "The European Union cannot react to that without any kind of reaction," he said.
And once again there's a whiff of the President's personal peccadillos in the tariff announcement, which may be extended to German auto imports, potentially putting the entire global trading system at risk, said EU trade commissioner Cecilia Malmstrom.
If Trump follows through with threats to slap "anything close to 25% tariffs on German cars, I would really see it as the end of the German-American trade relationship," said Arndt Ellinghorst, an analyst at Evercore ISI. "Not a single car built in Germany and sold to the U.S. would be sold at a profit," he said.
Allegedly, Trump told French President Emmanuel Macron that he wanted to go through with his trade policy to prevent Mercedes-Benz models from driving down Fifth Avenue in New York, according to a report by German magazine WirtschaftsWoche. Trump Tower in Manhattan, the president's home before he entered the White House, is on Fifth Avenue. It's not clear what he has against Mercedes-Benz cars, but it's been speculated that he doesn't get along so well with German Chancellor Angela Merkel.
Maybe that's it.
Next to come could be renewed tariff restrictions aimed at China, about which the administration has been inconsistent. Later this year, the U.S. may scrap the North America Free Trade Agreement with Canada and Mexico entirely. Neither prospect bodes well for investors in U.S. equities.
In the meantime, investors may hope that the President renews his plans to win the Nobel Peace Prize for solving the North Korean conflict. That would be a good way to help ensure that all the profits from the Trump trade so far don't go up in smoke.