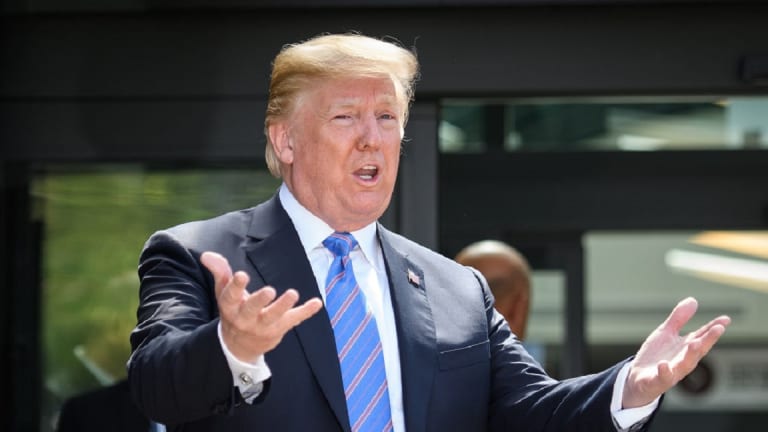 Trump Trade Stuck in Mid-Winter as Volatile President Sends Mixed Signals
After all the ups and downs and concomitant anxieties this year, investors in Dow and S&P 500 stocks are about where they started out.
After all the ups and downs and concomitant anxieties this year, investors in Dow and S&P 500 stocks are about where they started out.
Sell in May and go away, is a piece of investment advice sometimes heard. This year, make that January.
The Dow Jones Industrial Average I:DJI closed Friday at 25,316,53, up about 2.7% for the week and the second week in four that it's posted gains. That's a typical result for a market that's traded sideways for almost all of 2018 - the Dow stood at 25,295.87 after Friday, Jan. 5, meaning that investors have enjoyed a meager 21-point gain in the benchmark 30-stock average for the whole year so far.
The S&P 500 I:GSPC has done little better, advancing from 2,743.15 that first week of January to 2,779.03 Friday, an unimpressive 36-point gain. Obviously, traders have seen moves like that happen in minutes many times this year, but after all the ups and downs and concomitant anxieties, investors in Dow and S&P 500 stocks are about where they started out. In a corporate-friendly world of low taxes and weakened or moribund regulation, it's worth asking why investor enthusiasm isn't higher.
To be sure, investors in the tech and entertainment stocks that dominate the Nasdaq Composite I:IXIC have done better - the Nasdaq set a record on Thursday this week - as have investors in the smaller market-cap stocks that dominate the Russell 2000 I:RUT , which also set a record this week. One reason for their relatively better performance is that the smaller Russell 2000 companies are mainly dependent on U.S. markets, while the Apples (AAPL) - Get Report , Microsofts (MSFT) - Get Report , Intels (INTC) - Get Report and Advanced Micro Devices (AMD) - Get Report of this world - some of the better performers on the Nasdaq - make products and operate in markets that they dominate, whether domestically or abroad.
Stuck in mid-winter, though, are some of the major sectors - transportation, industrial companies like General Electric (GE) - Get Report and United Technologies and banks - most of which are trading flat for the year so far. Those are companies that got a boost from the tax cuts and have helped to generate better-than-expected U.S. economic growth, yet investors aren't benefiting.
Marko Kolanovic, a strategist at J.P. Morgan, in a note published on Wednesday, has one explanation that seems plausible, considering the volatile nature of some of the reports that have been coming from Washington on trade issues.
"By attributing the trade-related news flow (positive or negative) to the performance of the U.S. market, we estimated the impact on U.S. equities to be negative 4.5%" since March, Kolanovic said in the note. "Taking the current market capitalization, this translates into $1.25 trillion of value destruction for U.S. companies. For a comparison, this is about two-thirds of the value of total fiscal stimulus."
In short, Kolanovic is saying that if President Trump hadn't decided to launch trade wars on U.S. allies including Canada and the European Union countries and major trade partners such as Mexico and Japan, investors would be holding stock that's worth $1.25 trillion more than it is.
Judging by the G7 this weekend, it looks like the relationship damage President Trump has decided to inflict on the other six major industrialized democracies won't be ameliorated anytime soon; in fact, it looks more likely that Trump will scrap NAFTA in favor of negotiating separate deals with Canada and Mexico.
On Saturday, the President skipped out of the G7 early so he can be on time for his tete-a-tete with the North Korean dictator in Singapore next week. Talk about punishing China for its theft of intellectual property has dissolved after Trump agreed to lift sanctions against Chinese telecommunications firm ZTE in return for a $1 billion fine. Trouble is, ZTE broke American law and has been accused of posing a national security threat.
Even complaints about China's steel-dumping have evaporated in the brouhaha over the steel and aluminum tariffs the U.S. is slapping on its most important trade partners.
So it's not very clear sailing heading into the summer, and the President seems determined to kick up more tempests as the season progresses. On the way to Canada he complained that Russia isn't in the G7 group anymore, having been kicked out for its invasion of Ukraine and annexation of Crimea.
Stock market investors can be forgiven for not being exactly sure which way is up. Sideways seems pretty good for now.
Apple and Microsoft are holdings in Jim Cramer's Action Alerts PLUS member club. Want to be alerted before Jim Cramer buys or sells AAPL or GOOGL? Learn more now.