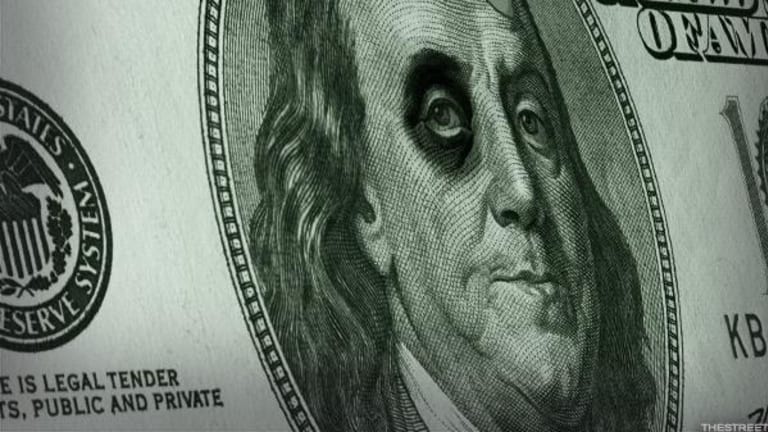 Trump Tax Cuts Could Actually Weaken the Dollar
Forex markets are wrong to bet on a stimulus-strengthened greenback.
Editors' pick: Originally published March 2.
Currency markets have overwhelmingly decided that a Trump tax cut will lead to U.S. dollar strength -- but I believe that it's too early to position for the best scenario, so I prefer to take the other side.
The overriding view in U.S. currency markets assumes that more money in corporate and consumer pockets will lead to greater spending, which in turn will stimulate the economy, pushing up stock and real estate prices in turn. Many think this will then fuel higher prices in general, which will prompt a hawkish Federal Reserve to raise interest rates. Under this scenario, higher interest rates and stronger U.S. growth would eventually attract foreign investment and the dollar would rally as foreigners bought greenbacks to purchase American assets.
Currency traders have already largely baked the above assumptions into the currency cake. However, President Trump and his subordinates have said from Day 1 that China, Japan and Germany all have large current account surpluses fueled by weak currencies relative to the dollar. They want to make America "more competitive" -- and when they say "more competitive" when discussing the dollar, they're really calling for a weaker greenback. They don't want the strong dollar that's been the norm since the 1990s.
Trump and your taxes:Watch Jim Cramer lead a roundtable discussion on how investors and retirement savers should position their portfolio.
I would argue that the Trump administration would rather negotiate a "Plaza Accord 2.0" than have the dollar appreciate any further. For those unfamiliar with the original Plaza Accord, it was a 1985 agreement between the United States, Britain, France, Japan, and West Germany to depreciate the dollar against the Japanese yen and the German deutschemark.
The Trump camp has clearly observed that U.S. dollar strength since late Treasury Secretary Lloyd Bentsen's years in the early 1990s has resulted in manufacturing jobs moving overseas. Indeed, America has become an incredible exporter of U.S. Treasury bills at the expense of Middle America's manufacturing jobs.
However, a Trump tax cut would likely strengthen the dollar for the reasons noted above. Additionally, Trump's proposal for a "tax holiday" on U.S. corporations' overseas profits would encourage multinationals to repatriate profits held abroad back to America, further bolstering the greenback. Apple (AAPL) - Get Apple Inc. Report , Microsoft (MSFT) - Get Microsoft Corporation Report , Cisco (CSCO) - Get Cisco Systems, Inc. Report , Alphabet (GOOGL) - Get Alphabet Inc. Class A Report , Johnson & Johnson (JNJ) - Get Johnson & Johnson Report and Oracle (ORCL) - Get Oracle Corporation Report  are just some of the companies that could benefit from the holiday.
So, what can the administration do? Well, there's one way that the United States can have both tax cuts and weaken the dollar, and that's by threading the needle with a diplomatic solution.
In his recent confirmation hearing, new U.S. Treasury Secretary Steven Mnuchin stated that what's important to him 's the dollar's long-term strength. Note the caveat "long term." The only way that China, Japan and Europe would ever agree to a Plaza Accord 2.0 devaluation of the dollar would be if they understood that this would only be a short-term action.
That could achieve a number of Trump's policy goals. First, it would force the Chinese currency to be stronger relative to the dollar. Given that the Chinese yuan trades against a basket of currencies, weakening the dollar against Japanese and European currencies would strengthen the yuan. Second, a move that makes the greenback, say, 20% lower against foreign currencies would make American workers more affordable to global manufacturers, leveling the playing field for global competitiveness and encouraging foreign investment in America.
All of this could become palatable to foreign countries if Trump can convince them that a stronger dollar remains part of the longer-term future -- something the administration could theoretically do fairly easily. After all, tax cuts, domestic infrastructure spending, corporate-profit repatriation, normalization of interest rates and an end to quantitative easing could all help convince other nations that a one-off reset in the dollar's value would be only temporary.
Add it all up and I expect the dollar to weaken before it strengthens. In euro/dollar terms, that means I foresee 1.2000 before 1.0000. And as for the dollar/yen trade, I expect 100 before 120.
A full rundown of TheStreet's guide to trading in March can be found here: