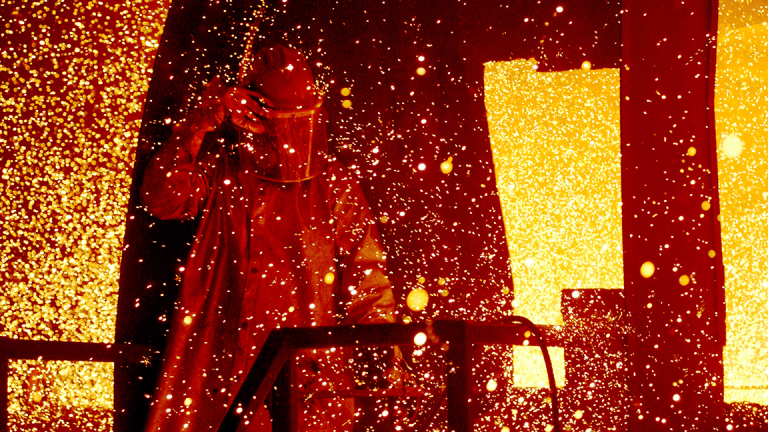 Trump's Steel, Aluminum Tariffs Cause for Concern Among Analysts, Economists
The U.S. steel production industry is far bigger than the three publicly traded companies who are large advocates of the latest duties, and industry watchers are concerned global tariffs will harm far more than they help.
President Donald Trump has launched a long-awaited war on steel and aluminum imports that sent the markets reeling Thursday, March 1, in an effort to protect two struggling U.S. industries that have seen significant drops in employment in recent years. 
The president held a press meeting with various executives of the aluminum and steel industries by his side to talk about the tariffs the White House is looking to impose on imports as early as next week. Those tariffs are said to include a global 25% duty on steel imports and a 10% duty on aluminum imports.
"We're going to rebuild our steel industry. We're going to rebuild our aluminum industry," Trump said during the meeting. "The U.S. hasn't been treated fairly. Next week, we'll be imposing tariffs on steel imports and aluminum imports.
"We'll be signing it next week and you'll have the protection you need. And you'll be able to grow your industry. That's all I ask is that you regrow your industry," Trump said.
The move to tariff imports has been anticipated since before Trump officially took office, with the stocks of the three publicly traded U.S. steel producers U.S. Steel Corp. (X) - Get United States Steel Corporation Report , Steel Dynamics Inc. (STLD) - Get Steel Dynamics, Inc. Report and Nucor Corp. (NUE) - Get Nucor Corporation Report up 107%, 62% and 27% from the Nov. 8 election through the closing bell Feb. 28. All three of these stocks soared Thursday afternoon after the president announced the plan to import tariffs next week, extending gains made on earlier reports that tariffs were coming Thursday. 
The president in January gave a taste of his willingness to employ such measures with a 30% tariff on solar panel imports, though trade experts at the time noted such a tariff, while employed broadly, truly affects only a small number of countries, whereas a broad steel and aluminum tariff would cause pushback from a much more diverse producer base.
Renewed talk on Trump's metals tariff comes after a Section 232 investigation conducted by Secretary of Commerce Wilbur Ross revealed in mid-February that employment in the U.S. steel industry has dropped 35% since 1998, while aluminum industry employment fell 58% between 2013 and 2016.  
"Our Steel and Aluminum industries (and many others) have been decimated by decades of unfair trade and bad policy with countries from around the world," Trump said in a Twitter post Thursday, hinting an announcement on a tariff could be coming. "We must not let our country, companies and workers be taken advantage of any longer. We want free, fair and SMART TRADE!"
In his Feb. 16 report, Ross gave various options for Trump for tariffs and quotas on both steel and aluminum as a result of his Section 232 investigation.
For steel, those recommendations included a global tariff of at least 24% on all imports from all countries; a tariff of at least 53% on all steel imports from 12 countries (Brazil, China, Costa Rica, Egypt, India, Malaysia, Republic of Korea, Russia, South Africa, Thailand, Turkey and Vietnam) with a quota by product on steel imports from all other countries equal to 100% of their 2017 exports to the United States; or a quota on all steel products from all countries equal to 63% of each country's 2017 exports to the United States.
On aluminum, Ross recommended either a tariff of at least 7.7% on all aluminum exports from all countries; a tariff of 23.6% on all products from China, Hong Kong, Russia, Venezuela and Vietnam with all other countries subject to quotas equal to 100% of their 2017 exports to the United States; or a quota on all imports from all countries equal to a maximum of 86.7% of their 2017 exports to the United States.
But there are scores of critics of steel tariffs who point to a similar move by the Bush administration in 2002 as a key example of how tariffs on imports won't help the U.S. boost exports, and could in fact worsen the situation for producers of both aluminum and steel.
After George W. Bush imposed steel import tariffs in 2002, ranging from 8% to 30%, one study showed a loss of about 200,000 jobs for the 18 months the tariff was in effect, Matthew West, global projects chair and trade partner at law firm Baker Botts LLP, previously told TheStreet.
That study was backed by steel-using companies and blamed on higher steel prices, according to a September 2003 article in the Washington Post analyzing the effects of the Bush tariff. The Post also pointed out a study sponsored by steel producers that indicated the tariff brought idled steel mills back on-line and kept teetering mills from shutting down. In the process, the study's organizer, University of Maryland business professor Peter Morici, found Bush's tariff resurrected 16,000 steel jobs, and more than 30,000 when steel suppliers are included. 
An expert with the Peterson Institute of International Economics, a non-profit think tank then known as the Institute of International Economics, contested both studies, however, claiming the steel producers added some jobs during the Bush-era tariff, but not because of the tariff, while steel consumers may have shed about 15,000 to 20,000 due to the tariff, the Post reported.
Crunching the numbers
To be sure, it's very hard to produce any trustworthy measure on the effects these types of tariffs have on jobs, Peterson Institute for International Economics senior fellow Monica DeBolle told TheStreet on Thursday. 
"We do these exercises all the time, but there are just so many things that go into it," DeBolle said. "Without going into numbers, I would say any broad global tariff would bring a lot of uncertainty, it would raise costs for U.S. steel producers, decrease their ability to expand and thus hurt investment. And if you hurt plans for expansion, you would hurt jobs. It's a direct effect."
DeBolle pointed out that the U.S. steel production industry includes many more companies than those that produce unfinished steel products like U.S Steel and Nucor. Many U.S. companies import semi-finished steel products that they in turn laminate for use by various consumers, including in the automotive and construction markets. 
"To ignore what these imports are being used for is really dangerous. If you slap a steel tariff on all countries, that will have a backlash on producers here, and the same is true with aluminum," she said. "So I think in the last 24 hours, there has been a mobilization by steel makers here in the U.S. to say 'Hey, this can be bad for us, maybe there are some countries you want to target, but not every country.'
"Because there are some countries we really need to import this stuff from. Imports are not just there, they are there because U.S. steel producers are demanding it, not necessarily because every country is just flooding our markets unfairly."
Analyst Gordon Johnson of Vertical Group, a self-proclaimed bear on the steel industry, agreed, noting that not only is a tariff bad for supply and demand in the near-term, it creates a long-term problem, as well.  
"This will cause a negative effect on GDP," Johnson said. "If you're a U.S. producer and you sell your product globally, all of a sudden you can't compete. And effectively, you'll be forced to offshore capacity or cut jobs."
By offshoring capacity, Johnson means that companies that buy steel products finished in the U.S. for use in their own manufacturing, such as Deere & Co. (DE) - Get Deere & Company Report , may opt to produce or purchase parts outside of the U.S. rather than pay higher prices for finished steel to produce those products here. 
And if a major steel products consumer such as Ford Motor Co. (F) - Get Ford Motor Company Report , which produces cars in the U.S. but sells internationally, opts to move a production facility from the U.S. to Mexico as a result of this tariff, who's to say the company will be in any rush to move the facility back to the U.S. if the tariff is eventually lifted, Johnson said. 
If the tariff is applied globally, an eventual repeal is inevitable, Johnson said. 
Indeed, as DeBolle noted, the European Union has already vowed to retaliate any tariff that affects its steel and aluminum producers as key member country Germany claims it would be negatively impacted. 
And like the Bush tariff of 2002, the World Trade Organization will probably contest any global tariff imposed by the Trump administration, both Johnson and DeBolle asserted. 
The World Trade Organization ruled in November 2003 that steel tariffs imposed by Bush were illegal, which would have cleared the way for the European Union to impose more than $2 billion of sanctions on imports from the United States unless Washington quickly dropped the duties. Bush lifted the tariff, intended to last three years, in December 2003, about 18 months after it was enacted in late March 2002. 
Eighteen months was all it took, though, to see an explosion of U.S. loss in steel-intensive industries such as aircraft manufacturing, oil and gas extracting, mining, mining support and natural resources, Johnson claimed. According to a chart produced by the analyst, year-over-year job growth rate in these industries was near 5% shortly before an investigation into a potential U.S. tariff on steel imports was announced in June 2001.
By the time that bill was enacted in late March, several of those industries were seeing a job loss rate of 15%, and many did not fully recover until more than a year after the tariff was lifted. 
"You don't put tariffs on one of most commoditized products in the world and not see negative reverberations," Johnson said. "This is not moving forward, it's moving backward."
Ironing out the details
Details of Trump's plan at this point are scarce. The president said he plans to implement a 25% tariff on steel and 10% tariff on imports, but did not elaborate further on whether these tariffs would be applied broadly, or whether he would follow one of Secretary Ross' other recommendations, which call for a mixture of tariffs on some countries and quotas on others. 
Asked by reporters as to why the president would announce a plan to issue tariffs before the details were ironed out, press secretary Sarah Huckabee Sanders sidestepped the question. 
"The president is announcing his intent to sign those actions next week," she said at a White House press conference. "We're not going to get into anymore details until those details are finalized. But that is what he intends to do next week and he was making that announcement."
Sanders added that no one should be surprised by the measure considering it is "something the president has been talking about for decades."
Comments from Johnson and DeBolle suggest that a broad global tariff on all countries would be the most detrimental to the steel industry, but the president reportedly is eyeing that very measure. The New York Times wrote Thursday that Trump told a group of executives at a White House meeting he did not want any nation to be exempted from the order because if one country was exempt, all other countries could ask for similar treatment.
Whether Trump ignores the call to be more selective about what countries he chooses to tariff or not, Johnson argues the administration will likely be forced to add exclusions to its plan down the road to protect specific steel consumers or steel importers. The analyst said six months after the Bush steel tariff was implemented, the president had already had hundreds of such provisions to the duties.
Already on Thursday, steel consumers were calling for these shielding provisions. In an emailed statement to TheStreet, Greg Owens, a co-owner and president of privately held stainless steel silverware maker Sherrill Manufacturing Inc., said his company supports the president's move to aid the steel and aluminum manufacturing industries. 
"Having said that, it is important to understand that steel prices here in the United States, depressed by the dumping of underpriced foreign steel, will raise as a result of these actions," Owens said. "This means that manufacturers like Sherrill Manufacturing will be paying higher prices for our stainless steel going forward, ironically making us less competitive against foreign finished goods that use foreign steel. It is of utmost importance that the administration takes steps towards shielding the end users of American steel from the undesired effect of steel being shipped into the United states not in the form of raw material but in the form of finished goods."
Meanwhile, a proposed expansion of Exxon Mobil Corp.'s (XOM) - Get Exxon Mobil Corporation Report  362,000 barrel-per-day Beaumont, Texas, oil refinery could be affected due to the tariff, Reuters reported Thursday citing a source familiar with the matter.
In a three part tweet, Molson Coors Brewing Co. (TAP) - Get Molson Coors Beverage Company Class B Report subsidiary MillerCoors lambasted the president's tariff decision.
--This story has been updated to include comments from press secretary Sarah Huckabee Sanders.
Nucor Corp. is a holding in Jim Cramer's Action Alerts PLUS Charitable Trust Portfolio . Want to be alerted before Cramer buys or sells NUE ? Learn more now.