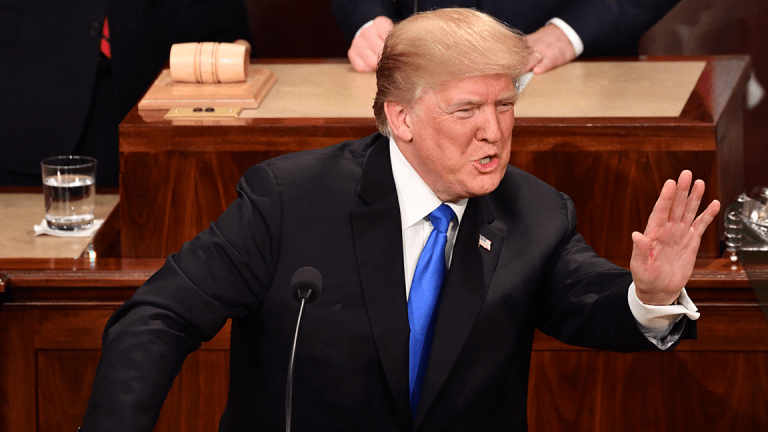 Trump's Address Presses Foreign Powers While Calling for Immigration Reform
In his first State of the Union address, President Donald Trump lauded the 'beauty of America's soul and the steel in America's spine.'
"Together, we are building a safe, strong and proud America," President Donald Trump said to commence his first State of the Union address on Capitol Hill on Tuesday, Jan. 30.
On his 375th day as Commander in Chief, Trump took the podium to address both chambers of Congress, their guests and the American people on the state of the country. To commence the hour-long address, Trump struck a tone of togetherness, of unity and of compromise.
"We've faced challenges we expected and others we could never have imagined," he said.
Trump applauded the heroes who stepped in during Hurricane Harvey, the Oct. 1 shooting in Las Vegas, the wildfires in California in December and Rep. Steve Scalise of Louisiana, who was shot in a GOP baseball team practice last summer. 
Trump lauded the "beauty of America's soul and the steel in America's spine."
"No people on earth are so fearless or daring or determined as Americans," Trump said. "The state of our union is strong because our people are strong."
Following thunderous applause from the audience, Trump moved on to his biggest accomplishment to date: economic gains.
"Just as I promised the American people from this podium 11 months ago, we enacted the biggest tax cuts and reforms in American history," Trump said. "Our massive tax cuts provide tremendous relief for the middle class and small businesses," the president noted.
"Since the election, we have created 2.4 million new jobs, including 200,000 new jobs in manufacturing alone," Trump said. "After years and years of wage stagnation, we are finally seeing rising wages. Unemployment claims have hit a 45-year low. And something I'm very proud of, African American unemployment stands at the lowest rate ever recorded. And Hispanic American unemployment has also reached the lowest levels in history."
In addition to recounting the impact on individuals, families and businesses from tax reform, Trump also touted the stock market gains that have taken place since he assumed office. He pointed specifically to Apple Inc. (AAPL) - Get Report , which announced plans to invest $350 billion in the U.S.  and hire new workers. He also highlighted ExxonMobil Corp.'s (XOM) - Get Report $50 billion investment in the economy. 
Apple is a holding in Jim Cramer's Action Alerts PLUS Charitable Trust Portfolio. Want to be alerted before Cramer buys or sells AAPL? Learn more now.
"This in fact is our New American moment," Trump said. "There has never been a better time to start living the American dream."
Stock futures for the Dow, S&P 500 and Nasdaq moved higher about 0.2% as Trump's address continued. 
"In our drive to make Washington accountable, we have eliminated more regulations in our first year than any administration in history," the president said. "We have ended the war on American energy and we have ended the war on beautiful, clean coal."
Trump said the U.S. is now "very proudly" and exporter of energy to the world. He also noted the progress in the auto industry and his moves to get the Motor City "revving its engines" again. Highlighted were Fiat Chrysler Automobile's (FCAU) - Get Report decision to move a plant to Michigan from Mexico, plus a Toyota Motor Corp. (TM) - Get Report plant in Alabama. 
"We all share the same home, the same heart and the same American flag," Trump said.
"One of my greatest priorities is to reduce the price of prescription drugs," Trump said. He called it "very, very unfair" that some drug prices are notably lower in other countries than they are domestically. "Prices will come down substantially," Trump said. "Watch."
"America has also finally turned the page on decades of unfair trade deals that sacrificed our prosperity and shipped away our companies, our jobs and our wealth," Trump said. "Our nation has lost its wealth, but we are getting it back so fast."
Trump recently enacted tariffs that hit Asian trade partners especially hard, pulled out of the Trans-Pacific Partnership and is in the throes of Nafta renegotiations. 
"We expect trading relationships to be fair, and very importantly, reciprocal," Trump said. "We will work to fix bad trade deals and negotiate new ones."
He said the nation will protect American workers and intellectual property through the deals.
Trump moved next to his infrastructure plan.
"America is a nation of builders. We built the Empire State Building in just one year," Trump noted. "Isn't it a disgrace that it can now take ten years just to get a minor permit approved for the building of a simple road?"
"I am asking both parties to come together to give us the safe, fast, reliable and modern infrastructure our economy needs and our people deserve," Trump said. He called on Congress to produce a bill allowing at least $1.5 trillion for infrastructure needs. Notably, Trump said private sector involvement will be useful where appropriate.
"Together, we can reclaim our great building heritage," he said. "We will build gleaming new roads, highways, railways and waterways all across our land and we will do it with American heart, American hands and American grit."
Trump additionally called for investment from tax-related windfalls to go toward workforce training, vocational schools and paid family leave in order to support America's labor force.
Trump next moved to a major source of contention expected from this address in immigration reform. He said that "for decades," open borders allowed "drugs and gangs" into American communities. He highlighted the presence in the Congressional chamber of the parents of two young women killed by the MS-13 gang, comprised largely of immigrants.
"So tonight, I am extending an open hand to work with members of both parties -- Democrats and Republicans -- to protect our citizens of every background, color, religion and creed," Trump said. "My duty, and the sacred duty of every elected official in this chamber, is to defend Americans -- to protect their safety, their families, their communities, and their right to the American Dream. Because Americans are dreamers too."
Trump then moved on to highlight the one-page memo that was sent to Congress late last week regarding DACA and the Dreamers. The plan outlined a 10- to 12-year path to citizenship for 700,000 enrolled in DACA plus other "DACA-eligible illegal immigrants," bringing the total number possibly eligible for citizenship down the road to about 1.8 million.
In exchange for conceding on the path to citizenship, the White House has asked for $25 million to build a border wall. Trump said in the address that this plan "fully secures the border."
Trump also noted the two other pillars of the plan, ending the visa lottery, which Trump called "a program that randomly plans out green cards without regard for skill, merit, for the safety of American people;" and the last pillar which protects the nuclear family, ending chain migration.
As Trump concluded his comments on proposed immigration reform, he was met with some discord in the chamber. The president turned to foreign policy, striking a tone that suggested offense and defense go hand in hand.
"As part of our defense, we must modernize and rebuild our nuclear arsenal. Hopefully never having to use it, but making it so strong and so powerful that it will deter any acts of aggression by any other nation or anyone else," Trump said. "Perhaps some day in the future, there will be a magical moment when the countries of the world will get together to eliminate their nuclear weapons. Unfortunately, we are not there yet, sadly."
"Last year I pledged that we would work with our allies to extinguish ISIS from the face of the earth," Trump said. "One year later, I am proud to report that the coalition to defeat ISIS has liberated very close to 100% of the territory just recently held by these killers in Iraq and Syria and in other locations as well. But there is much more work to be done. We will continue our fight until ISIS is defeated."
Trump said he directed Defense Secretary James Mattis, "just before walking in," to reexamine detention facilities abroad and keep open Guantanamo Bay.
Trump then pivoted his foreign policy comments to North Korea, saying, "no regime has oppressed its own citizens more totally, more brutally, than the cruel dictatorship in North Korea."
"North Korea's reckless pursuit of nuclear missiles could very soon threaten our homeland," Trump added. "We are waging a campaign of maximum pressure to prevent that from ever happening. I will not repeat the mistakes of past administrations that got us into this position."
As Trump's comments came to a close, he paid tribute to the "monument to the American people" in which he stood: the Capitol itself. His patriotic closing remarks were met with resounding chants of "USA! USA! USA!"
"As long as we are proud of who we are, and what we are fighting for, there is nothing we cannot achieve. As long as we have confidence in our values, faith in our citizens, and trust in our God, we will never fail," Trump concluded. "Our families will thrive. Our people will prosper, and our nation will forever be safe and strong, and proud, and mighty, and free."
More of What's Trending on TheStreet: