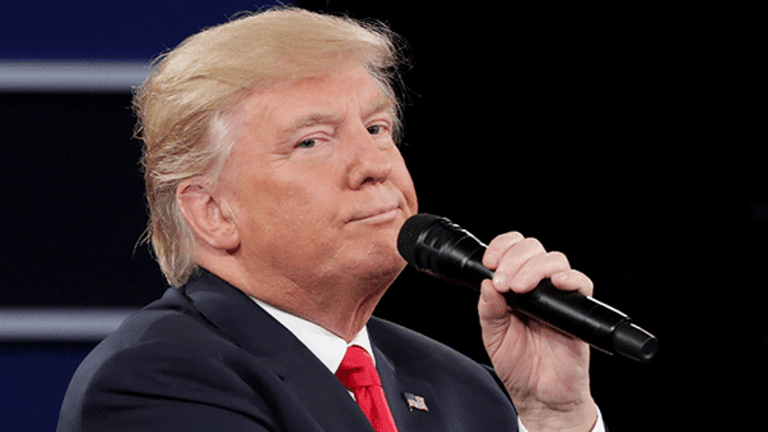 Trump's Twitter Crusades Against Boeing, Lockheed May Actually Pay Off
Boeing's CEO pledges to keep the cost of building Air Force One down, while a Lockheed executive says the two parties have made progress on the fighter jet program.
Donald Trump's pointed tweets seem to actually be making waves and not just in the form of knee-jerk reactions by investors.
Boeing (BA) - Get Free Report  and Lockheed Martin (LMT) - Get Free Report met with the president-elect Wednesday over his critiques of the cost of their government contracts.
Boeing shares rose $1.11, less than a percent, to $158.59 in early trading while Lockheed's were up less than a percent to $252.88.
Boeing, the Seattle-based aircraft maker, for one, will apparently rethink how it will build Air Force One, while Lockheed Martin CEO Marillyn Hewson met with Trump to discuss the Bethesda, Md., company's F-35 fighter jet program. 
After visiting with Trump at his Mar-a-Lago resort in Palm Beach, Fla. Wednesday, Boeing CEO Dennis Muilenberg pledged to keep the price of the Presidential plane below $4 billion.
"I was able to give the president-elect my personal commitment on behalf of the Boeing Company," Muilenberg told reporters at the resort.
In a Dec. 6 tweet, Trump assailed the purported cost of building the plane.
After meeting with Muilenberg, Trump took a far different tone in an exchange with reporters.
"I think we're looking to cut a tremendous amount of money off the price," Trump said.
Air Force budgetary documents show the projected cost of the project to build two planes is expected to approach $3.73 billion over the next 12 years. However, fact-checking site Politifact rated Trump's tweet as "half-true," arguing that he ignored the context that national security costs not directly under Boeing's control are the biggest drivers on the price tag.
A Boeing spokesperson declined to comment beyond what Muilenberg told reporters.
Hewson's company drew the president-elect's wrath on Twitter six days after his Boeing post.
The $400 billion procurement deal for the F-35 was described by Trump as "very, very expensive" Wednesday.
Hewson did not speak to reporters, opting instead to issue a statement through the company.
"I had a productive meeting with President-elect Trump this afternoon. I appreciated the opportunity to discuss the importance of the F-35 program and the progress we've made in bringing the costs down," she said Wednesday. "The F-35 is a critical program to our national security, and I conveyed our continued commitment to delivering an affordable aircraft to our U.S. military and our allies."