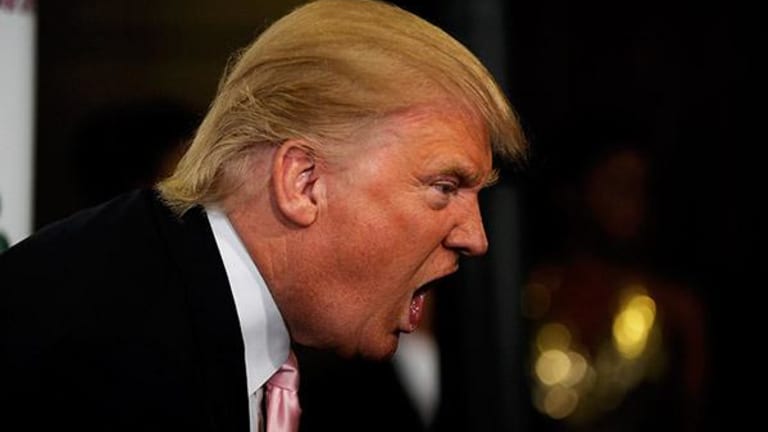 Trump's Top 3 Industries for Donations Have Given More to Clinton
The top three industries that are helping GOP presidential nominee Donald Trump finance his campaign have raised a lot more for Democratic nominee Hillary Clinton.
GOP presidential nominee Donald Trump's bad news and falling poll numbers belie his fundraising strength last month, but the $80 million he received came mostly from individuals online and through direct mail and not from industry.
He has had a tough couple of weeks, recently attracting criticism when he attacked a Gold Star family of a fallen Muslim U.S. Army officer, joked about the Purple Heart given to him by a retired lieutenant colonel, made false claims about a video that was non-existent and asked a mother of a crying baby to leave his rally. 
President Barack Obama called Trump "unfit" and "woefully unprepared," and Trump has also faced a strong backlash from members of his own party. 
To reduce the growing rift in the GOP, Trump endorsed House Speaker Paul Ryan (R-Wis.) and Sens. Kelly Ayotte (R-N.H.) and Sen. John McCain (R-Ariz.) for re-election after earlier declining to support them.
But Trump's controversies may have pushed him further away from huge contributions from industry.
The fund-raising gap between Trump and his Democratic opponent Hillary Clinton's campaign is big, primarily because a much larger amount is raised against him than for him. In fact, of the total $146 million raised by outside organizations targeting Trump, 58% has been raised against him. 
The leading pro-Republican hybrid/super PACs, Great America PAC and Rebuilding America Now, have roughly contributed $7.2 million to support Trump. But Super PACs such as Our Principles PAC and pro-Clinton Priorities USA Action have raised $16.35 million and $30 million, respectively, to defeat Trump.
Here is a look at the top three industries that are helping Trump finance his campaign. None has Trump in their top recipient list, and each has contributed much more to Clinton's campaign than Trump's.
1. Retired
Oddly, the industry that has contributed the most toward Trump's campaign isn't really an industry at all. In federal documents, if an individual checks occupation as retired, then they belong to the "retired industry."
The retired industry is leading in Trump's short list of contributors with contributions worth $3.84 million, and it is also the second-largest contributor to Clinton's campaign, who has received eight times more from this group than Trump has.
2. Real Estate
The real estate tycoon faces huge funding gaps from his own industry. 
The real estate industry has contributed just $678,173 to Trump through campaign committees and outside spending groups, according to the Center for Responsive Politics. The same industry has contributed close to $9 million to Clinton's campaign.
3. Miscellaneous Business
This category includes gaming, manufacturing and retail goods, and it has contributed $415,250 to Trump's campaign or to PACs working on his behalf, according to Federal Data.
But again, this amount remains far behind the $2.6 million contributed to Clinton's campaign committee and her supporting PACs.
With November approaching, Trump may work hard to narrow his fund raising gap by trying to unite the Republican party in order to woo more fundraisers. But this may be a tall order if he continues to court controversy.
This article is commentary by an independent contributor.