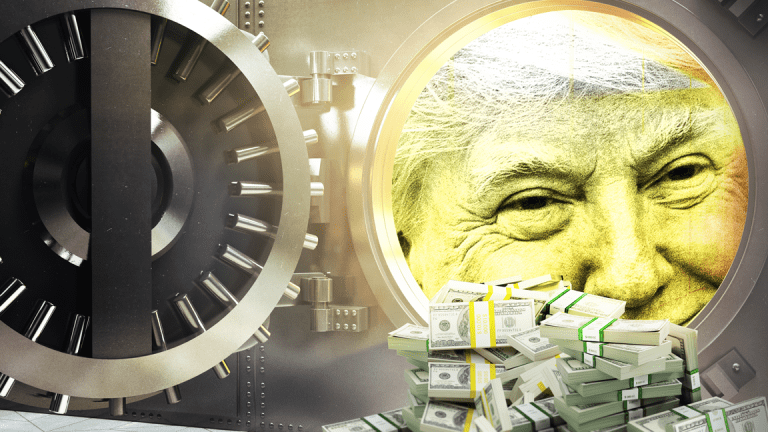 Trump Push to Weaken Wall Street Rules Proves Boon to JPMorgan, Citi
Wall Street has faced increasingly tough regulations since the financial crisis of 2008, embodied in the Dodd-Frank Act of 2010. President Donald Trump, in office for less than a year, has appointed multiple heads of financial-industry regulatory agencies who are already moving to scrap or weaken the post-crisis measures.
After eight years of losing, Wall Street banks are now winning the battle against regulation.
Key appointees of President Donald Trump are taking steps to dismantle or delay tough rules opposed by CEOs of big firms like JPMorgan Chase & Co. (JPM) - Get JP Morgan Chase & Co. Report , Bank of America Corp. (BAC) - Get Bank of America Corporation Report and Citigroup Inc. (C) - Get Citigroup Inc. Report  They're doing so even as the Republican-controlled Congress has taken its own steps to fulfill Trump's campaign pledge to lighten regulations on the financial industry, including repealing a rule that made it easier for customers to sue banks over alleged abuses.
Shares of big U.S. banks have surged an average 18% in the past 12 months, at least partly based on hopes that the industry's fortunes will soar as Trump pushes for lighter supervision. The danger for investors is that killing or watering down rules could make it easier for Wall Street firms to take risky bets with shareholder money, all the while making high-interest loans to shaky borrowers; such moves can boost profits in the short term but lead to giant losses in the future.
"It makes sense to take a second look to see how the regulations could be more efficient," Mike Mayo, a New York-based stock analyst for the bank Wells Fargo & Co., said in a phone interview. "But there's always the risk the pendulum swings too far. We've seen that movie too many times."
Trump's appointees to head key financial regulatory agencies are mostly former partners at high-paying law firms who previously represented the Wall Street banks they're now assigned to monitor.
In May, Trump named Keith Noreika to serve as acting head of the Office of the Comptroller of the Currency, which is a main supervisor of JPMorgan, Bank of America, Citigroup and Wells Fargo. Prior to the appointment, Noreika had represented banks at the law firm Simpson Thacher & Bartlett LLP on matters including the Volcker rule, enacted following the 2008 financial crisis to stop banks from making big, risky trading bets.
Easing the Volcker Rule is a key priority of the American Bankers Association, a big lobbying group for the industry.
Noreika, now in his official government capacity, is taking a lead role in the Trump administration's drive to loosen the measure. Last week, he told reporters that a proposal to roll back the Volcker rule should be ready by spring, the according to the publication American Banker.
"Now is a good time to take stock of the rules implemented and ensure the nation has the right sense of balance and coherence in regulating financial institutions," Noreika said in a speech in July in Washington. "We need to minimize unnecessary regulatory burden and promote economic growth." 
A vote in the U.S. Senate to confirm Trump's pick for a permanent comptroller, former banking executive Joseph Otting, could come as soon as this week, according to Bryan Hubbard, an OCC spokesman. Noreika intends to return to the private sector, Hubbard said. 
Jay Clayton, Trump's appointee to head the Securities and Exchange Commission, previously represented banks and other financial firms including Goldman Sachs Group Inc. (GS) - Get Goldman Sachs Group Inc. (The) Report while working as a lawyer at the New York law firm Sullivan & Cromwell. His wife works at Goldman Sachs, the New York Times reported in March. (Both Treasury Secretary Steven Mnuchin and Gary Cohn, chair of Trump's National Economic Council, are former Goldman Sachs executives.)
Since being confirmed by the Senate in May, Clayton has asked staff to find ways to speed up approvals of new exchange-traded funds, Bloomberg News reported on Nov. 6. Such changes are a big lobbying priority for the financial industry as it seeks to further accelerate growth of the ETF industry, which has mushroomed in the past decade and now accounts for roughly $5 trillion of assets.
At the same time, a rule proposed in late 2015 under former SEC Chair Mary Jo White cracking down on the use of derivatives in ETFs has languished without action. While derivatives can juice returns for investors, they also can multiply the risks. The financial industry had widely opposed the derivatives rule. An SEC spokeswoman declined to comment. 
And it's not just about making rules; it's enforcing them. According to Urska Velikonja, a law professor at Georgetown University, SEC enforcement actions -- such as penalties or fines for wrongdoers in the securities industry -- have dramatically declined this year. 
From early May, when Clayton took over, through September, the number of defendants targeted by the SEC in primary enforcement actions is down by 32% compared with the same period of 2016, Velikonja wrote in a research paper she says is forthcoming in the Notre Dame Law Review. Fines are down by 57%, according to the paper. 
"The shift at the SEC has largely proceeded in the shadows, where the targets of SEC investigation understand that the rules of the game have changed but the public does not," Velikonja wrote in the paper. "Investigations that never result in an action are not disclosed, so it is impossible to say whether enforcement is down because the SEC is not detecting violations or because it has declined to enforce." 
Separately, Trump appointees are taking steps to delay implementation of a Department of Labor rule that would have held Wall Street brokers to a higher standard when dispensing advice on retirement accounts. That proposed rule could have made it harder for Wall Street brokers to peddle investment products that weren't in the customer's best interest, while also making it easier for clients to seek compensation when they received bad advice.
Randal Quarles, Trump's pick to oversee supervision of big banks as a Federal Reserve governor, was previously a partner at The Carlyle Group, a big private-equity firm that is one of Wall Street's biggest clients. Previously, he was a lawyer at Davis Polk & Wardwell LLP, which has represented Citigroup, Morgan Stanley and other big banks on regulatory matters before the Federal Reserve.
Last week, Quarles said at a banking conference that he wanted to "take a fresh look" at regulations, CNBC reported. And recently, the Fed shelved a proposal to create new rules that would have set standards -- potentially costly ones -- designed to ensure banks were adequately protected from a cyber attack, according to Bloomberg News.
Fed officials declined to comment on the record.  
"What we're seeing, time after time, is that people are being put in charge of regulatory agencies precisely to render them ineffective," said William Black, a former bank regulator who's now a law professor at the University of Missouri-Kansas City.
Several studies have put at least part of the blame for the financial crisis of 2008 on deregulation. The Financial Crisis Inquiry Commission, which conducted extensive hearings and research on the causes of the debacle, concluded that three decades of loosening rules -- while relying more on the industry to police itself -- had left the industry vulnerable.
Such efforts had been "actively pushed by the powerful financial industry at every turn" and "stripped away key safeguards" that could have "helped avoid catastrophe," according to the commission's final report in 2011.
Of course, much of the gains from any risky activities accrue to executives, traders and bankers at the firms, who take home big annual bonuses based on the prior year's profits but rarely have to return the money when losses eventually pile up.
Shareholders are typically on the losing end: Citigroup's stock price, for example, is still down 87% from its level at the end of 2006 -- before giant losses forced the New York-based bank to seek a $45 billion capital injection from the Treasury Department and tens of billions more in emergency funds from the Federal Reserve.
"You can hardwire the safety of the industry to ensure greater resilience," Mayo said. "But you can't outlaw greed."
More of What's Trending on TheStreet:
Video: Jim Cramer Reveals What to Watch in Target's Earnings