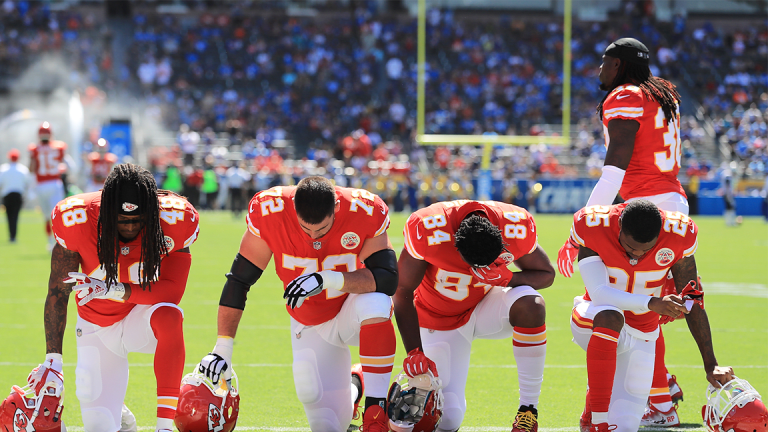 Trump Praises Cowboys' Anthem Unity, Hails 'Big Progress' in Protest Controversy
President Donald Trump praised the Dallas Cowboys "moment of unity" during Monday Night Football contest in Arizona.
President Donald Trump praised the Dallas Cowboys for standing during the national anthem at yesterday's Monday Night Football game against the Arizona Cardinals but once again accused NFL players of "disrespecting" the country and the flag.
The President began his Twitter morning with a shot at the League and its declining viewership, which he has linked to the ongoing anthem protests that began when former NFL quarterback Colin Kaepernick took a knee during the playing of the 'Star Spangled Banner' last year amid the country's raging debate over police brutality in the African American community. 
He then reiterated his support for the Cowboys who, alongside their owner Jerry Jones, linked arms in a "moment of unity" and knelt in front of a massive American flag draped across the the University of Phoenix Stadium playing field before standing for the Jordin Sparks' rendition of the national anthem.
Trump's call to "fire" players who refuse to stand during the anthem late last week during a rally in Alabama has ignited perhaps the biggest political controversy in American sport since former Olympians Tommie Smith and John Carlos protested with a so-called 'Black Power' salute in protest against African American poverty and inequality during a medal ceremony at the 1968 Mexico City Games. 
The President has also insisted the protests have hurt the NFL television ratings, which have been declining for the past two seasons as viewers find new ways to watch games beyond the traditional broadcast offerings.
CBS Corp. (CBS) - Get Free Report  , however, which shares the bulk of NFL broadcast rights with Twenty-First Century Fox Inc. (FOXA) - Get Free Report , said Monday that overall ratings for its Sunday games were 4% higher than for Week 3 in 2016 and that its overall household rating of 11.9 compared with an 11.4 last year.
The network's national afternoon game was also the highest rated for any game this season, as the Green Bay Packers came back to defeat the Cincinnati Bengals 27-24 in overtime while the Kansas City Chiefs beat the Los Angeles Chargers, 24-10. The time slot tallied a 13.8 household rating.
CBS shares closed 1.47% higher at $60.10 each Monday while Fox shares had added 0.68% and Walt Disney Co. (DIS) - Get Free Report , owner of ESPN, the country's largest sports network, gained 0.98% on the session.
Watch More with TheStreet:
Jim Cramer Reveals What to Watch in Nike and Micron's Earnings
How Will Londoners Cope Without Uber?
Video: Kawasaki's $55,000 Ninja H2R is the Baddest, Meanest Motorcycle
Famed Travel TV Star Samantha Brown Reveals How to Snag Cheap Airfare